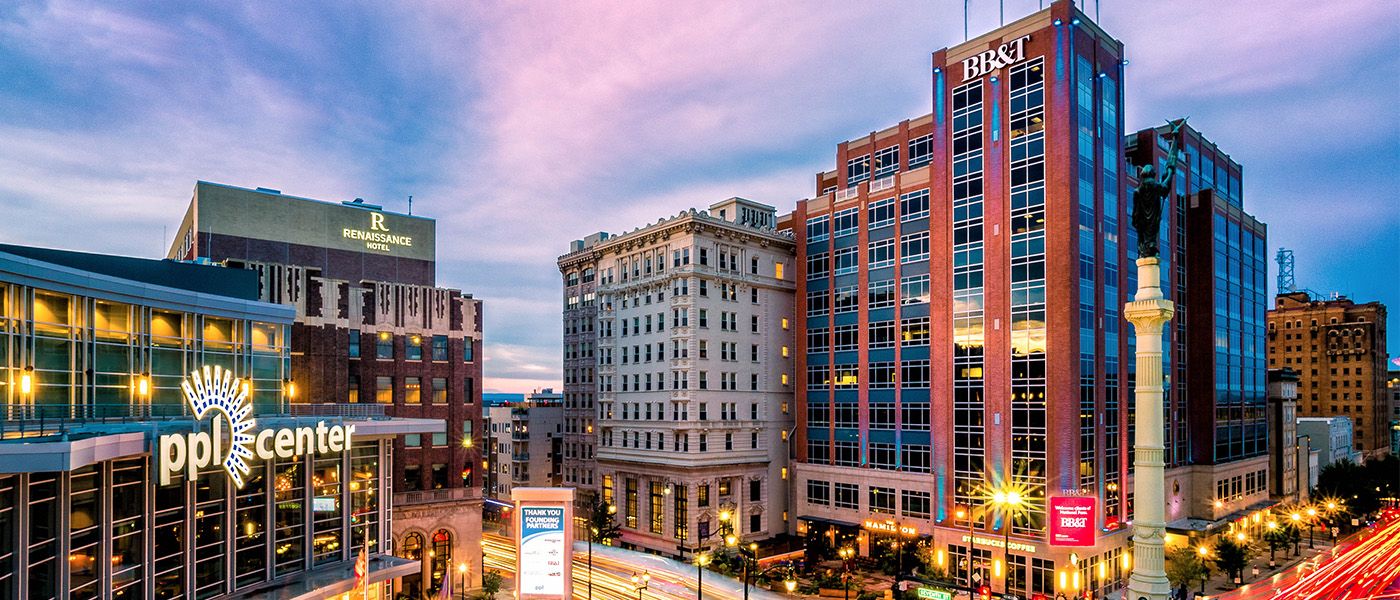 Two City Center Earns BOMA 360 Designation in Recognition of Excellence in Building Management
Two City Center, a Class A office tower developed by City Center Investment Corp., the real estate development company revitalizing downtown Allentown, Pennsylvania, has been designated a BOMA 360 Performance Building by the Building Owners and Managers Association (BOMA) International. The BOMA 360 Performance Program validates and recognizes commercial properties that demonstrate best practices in building operations and management.
"We aim for best-in-class in everything we do at City Center," said J.B. Reilly, president of City Center Investment Corp. "I am proud of our property management and facilities management teams for achieving this important distinction. Our tenants deserve best-in-class service and superbly managed, energy-efficient buildings."
According to BOMA, buildings earning the BOMA 360 Performance Program designation have higher tenant satisfaction scores in all 54 rating areas as compared to commercial office buildings without the 360 designation.
"We have been extremely pleased with the building operations and property management of Two City Center," says tenant Ralph Eberhardt of Michael Baker International, an engineering, architecture and construction services firm that relocated to the building in 2014. "The City Center staff is a pleasure to work with, and we recognize that their ability to manage the building efficiently directly benefits our bottom line."
"We are proud to designate Two City Center in downtown Allentown as a BOMA 360 Performance Building in recognition of the high standards the management team has achieved in every aspect of building operations and management," said BOMA International Chair John G. Oliver, BOMA Fellow, managing principal for Oliver & Company. "By achieving the BOMA 360 designation, the management of City Center Investment Corp. has demonstrated to their tenants, prospective tenants and the community that this property is being managed to the highest standards of excellence." 
The BOMA 360 Performance Program is a groundbreaking building designation program that evaluates properties in six major areas: building operations and management; life safety/security/risk management; training and education of building personnel; energy management; environmental/sustainability performance; and tenant relations and community involvement. The BOMA 360 Performance Program takes a holistic approach to evaluating a building's operations and management and benchmarks a building's performance against industry standards. The program comes at a critical time, as building owners and managers are looking to differentiate themselves in a demanding market. 
For more information on the BOMA 360 Performance designation, visit www.boma.org/360.