WORK & PARK
When you work in Downtown Allentown, the walk from your car door to your office door is simple and easy with more than 6,500 off-street parking spaces available to downtown businesses. All parking spaces are within two blocks of all City Center Allentown office buildings, the PPL Center, and surrounding restaurants and shops.
VISIT & PARK
Visitors to Downtown Allentown can choose one of three ways to park downtown, all of which are convenient, safe, and affordable: PARK FREE, 24-Hour Valet Parking, or Self Parking.
PARK FREE PROGRAM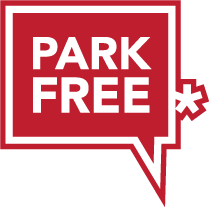 Just in town for the day? Our PARK FREE program lets you park free in five different decks with a voucher from participating businesses. Here's how it works:
Park at any PARK FREE deck:
• Community Deck: 13 South 6th Street
• Walnut @ 9th Deck: 901 Walnut Street
• Government Deck: 401 Hamilton Street
• Spiral Deck: 820 Linden Street
• Arena Deck: 710 Linden Street
 
When you make a purchase at a participating shop or restaurant, show your parking ticket. That business will give you a second ticket, which will be accepted as full payment for parking when you leave the deck.
 
When there is an event at PPL Center, drivers will pay to park upon arrival at a PARK FREE deck, but you can have the price of parking discounted from your bill at a participating business when you show your parking receipt.
24-HOUR VALET PARKING
Downtown valet parking costs just $6 at all times, including PPL Center event days, with validation from participating business (valet parking costs $20 at all times without a validation).
This unique valet parking service allows drivers to drop off a vehicle at one of two convenient kiosks and pick it up later at either kiosk. Guests of the Renaissance Allentown Hotel pay $12 per day for this service. Valet parking kiosk locations:
The Dime/Renaissance Allentown Hotel (24/7), 12 North Seventh Street
PARK FREE PARTICIPANTS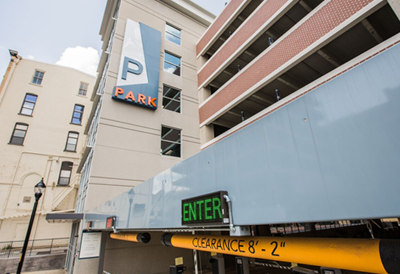 Shops:
Assembly 88
Blow Dry Bar by ReVive! Salon
Cork & Cage
Jimmy's Barber Shop
Michael Jewelers
Minuteman Press
RE:find
Sorrelli
The Archive
Restaurants:
CENTRO
Chickie's & Pete's*
99 Bottles*
grain.
Starbucks
The Dime
The Hamilton Kitchen & Bar
Tim Hortons*
*Parking tickets cannot be validated at these locations during PPL Center events.
For more information on Downtown Allentown's Park FREE program visit the Allentown Parking Authority website.
SELF-PARKING
For visitors who choose not to use PARK FREE or 24-Hour Valet Parking, daily self-parking close to PPL Center and surrounding office buildings and attractions can be found at:
Surface Lot, 702 Hamilton Street (entrance is on Seventh Street between Hamilton and Walnut Streets): $3 dollars daily, $6 on hockey event nights, $10 on all other event nights