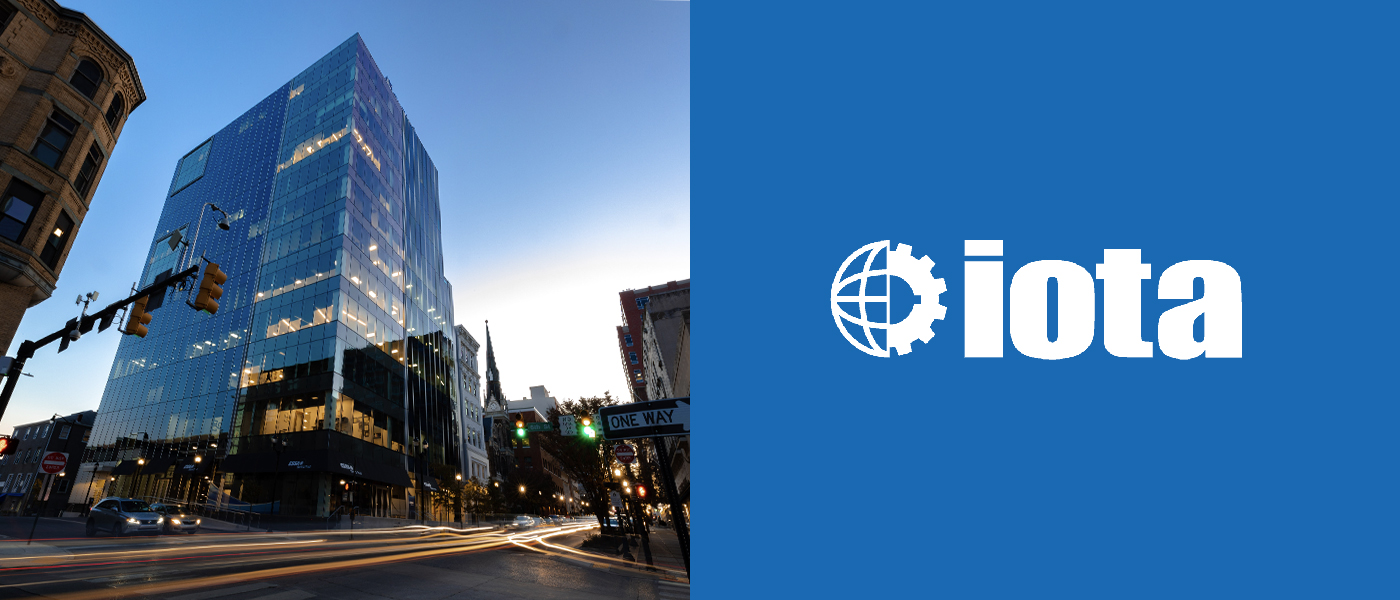 Iota Communications Relocates Headquarters to Allentown, Pennsylvania's City Center's Tower 6
Iota Communications, Inc. (OTCQB: IOTC) ("IotaComm" or the "Company"), a wireless communication and data analytics software company, and City Center Investment Corp., the real estate development company revitalizing downtown Allentown, Pennsylvania, today announced the relocation and consolidation of its new corporate headquarters to Tower 6 in downtown Allentown. Iota Communications has leased 7,150 square feet on the 10th floor of the Class A office building at Sixth and Hamilton streets and plans to move employees into the space when state orders allow.
Terrence DeFranco, President and Chief Executive Officer of Iota Communications, commented, "We are excited to move into our new headquarters in the heart of downtown Allentown. We were attracted to Allentown's big-city feel with all the small-city benefits. In addition, the quality workforce in the region and close proximity to New York City and Philadelphia markets make this an ideal location as we are in a growth mode and many of our services have really taken on a new importance due to COVID-19."
Iota Communications helps businesses leverage its proprietary technology and connectivity to reduce costs, optimize energy efficiency and operations, measure office building air quality, and advance sustainability in commercial facilities. The firm's dedicated carrier-grade network is purposely built to enable low-cost, long-range connectivity in even the most challenging environments. This connectivity powers a data collection, analysis and visualization process that provides actionable insights, drives sustainability and profitability, and positively impacts the planet.
Iota Communications (OTCQB: IOTC) was ranked No. 53 on the 2019 Deloitte Technology Fast 500, an annual list of the fastest growing public and private technology companies in North America. Formed in 2013, the company experienced 2,391% fiscal year revenue growth from 2015 to 2018.
"Iota Communications choosing to headquarter and expand their rapidly growing national business in downtown Allentown validates what has been happening here over the last few years," said City Center President J.B. Reilly. "Progressive companies of all sizes and specialties are discovering that this is an excellent place to do business and grow, and that City Center's new space increases their ability to attract and retain talented employees who want to work in a walkable city environment. We're pleased to welcome them to downtown Allentown."
Iota Communications began temporarily leasing space for 10 employees in Two City Center in downtown Allentown in September 2019, while City Center is overseeing a custom fit-out of their offices in Tower 6.
With the addition of Iota Communications, the 145,000-square-foot Tower 6 is fully leased. Other tenants include Bank of America/Merrill Lynch, Avantor, Talen Energy, CAPTRUST, CrossAmerica Partners, NJR Energy Services, fedRFP, Morton Brown Family Wealth and ESSA Bank & Trust. Together, Tower 6's tenants have nearly 500 employees, many of whom live downtown. Tower 6 exceeds Class A specifications, with cutting-edge features including energy-efficient systems for lighting, HVAC and window-shade control, elevators that optimize traffic flow, customized access-control and security solutions, and state-of-the-art connectivity.
For more information about office space at City Center, contact Director of Leasing Jarrett Laubach at jlaubach@citycenterallentown.com.