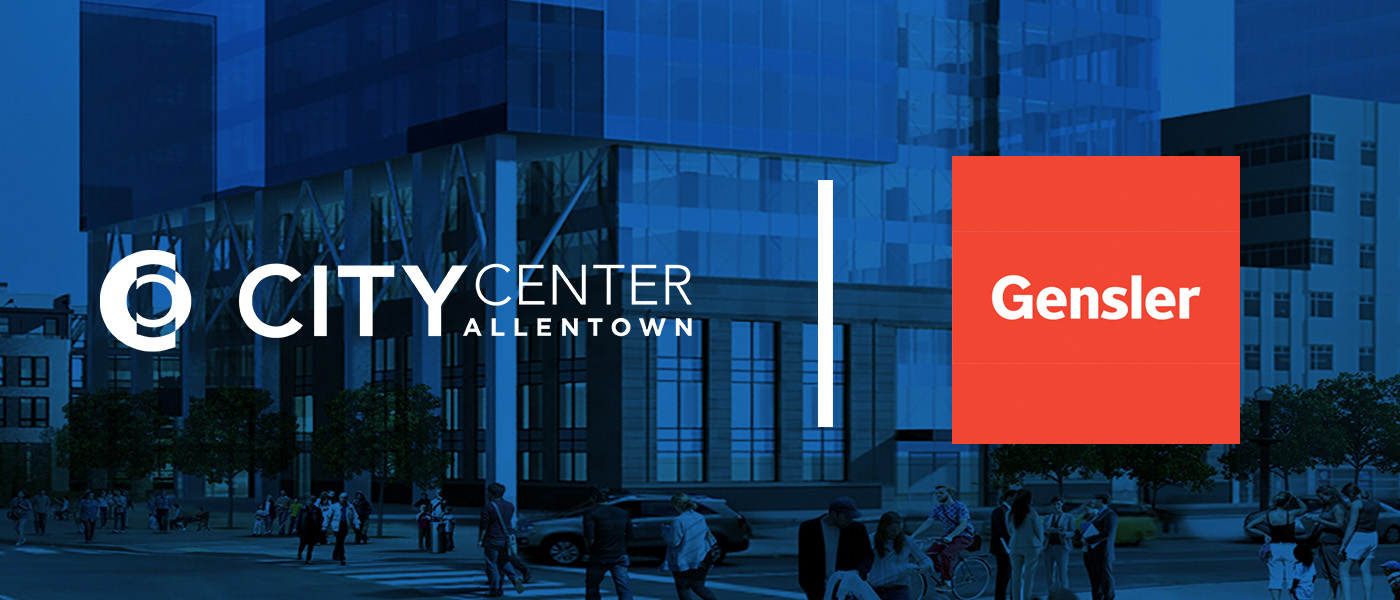 CITY CENTER INVESTMENT CORPORATION SELECTS LEADING GLOBAL DESIGN FIRM GENSLER TO PLAN INTERIOR SPACES IN 1 CENTER SQUARE
City Center Investment Corp., the real estate development company revitalizing downtown Allentown, Pennsylvania, today announced it has selected leading global design firm Gensler to help plan key interior spaces in 1 Center Square, City Center's future premier office tower on the southwest corner of Center Square at 7th and Hamilton streets. 

While JDavis Architects is designing the 250-foot-tall, 16-story glass and steel tower, Gensler's interior design team will consult with City Center on the layout of 1 Center Square's first-floor lobby, retail space and back-of-house space and make design recommendations for the building's common areas above the first floor. Gensler will also design interior space for the building's office tenants that choose to work with the firm.

Construction of the 296,000-square-foot 1 Center Square could begin as early as the fall of 2020, with initial occupancy in 2022. 

Gensler serves more than 3,500 clients in 86 countries, with practice areas ranging from planning and urban design to mixed-use developments to workplace design. Gensler projects span the globe from Shanghai Tower, the tallest building in China, to the interior of the Comcast Technology Center in Philadelphia. 

City Center previously tapped into Gensler's expertise and global reputation as innovators in workplace design for help with the master planning of its properties in the 700 block of Hamilton Street and for the interior of Five City Center's floors 4 through 14, which are leased by ADP.

"1 Center Square is designed for industry-leading companies that recognize the opportunity for brand enhancement that comes with locating in a building and an environment like this one," said City Center President J.B. Reilly. "Having Gensler's guidance on best practices for workplace environments will be a huge benefit to the future tenants of this premier office tower and will also guarantee the building's common spaces will be unrivaled in the Lehigh Valley." 

"Gensler is excited to contribute to downtown Allentown's transformation into a bustling urban community with the design of 1 Center Square," said Dana Nalbantian, Gensler's principal-in-charge. "City Center showcases all that downtown Allentown has to offer: Class A office space, a talented workforce, lifestyle amenities and an authentic community." 

The interior of 1 Center Square will have soaring ceilings and wide-open floorplates that can accommodate options like flexible workspace, stairs and theater-style auditoriums. 1 Center Square tenants will have the ability to tailor their space to meet their unique business needs, complement their brand and inspire their employees. 
City Center will retain the building's iconic north and east façades of limestone and granite, originally belonging to Merchants National Bank. A half-acre plaza of hardscaped and landscaped open space will surround the building, seamlessly blending into Center Square. North Star Construction Management will build 1 Center Square.

1 Center Square will be City Center's sixth new office building in downtown Allentown, joining One, Two, Three and Five City Center and Tower 6. Together, the buildings' respective anchor tenants, Lehigh Valley Health Network (LVHN), BB&T, Morgan Stanley, ADP and Bank of America/Merrill Lynch, and dozens of other companies have redefined Hamilton Street as the region's central business district.

For more information about 1 Center Square, please visit www.1CenterSquare.com. To inquire about leasing space in 1 Center Square or other City Center properties in downtown Allentown, please email City Center's Director of Leasing Jarrett Laubach at jlaubach@citycenterallentown.com.