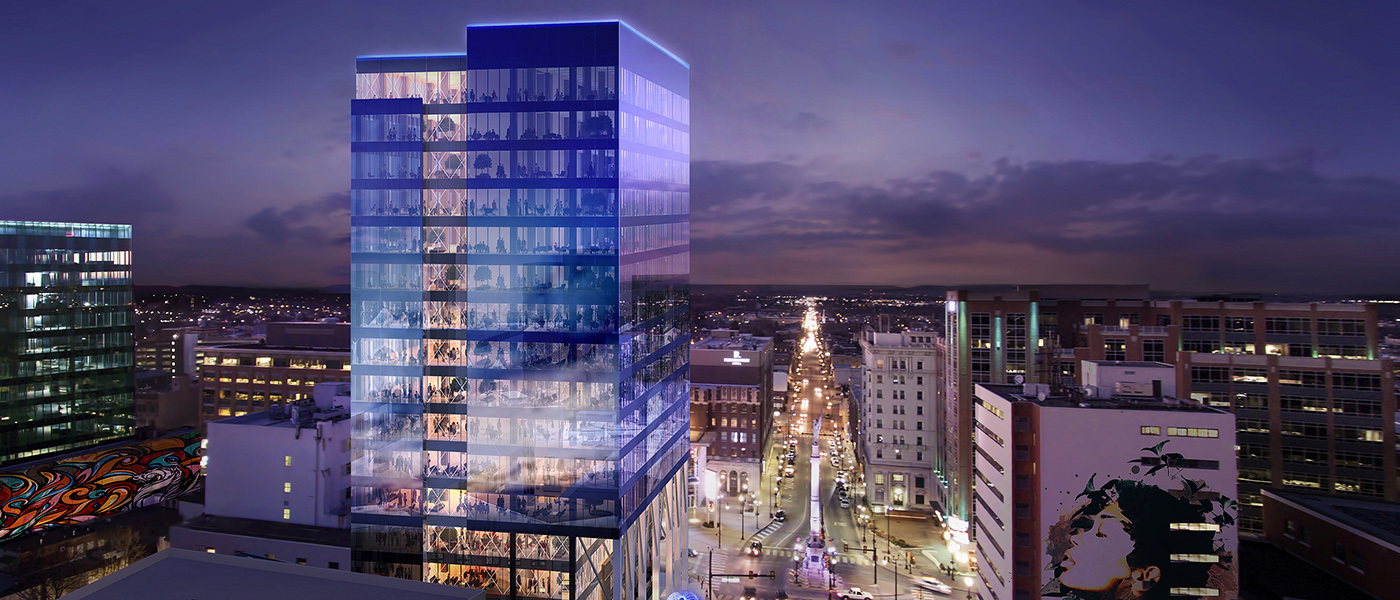 CITY CENTER INVESTMENT CORPORATION ANNOUNCES PLANS TO BUILD NEW PREMIER OFFICE TOWER AT 7TH AND HAMILTON IN DOWNTOWN ALLENTOWN
City Center Investment Corp., the real estate development company revitalizing downtown Allentown, Pennsylvania, today announced the Allentown Neighborhood Improvement Zone Development Authority (ANIZDA) has approved its plans to build 1 Center Square, a new premier office tower on the southwest corner of Center Square at 7th and Hamilton streets. Construction of 1 Center Square could begin as early as the fall of 2020, with initial occupancy in 2022. 

"Simply put, 1 Center Square will be the best address to do business in the Lehigh Valley," said City Center President J.B. Reilly. "Between its prominent location on Center Square, world-class modern architecture, technologically advanced systems, stylish and flexible workspaces and spectacular views, it will make an unforgettable statement. 1 Center Square is designed for industry-leading companies that recognize the opportunity for brand enhancement that comes with locating in a building and an environment like this one."

At 250 feet tall, 1 Center Square will be the tallest building on Center Square. Designed by JDavis Architects, the 16-story glass and steel tower will contain approximately 296,000 square feet of prime office space and ground-floor retail space. City Center will retain the building's iconic north and east façades of limestone and granite, originally belonging to Merchants National Bank. A half-acre plaza of hardscaped and landscaped open space will surround the building, seamlessly blending into Center Square. North Star Construction Management will build 1 Center Square.

"As much as this will be the crown-jewel building in Allentown and City Center, its design is a crowning-achievement building for JDavis," said Neil Gray, CEO of JDavis. "It will be transformational." 

The interior of 1 Center Square has been designed for today's workforce, with clear glass, soaring ceilings and wide-open floorplates that can accommodate options like flexible workspace, stairs and theater-style auditoriums. 1 Center Square tenants will have the ability to tailor their space to meet their unique business needs, complement their brand and inspire their employees. 

"Forward-thinking companies require the impressive space and topnotch amenities 1 Center Square will boast – they are critical to recruiting and retaining talented employees today," said City Center Vice President of Project Design and Corporate Branding Jane Heft. "With stylish social areas, outdoor terraces, collaboration spaces and more, 1 Center Square will be a building tenants brag about in a vibrant urban environment that their employees love."

Like City Center's previous office towers, 1 Center Square will offer energy-efficient systems for lighting, HVAC and window-shade control; elevators that optimize traffic flow; customized access-control and security solutions; and state-of-the-art connectivity. A grand entrance off Hamilton Street will lead to the building's wide-open lobby. In addition to the more than 6,000 structured parking spaces within 1.5 blocks of the site, City Center is working directly with the Allentown Parking Authority to provide necessary parking, which may include the development of additional parking facilities. 

1 Center Square will be City Center's sixth new office building in Downtown Allentown, joining One, Two, Three and Five City Center and Tower 6. Together, the buildings' respective anchor tenants, Lehigh Valley Health Network (LVHN), BB&T, Morgan Stanley, ADP and Bank of America/Merrill Lynch, and dozens of other companies have redefined Hamilton Street as the region's central business district.

Learn more about 1 Center Square. To inquire about leasing space in 1 Center Square or other City Center properties in Downtown Allentown, please email City Center's Director of Leasing Jarrett Laubach at jlaubach@citycenterallentown.com.