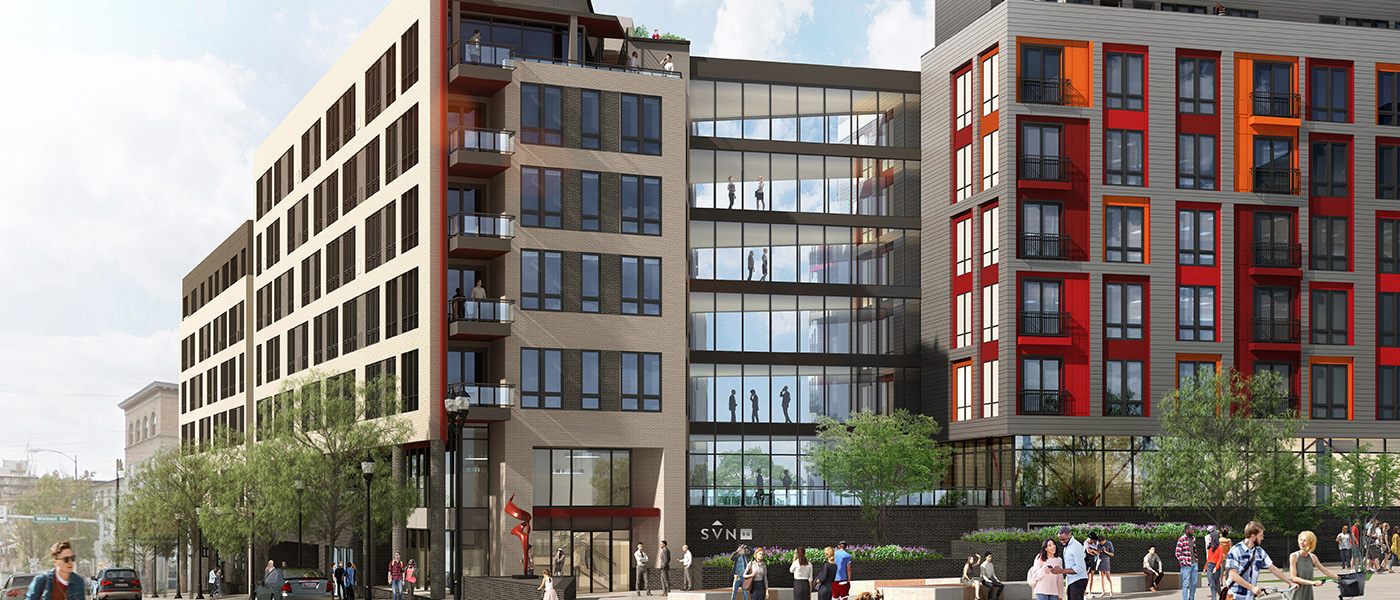 CITY CENTER ANNOUNCES PLANS TO DEVELOP PREMIER RESIDENTIAL BUILDING AT 7TH AND WALNUT STREETS
City Center Investment Corp., the real estate development company revitalizing downtown Allentown, Pennsylvania, today announced plans to develop a premier 217-unit residential building at Seventh and Walnut streets in Allentown. The Allentown Planning Commission approved the project today. 

The new seven-story building, along with City Center's future residential building at Eighth and Walnut streets, will be known as SVN Square. The new building will include a 233-space underground garage off Walnut Street, a 6,000-square-foot public plaza that spills out onto Center Square at Seventh and Hamilton streets, and a five-level glass pedestrian bridge that overlooks Center Square. It will offer 16,000 square feet of amenity space, including an elevated outdoor pool, a rooftop deck overlooking Center Square, a coworking space, a movie-screening room and a toddler playroom. The amenities will be shared with residents of SVN Square at Eighth and Walnut streets, which will also have a rooftop deck and a coworking space. The buildings will be connected by an enclosed pedestrian bridge spanning Hall Street. 

Construction of SVN Square at Seventh and Walnut streets will begin in April 2019 and require 16 months to complete. Move-ins will begin in the summer of 2020.

"SVN Square will be City Center's most impressive residential buildings to date," said J.B. Reilly, president of City Center Investment Corp. "We've taken the style and amenities residents most want and elevated them to the next level. We're also pleased that our new residential offerings along Walnut Street with connect with the existing neighborhoods, as suggested by the Goody Clancy Downtown Development and Urban Design Plan for Allentown."

Designed by JDavis Architects, the pet-friendly SVN Square at Seventh and Walnut streets will be comprised of 57 studios, 86 one-bedroom units and 74 two-bedroom units. Fifteen of the units will have lofts and rooftop space, four will be walk-up units along Hall Street and four will be garden-style walk-ups along Seventh Street. The building will also have a fitness center, a courtyard, a resident lounge and a game room. 

The completion of SVN Square at Seventh and Walnut streets will bring City Center's total apartments downtown to 749. The fully leased STRATA West, STRATA East and STRATA Symphony contain 308 units total. 520 Lofts, which opened in October 2018, contains 68 units, most of which have been leased. The 61-unit Walnut Street Commons is due for completion in May 2019, and the 95-unit SVN Square at Eighth and Walnut streets is due for completion in early spring 2020.