SVN Square Residences
700 + 777 Walnut Street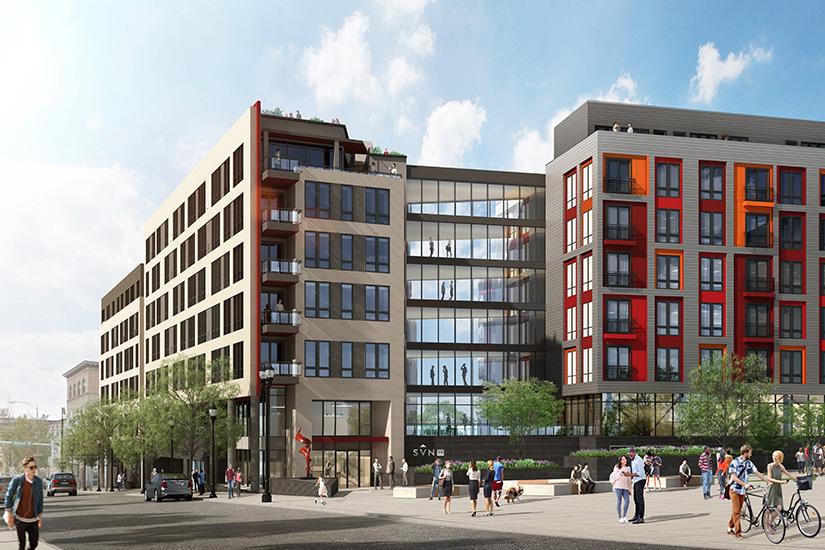 460,000 SF
7 Floors
Retail & Luxury Residence
Spring 2020
Architect: JDavis 
Features: SVN Square, two premier residential buildings on the 700 block in Allentown connected by an enclosed pedestrian bridge. The two new buildings will have 312 units total and share all amenities. 
The building at Seventh and Walnut will be seven stories tall and will include an underground garage off Walnut Street, a 6,000-square-foot public plaza that spills out onto Center Square at Seventh and Hamilton streets, and a five-level glass pedestrian bridge that overlooks Center Square.
It will offer 16,000 square feet of amenity space, including an elevated outdoor pool, a rooftop deck overlooking Center Square, a coworking space, a movie-screening room, and a toddler playroom. The amenities will be shared with residents of SVN Square at Eighth and Walnut streets, which will also have a rooftop deck and a coworking space.
This residential community will include, studio, one-and-two-bedroom units, and several larger units, including 15 loft units with rooftop space. The building will also include five walk-up units along Hall Street and four garden-style walk-ups along Seventh Street, a fitness center, a courtyard, a resident lounge, and a game room.
Move-ins will begin in the spring of 2020.