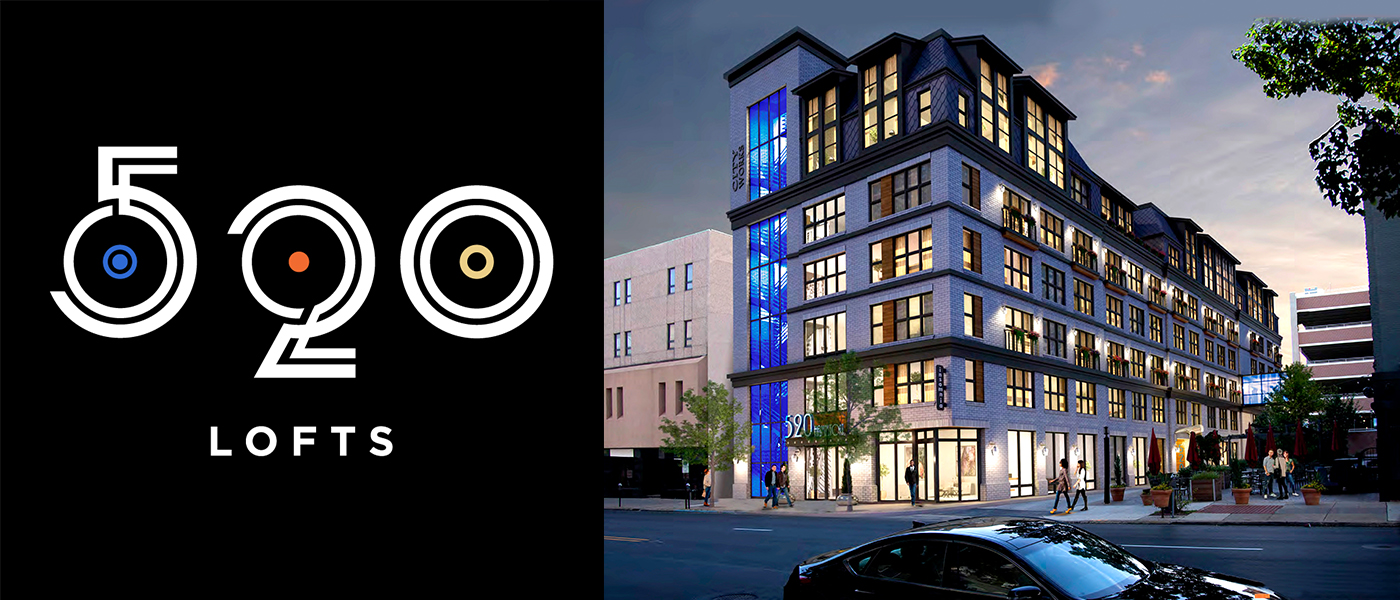 CITY CENTER ALLENTOWN IS NOW PRELEASING 520 LOFTS, OPENING SEPTEMBER 2018 IN DOWNTOWN ALLENTOWN
City Center Investment Corp., the real estate development company revitalizing downtown Allentown, Pennsylvania, announced today it is preleasing and accepting deposits for 520 Lofts, its upscale 68-unit apartment building under construction at 520 Hamilton Street. The six-story building will welcome its first residents in September 2018.
Designed by Bernardon, 520 Lofts will include studio and one- and two-bedroom units. Each top-floor unit will include loft space. The 95,000-square-foot pet-friendly building will include a community lounge, rooftop social deck, a fitness center, bicycle storage and a pedestrian bridge connecting to the adjacent Community Parking Deck. The first floor will be composed of office space along with three artist work spaces at the rear of the building with garage doors that open on to Maple Street across from the Bradbury-Sullivan LGBT Community Center. Artwork in the building's common areas will come from the Community Center's gallery.

The building's design pays homage to historic Allentown with a sloped mansard-style roof, similar to the one on the former Hotel Allen, which sat at Seventh and Hamilton streets. 520 Lofts' floor plans, which range in size from 511 to 1,216 square feet, are named after Allentown's parks, including The Alton, The Jordan and The Trexler, among others.

"The 520 Lofts building was designed to celebrate our community's character and was inspired by the grand inns and gathering places that once lined the busy streets of downtown Allentown," said City Center V.P. of Project Design and Corporate Branding Jane Heft. "520 Lofts offers a distinctly creative urban vibe accented with graceful nods to classic Victorian motifs. The common areas will be decorated with an artful mix of velvet, crystal and wood."

The units at 520 Lofts will feature nine-foot ceilings, oversized windows, open gourmet kitchens with stainless Energy Star® appliances, subway tile and quartz countertops, luxury bathrooms and full-sized stackable washers and dryers. The property will also offer onsite professional management, maintenance and concierge services. Monthly rent for studio units will start at $975, and one-bedroom units will start at $1,200. 

All 520 Loft residents will receive a complimentary membership to the Allentown Art Museum and discounts at LVHN Fitness, The Baum School of Art, Miller Symphony Hall and downtown retailers and restaurants. 

City Center's existing residential communities in downtown Allentown include STRATA West, STRATA East and STRATA Symphony with a combined total of 308 units, all of which are leased. City Center is also currently developing the Walnut Street Commons, a 61-unit residential building that will wrap around the Community Deck parking structure at Sixth and Walnut streets in Allentown.

"City Center's residents love living in the heart of downtown Allentown's new, fun and exciting environment and are embracing all it has to offer," said STRATA Community Manager Robert Fox. "We've seen a great demand for STRATA apartments and are pleased to offer 520 Lofts with the amenities our residents love wrapped in a design that takes inspiration from the past."

For more information, contact the 520 Lofts team at 610-841-2489 or Live@520Lofts.com, or visit www.520Lofts.com. Follow the project on Facebook and Instagram at @520Lofts! #LiveCreatively520.