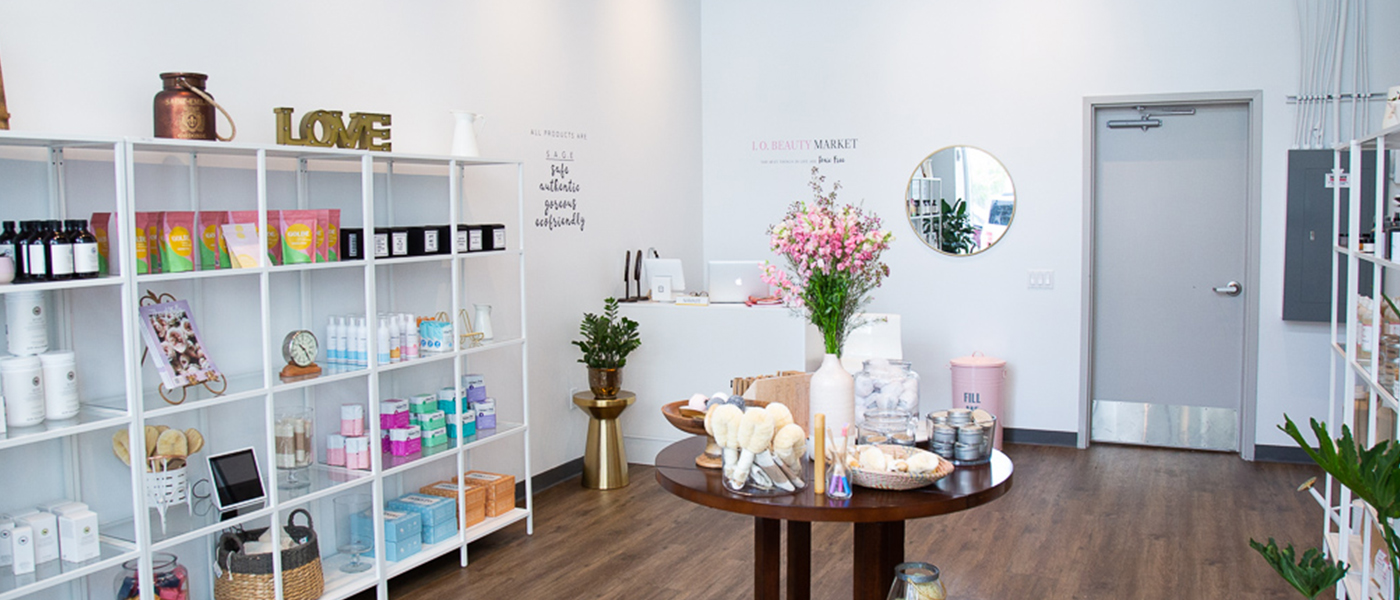 Behind the scenes with I.O. Beauty Market
I.O. Beauty Market curates the safest, highest quality products that support women along their self-care journeys by partnering with conscientious brands that support wellness inside and out. This is the first retail location for owner Dixie Lincoln-Nichols, who has built I.O. Beauty Market into a successful e-commerce business. The company, which has leased 417 square feet in suite 150 of STRATA East, has been featured in Redbook, Essence, InStyle, Natural Health, Huffpost and more! On Tuesday, July 17, I.O. Beauty will take over the @CityCenterAllentown Instagram for the day to give us an inside look at their pop-up shop in Downtown Allentown! 
Name: Dixie Lincoln-Nichols
Founder of I.O. Beauty 
Tell us a bit about I.O. Beauty.
At I. O. Beauty Market we create awareness and education about the benefits of toxicant-free beauty and wellness products. We curate the highest quality products, and we do so by partnering with conscientious brands that also support wellness from inside and out.
Why did you start the I.O. Beauty Brand?
There were several reasons why. First, as a biological science/health educator and coach my passion is supporting women on their self-care and wellness journeys. I believe that less is more. Fewer toxins equal a healthier body, and so I wanted to create a brand that actualized that belief. Secondly, we live in a very diverse world, and I wanted to see that diversity represented in the "toxicant free"/ "clean beauty" space. Lastly, but not the least important is education. My mission is to educate women, especially women of color (who are the largest beauty spenders but use the most toxic ingredients on and in their bodies ) about the benefits of healthier and safer options. 
What makes I.O. Beauty unique compared to other self-care brands?
Our focus is wellness for women's bodies inside and out with an emphasis on inclusion, representation, diversity, equality and equity. 
What is the biggest compliment you've ever received about your store/I.O. Beauty products?
Fortunately, we've gotten quite a bit of amazing compliments. I'd have to say these two. 
"This place is amazing. We so need this around here."
"Best beauty purchase all week." 
"These products work. I'm sleeping so much better. Do you have anything new?"
What is the "top-seller" at I.O. Beauty, and why?
It would not be fair to say we have only one top seller. We have several top sellers, among which are;
The Beauty Chef's Wellness products for beauty Inside & Out. Customers have said their skin feels and looks better. Products address gut health, liver health and Insomnia. 
Jacq's Organic Skincare. This natural line of skincare is very potent and effective without the harsh chemicals of conventional brands. Customers love the improvement they've noticed in their skin's appearance and feel.
Karite Shea Butter is whipped so creamy and is so dreamy and nourishing for the skin, customers love the feel, texture and its efficacy.
Insect repellent – for good reason. Some of our customers live outside the city where there are lots of trees and greenery. So they have bugs and mosquitoes, and they love the fact that the repellents are toxic free and do not have DEET. We sold out very quickly. 
Pur Home Lemongrass dishwashing liquid: Let me tell you, this sold out in the first two weeks. Who doesn't want hands and dishes that smell like natural essential oils?
Why do you love working in Downtown Allentown?
It's a beautiful, growing, diverse, eclectic town with lots of potential. It's exciting to be in a space that's on the cusp of change and to be a part of the changes that are happening. It's great for the brand and great for the community.
What do you love about working in a City Center Pop-Up Shop? 
It's fresh and new. The architecture is current and inviting. I enjoy meeting members of the community and engaging in the excitement that's so bubbly. I especially love that it allowed us to gauge the rhythm of the Allentown and the potential it has for growth.
How do you feel working within a City Center Pop-Up Shop has helped your business?
The pop-up was a great way to wade the waters of brick and mortar retailing. We've tapped into a different kind of customer from online. People walk through our doors because they want to interact with someone and the products that they potentially want to buy. We've had the opportunity to meet customers and gauge their opinion and reactions to the products that we have to offer. Customers are thrilled a store like ours exists because there is currently nothing like it with the offerings we have. Fortunately, the results have been favorable so we've decided to stay past our pop-up lease.
What is the most "iconic" store feature of IO Beauty?
Currently, I would definitely have to say the bike and flowers outside the store gets a lot of attention and people coming through the doors.
Do you have any new in-store events coming up?
Yes. We will be having a sip and shop for the STRATA residents in August and we're also having our 3rd wellness workshop on the July 19, which falls on the same day as Global Women's Self-care Day. We have in store workshops every other Thursday from 6 to 7pm.