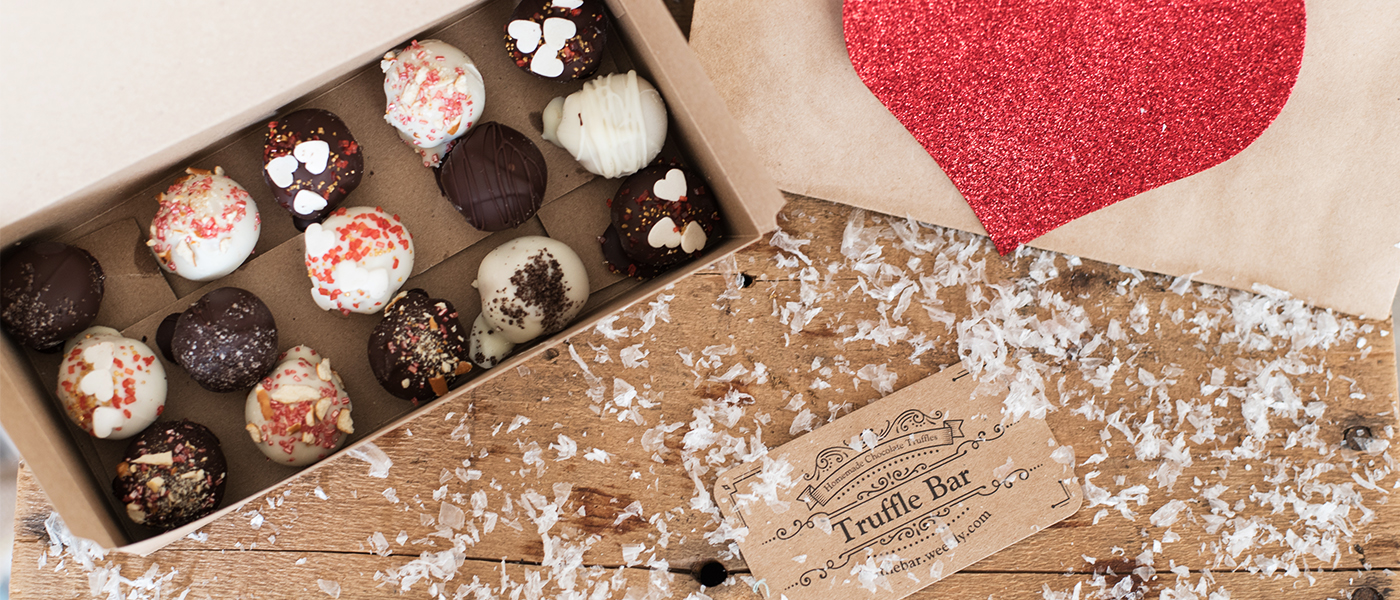 THIRD CHAMELEON POP-UP SHOP, TRUFFLE BAR, TO OPEN FEB. 2 AT CITY CENTER IN DOWNTOWN ALLENTOWN
City Center Investment Corp., the real estate development company revitalizing Downtown Allentown, Pennsylvania, announced today its third Chameleon Pop-up Shop, Truffle Bar, will open in STRATA East from February 2 to February 18, 2018. Its first two pop-up tenants, The Perfect Fit Boutique, an upscale resale shop in Three City Center, and Token 249, a gift shop in Two City Center, have extended their leases following initial runs. 

As its name suggests, Truffle Bar will sell handmade truffles, with chocolate and peanut butter as menu standards. The shop will also offer seasonal flavors, including chocolate-covered strawberry and chocolate-covered pretzel. 

Truffle Bar is owned and operated by Brooke Dietrick and Stacy Long, two school counselors from William Allen High School, who began making truffles for fun in 2016. In November, they decided to sell their creations for the holiday season and received orders for more than 4,000 truffles. Truffle Bar will be the duo's first retail location. The 417-square-foot store is located at 26 N. 6th Street, across the street from Miller Symphony Hall and between ReVive! Hair Salon and the shapewear store Royal Lioness.

"We are excited by the revitalization of Center City Allentown and saw this as a perfect opportunity to expand our business," Dietrick said. 

"As employees of the Allentown School District, we feel a strong connection to the community, and we look forward to contributing to all the wonderful things this city has to offer," Long added.

Truffle Bar will sell its truffles for $1.50 each and mini-truffles for $.75 each. Gift boxes will be available for purchase and range in price from $12.95 to $18.95, depending on size and variety. Build-your-own gift boxes will also be available. 

The shop's hours are Mondays through Fridays from 11:30 a.m. to 1:30 p.m. and 3:30 p.m. to 5:30 p.m. The store will be open for limited hours on Saturdays and Sundays for order pickups, as well as for a free Truffle and Wine Tasting event on Saturday, February 10, from 5 p.m. to 7 p.m. 

The store will be furnished by Jack Faught of Rekindled Woodworks and Jevon Ciciliot of The Lazarus Wood Project and decorated with photos by Jacyln du Chateau Photography. The furniture will be available for sale.

For more information, visit www.trufflebar.store or email trufflebar@gmail.com.
CHAMELEON POP-UP NOW LEASING 
Vendors can lease City Center's Chameleon Pop-up Shops or space within them for between one day and several weeks, meaning multiple vendors may operate in the space simultaneously. For interested vendors with little to no experience with pop-up retail, City Center has created a guide to help ensure their success.
"Pop-up shops are upending the traditional rules of retail and redefining how brands interact with customers and introduce new products," said City Center Real Estate Leasing Associate Natalia Stezenko. "Now more than ever, shoppers are demanding rich, immersive experiences over simple transactions. From online retailers feeling out a brick-and-mortar presence to national brands promoting a new product to Etsy merchants growing their customer base, businesses of all sizes can benefit from the pop-up shop model."

For more information on City Center retail leasing contact Natalia Stezenko 610-625-5538 or nstezenko@citycenterallentown.com.