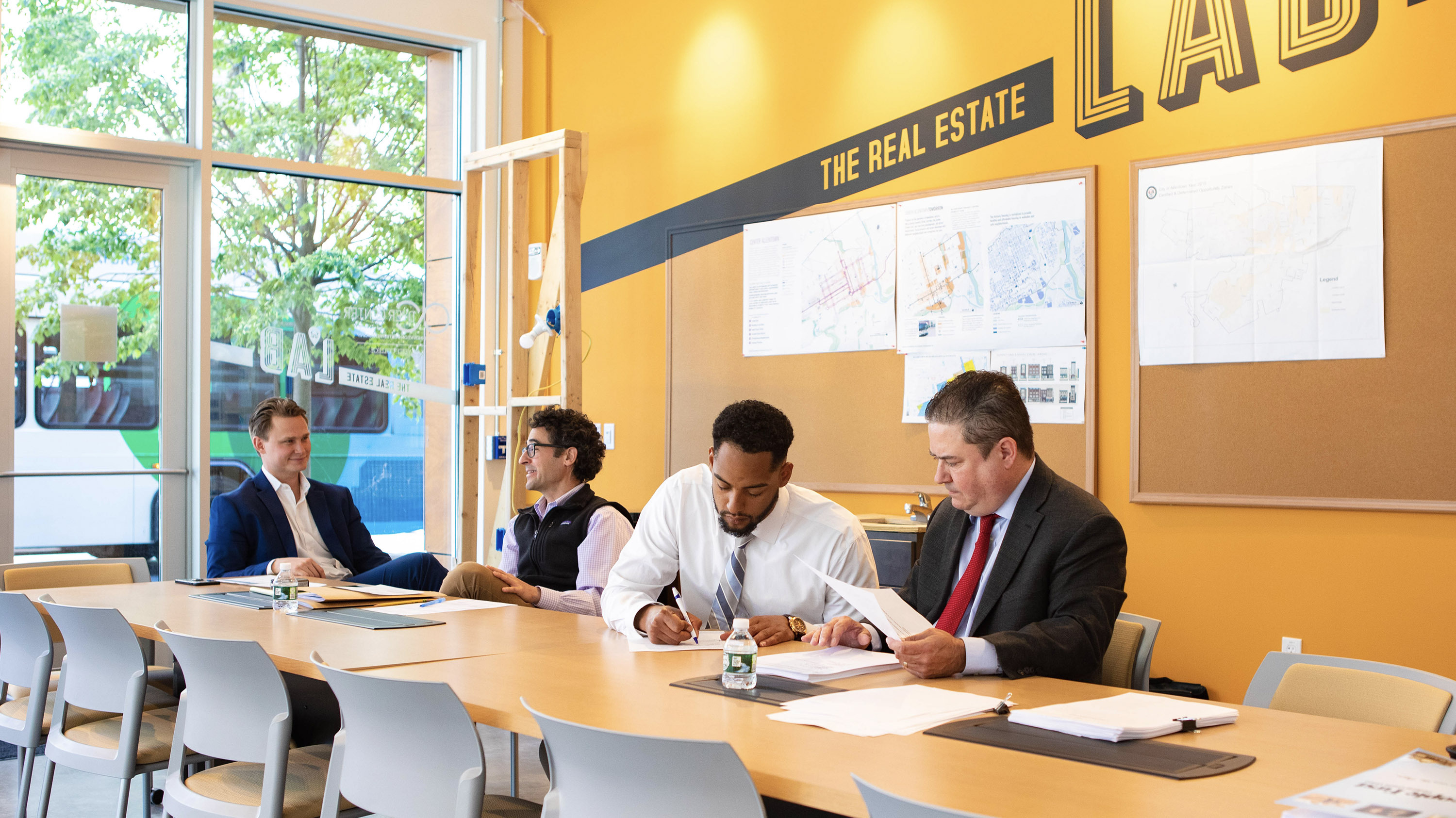 THE REAL ESTATE LAB IN DOWNTOWN ALLENTOWN SELECTS NINE NEW STUDENTS
The Real Estate Lab, a free program designed to teach downtown Allentown residents how to invest in real estate and manage properties in their community, recently announced the selection of nine new students.

"We are thrilled to have a second group of students starting at the lab this summer," said Real Estate Lab Program Director Jon Strauss. "Four members of our first class now own real estate properties. We are proud of them and look forward to helping this new group achieve the same goals."

The Real Estate Lab was launched in January 2020 by City Center Investment Corp., the real estate development company revitalizing downtown Allentown, Pennsylvania, and Lafayette College's Dyer Center for Innovation and Entrepreneurship. Located at 6th and Linden streets, The Real Estate Lab gives local residents walkable access to the resources and capital they need to become real estate entrepreneurs.
 
The current class comes from different walks of life but shares an entrepreneurial spirit and a desire to help their downtown Allentown community. The class includes a recent high school graduate, a lawyer, a thermo-machine operator, a therapist and an accountant, among others. The students are Qobi Quainoo, Kenneth Williams, Carmen Lalama, Jeremy Fajardo, Leonardo Motolese, Carlos J. Tirado, Peter Joseph Secoda, Andrew Santiago and Manuel Casanova Jr. (Biographies at end of press release.)

The Real Estate Lab offers several programs at no cost, including a 10-week First-time Investor Program, a Real Estate Entrepreneurship Access Program and an Investor Club. Participants are taught how to acquire, rehabilitate and manage real estate and learn about the many additional business opportunities in the industry. The Real Estate Lab's comprehensive programs tap into collaborations with Allentown's most successful investors for the benefit of participants.
The Real Estate Lab also helps participants develop the bankability necessary for success in the industry. City Center established an Allentown Neighborhood Innovation Fund with an initial investment of $1 million. Community leaders pool capital in the fund to be invested in program participants through grants, low- or no-interest loans and equity investments.

City Center donated the space for The Real Estate Lab, which includes a classroom with computers and whiteboards and a demolition/construction demonstration wall for hands-on learning about basic wiring, drywalling, plumbing and more. City Center appointed Strauss to serve as director of the project full-time. The Dyer Center collaborates with City Center to develop and implement the programs and measure their value.

Dyer Center Director Yusuf Dahl, whose inspirational prison-to-Princeton story was recently featured on Good Morning America and in a TEDx Talk he gave, is an entrepreneur who has been on both sides of the struggle to strengthen Milwaukee's most vulnerable neighborhoods. As a teenager, he operated a network of drug houses before being sentenced to prison for 10 ½ years and serving five. During the financial crisis he became an unlikely real estate investor in response to the onslaught of foreclosures in his neighborhood, eventually growing a portfolio of more than 200 affordable housing units. In 2017, Dahl graduated from Princeton with a master's degree in public affairs, having studied urban development and housing. In addition to his role with Lafayette College, Dahl consults with organizations across the country working to activate opportunities in inner-city housing.
 
City Center has established an advisory board for The Real Estate Lab that includes Dahl; City Center President J.B. Reilly; Dr. Hasshan Batts, director of operations for the Allentown Promise Neighborhood; Leonard Lightner, the City of Allentown's director of community and economic development; Charles Marcon, CEO of Duggan & Marcon, Inc.; and Cynthia Mota, Allentown city councilwoman.
Anyone interested in participating in the lab's programs can submit their information through the contact page at www.RealEstateLabAllentown.com.
June 2021 Class Members
 
Andrew Santiago - Andrew grew up on the east side of Allentown and graduated from Dieruff High School. After spending several years bouncing from dead-end job to dead-end job, Andrew became certified in electro-mechanical mechatronics. For the past four years he has worked for Lutron Electronics. His goal is to create wealth outside of his day job in hopes of reaching financial independence down the road.

Qobi Quainoo – Qobi is a student at Penn State University, majoring in Chinese language and culture. His interest in real estate began by seeing his mother invest in and rent multiple properties in the Bethlehem area. Qobi would work on general upkeep of those properties to help raise their value. Qobi hopes to use the lessons learned from his mother's real estate ventures and the information presented in these upcoming sessions to improve his financial acuity and earning potential.

Manuel Casanova Jr - Originally from New Jersey, Manuel moved with his family to Allentown when he was five. He is a recent high school graduate of Lehigh Valley Academy and currently enrolled at Lehigh County Community College where he plans to study business and finance. His passion for business led him to launch several businesses at a young age, including a wireless-headphone business. His goal is to learn a lot from The Real Estate Lab mentors and gain hands-on experience in finding deals, thorough analysis of properties, closing and finding tenants.

Kenneth Williams – Kenneth is a thermo-machine operator who works for Pac Worldwide in manufacturing and distribution of custom-branded and stock-protective packaging. He began his journey in manufacturing when he was 18 years old in hopes of climbing the company ladder to secure a high-paying position. Kenneth dreams of accomplishing financial freedom to be afford the life he desires for himself and his family. In his downtime Kenneth enjoys coaching youth football, having grown up playing youth football for the Allentown A's before graduating from Allen High School. He went on to become a youth baseball/football coach for the Mountainville Memorial Association on the south side of Allentown. Working his way to financial freedom, Kenneth was determined and able to purchase his first single family home on the south side of Allentown and looks to start his own property management company.

Carmen Lalama - Originally from Houston, Carmen moved to Allentown with her husband in 2008. She has a bachelor's degree in psychology from Penn State and a master's degree in marriage and family therapy from LaSalle University. She has worked in various settings like schools, outpatient and hospitals doing therapy. Currently she is a district sales manager for ADP. Carmen has a passion for architecture and interior design and has always dreamed of owning properties in various places.

Jeremy Fajardo – Jeremy is originally from New York City and moved to Allentown during grade school with his parents, who migrated from the Dominican Republic. Throughout school, he was a troubled student and did not always get the best grades or follow all the rules. Once he graduated, he always had ambitions of running his own business but never had a plan on how to execute it. While he was in college, he came across the opportunity to purchase a business and without hesitation jumped right on it. From the age of 19 until 23 he was focused on building and growing his tax business, which was failing when he purchased it. In 2018, he decided to get a full-time job with good benefits at Mack Trucks. He also purchased a second office in Allentown. In 2021, he has no debt on any of his businesses or personally and is trying to sell his offices and pursue real estate investing, which has always been his goal. He is very hands-on and can picture owning and managing multiple properties to build passive income and eventually be a full-time real estate investor.

Peter Joseph Secoda – Peter is a was born in Sarasota, Florida, raised in Philadelphia and now lives in the Lehigh Valley. After graduating from Northampton, Peter attended Kutztown University, graduating in 2017 with a dual major in accounting and management and a minor in supply chain and logistics. He is a full-time employee of accounting firm RLB. Peter's motivating factor for joining the lab is to become financially independent. He feels real estate offers opportunities to grow wealth and cash flow and create a retirement portfolio.

Leonardo Motolese – Leo was born and raised in Allentown. He earned his bachelor's degree in mechanical engineering from Penn State University. While in school full-time, he worked part-time at a coffee shop and also with his father, installing swimming pools. Real estate first became of interest to Leo when he was in high school and found an old VHS tape of his father's called "QUICK START! A program to 'jump start' your real estate investing" by Carleton H. Sheets. After that he began looking into what it means to invest in real estate and the different types of property investments that exist.
 
Carlos J. Tirado - Originally from Allentown with roots in the Caribbean, Carlos currently practices intellectual property law for a New York law firm. Carlos obtained his law degree from Temple Law School in Philadelphia. Before law school, Carlos attended Penn State University, where he studied engineering and economics. Carlos is interested in investing because he wants to provide good-quality housing and create generational wealth for his family.