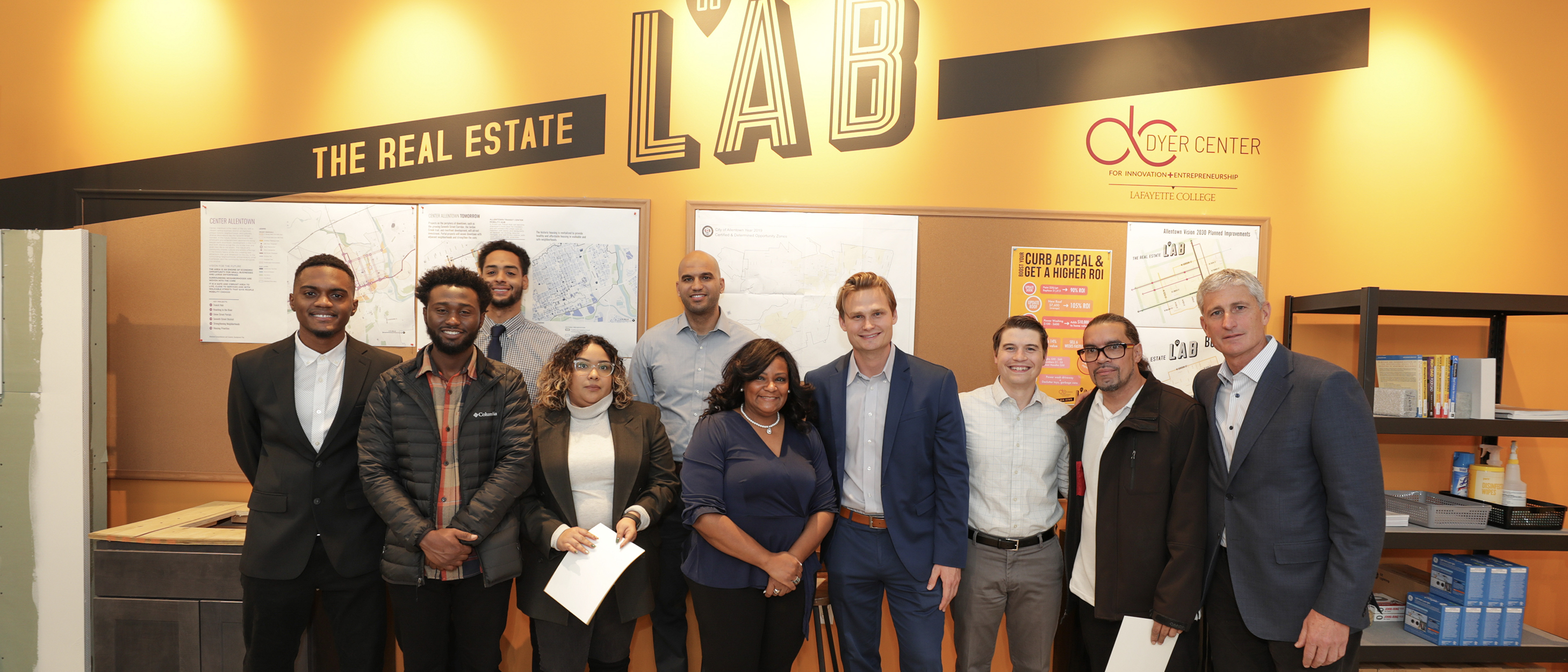 THE REAL ESTATE LAB IN DOWNTOWN ALLENTOWN HONORS FIRST GRADUATING CLASS
The Real Estate Lab, a recently launched free program designed to teach downtown Allentown residents how to invest in real estate and manage properties in their community, recently announced its first graduating class along with the properties purchased by graduates.

The Real Estate Lab was launched in January 2020 by City Center Investment Corp., the real estate development company revitalizing downtown Allentown, Pennsylvania, and Lafayette College's Dyer Center for Innovation and Entrepreneurship. Located at 6th and Linden streets, The Real Estate Lab gives local residents walkable access to the resources and capital they need to become real estate entrepreneurs.

The first nine participants to complete the program come from different walks of life but share an entrepreneurial spirit and a desire to help their downtown Allentown community. The graduates include a financial advisor, an immigrant from Sudan, a social-service professional and a sales representative, among others. Their names are Pedro Jose, Sean Roth, Ibrahim Abbakar, Jose Rivera, Michael Smith, Quantera Lightner, Thaelis Villon, Jonathan Mieses and Tajai Smith. Each graduate received a certificate from Dyer Center Director and Real Estate Lab Cofounder Yusuf Dahl and Real Estate Lab Director Jon Strauss in a ceremony at The Lab.

The Real Estate Lab offers several programs at no cost, including a 10-week First-time Investor Program, a Real Estate Entrepreneurship Access Program, and an Investor Club. Participants are taught how to acquire, rehabilitate, and manage real estate and learn about the many additional business opportunities in the industry. The Real Estate Lab's comprehensive programs tap into collaborations with Allentown's most successful investors for the benefit of participants.

The Real Estate Lab also helps participants develop the bankability necessary for success in the industry. City Center established an Allentown Neighborhood Innovation Fund with an initial investment of $1 million. Community leaders pool capital in the fund to be invested in program participants through grants, low- or no-interest loans and equity investments.

City Center donated the space for The Real Estate Lab, which includes a classroom with computers and whiteboards and a demolition/construction demonstration wall for hands-on learning about basic wiring, drywalling, plumbing and more. City Center appointed Strauss to serve as director of the project full-time. The Dyer Center collaborates with City Center to develop and implement the programs and measure their value.

Dyer Center Director Yusuf Dahl, whose inspirational prison-to-Princeton story was recently featured on Good Morning America and in a TEDx Talk he gave, is an entrepreneur who has been on both sides of the struggle to strengthen Milwaukee's most vulnerable neighborhoods. As a teenager, he operated a network of drug houses before being sentenced to prison for 10 ½ years and serving five. During the financial crisis he became an unlikely real estate investor in response to the onslaught of foreclosures in his neighborhood, eventually growing a portfolio of more than 200 affordable housing units. In 2017, Dahl graduated from Princeton with a master's degree in public affairs, having studied urban development and housing. In addition to his role with Lafayette College, Dahl consults with organizations across the country working to activate opportunities in inner-city housing.

City Center has established an advisory board for The Real Estate Lab that includes Dahl; City Center President J.B. Reilly; Dr. Hasshan Batts, director of operations for the Allentown Promise Neighborhood; Alan Jennings, executive director of the Community Action Committee of the Lehigh Valley; Leonard Lightner, the City of Allentown's director of community and economic development; Charles Marcon, CEO of Duggan & Marcon, Inc.; and Cynthia Mota, Allentown city councilwoman.

The Real Estate Lab will offer its next set of classes in early 2021. Anyone interested in participating can submit their information through the contact page at www.RealEstateLabAllentown.com.
November 2020 Program Graduates and Properties Purchased
Pedro Jose – Purchased 245 N 10th Street, Allentown, PA 18102

Born in the Dominican Republic, Pedro arrived in Allentown as a teenager, quickly learning English and securing a job as a newspaper delivery person before he turned 15. He went on to earn a bachelor's degree and currently works as a production manager. Pedro seeks to become a serious real estate investor with a lucrative business that plays a big part in the rehabilitation of Allentown.

Sean Roth – Purchased 928 W Chew Street, Allentown, PA 18102

Born and raised in Allentown, Sean attended Parkland High School then studied finance and played football at East Stroudsburg University. After playing professional football at the CFL/AFL level, he took a job at Morgan Stanley in Allentown as a Financial Advisor. Seth's long-held goal is to become a real estate investor, creating generational wealth for his family through a portfolio of real estate separate from the stock market.

Ibrahim "Abe" Abbakar – Purchased 234 N Church Street, Allentown, PA 18102

Abe's family left their home in Darfur, Sudan, to escape genocide, moving first to Egypt and then to the United States. He learned English, graduated high school and attended college for one year before deciding to pursue entrepreneurship while working at the downtown Allentown Starbucks. Abe learned about The Real Estate Lab through the Promise Neighborhoods organization, for which he volunteers. He is currently working at a Home Depot warehouse, looking to purchase multi-unit properties to start his career in real estate investment.

Jose Rivera – Purchased 612 W Gordon Street, Allentown, PA 18102

Through education and second changes, Jose has developed a drive to help his community that he "once destroyed." He plans to continue learning about real estate until he is financially ready to invest, with goals of offering affordable housing in Allentown, improving his community's way of life, and uplifting the Center City Allentown area. Jose wants his community to "see that one of their own has made a difference."

Michael K. Smith – Purchased 426 N Fulton Street, Allentown, PA 18102

Michael is a Senior Sales Representative working at ADP Payroll in downtown Allentown. He joined The Real Estate Lab to increase his financial literacy, knowing that success in real estate investment can be "a life-changer."

Jonathan Mieses – Purchased 244 N 2nd Street, Allentown, PA 18102
Jonathan is a proud graduate of the Allentown School District and Kutztown University. His career has focused on helping Allentown residents through his jobs in social service with such organizations as CareerLink and Justice Works Youth Care. He aims to become a successful real estate investor, achieving generational wealth while continuing to grow as a leader in the Allentown community.
Quantera Lightner

As a young, enterprising and community-minded professional, Quantera joined The Real Estate Lab for an opportunity to give back to the Allentown community, helping people find a perfect and excellent place to live. By turning homes and filling them with qualified lessees, Quantera hopes to help Allentown continue to grow into the beautiful city it already is. She plans to begin by purchasing a couple of single-family homes.
Thaelis Villon
Thaelis is a second-generation immigrant and the first in her family to attend college, where she is working toward a bachelor's degree in media communications and a master's degree in public relations. Through The Real Estate Lab, she hopes to find a way to help people from low- income families, whether it be a student, a single mom, a child out of the foster system or a family, and to help build a better community.
Tajai Smith
Tajai is an Allentown resident and is looking forward to becoming a real estate investor