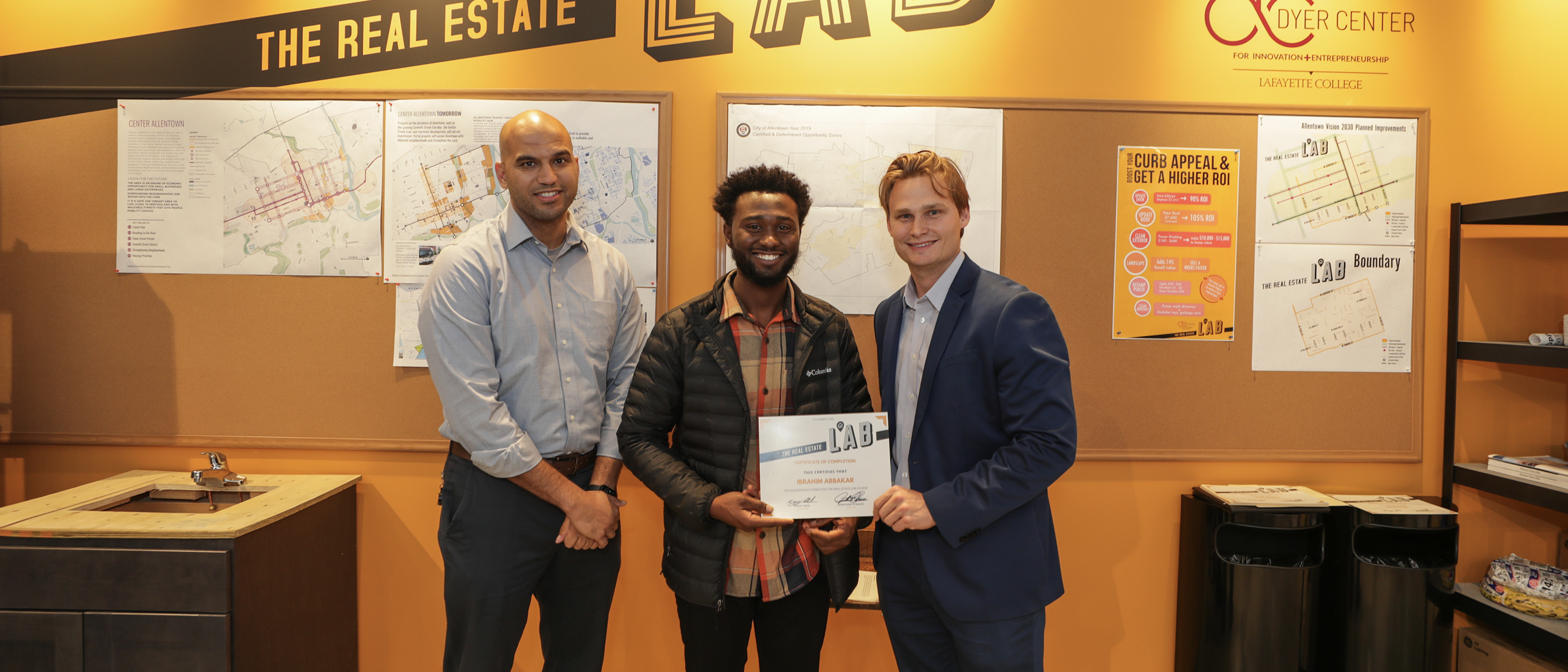 THE REAL ESTATE LAB IN DOWNTOWN ALLENTOWN ACCEPTING APPLICATIONS FOR 2021 PARTICIPANTS
The Real Estate Lab, a free program designed to teach downtown Allentown residents how to invest in real estate and manage properties in their community, announced it is now accepting applications for the 2021 cohort.

The Real Estate Lab was launched in January 2020 by City Center Investment Corp., the real estate development company revitalizing downtown Allentown, Pennsylvania, and Lafayette College's Dyer Center for Innovation and Entrepreneurship. Located at 6th and Linden streets, The Real Estate Lab gives local residents walkable access to the resources and capital they need to become real estate entrepreneurs. Anyone interested in participating in The Real Estate Lab's 2021 program can submit their information through the Apply webpage on www.realEstateLabAllentown.com.

"We are excited to get the next group of first-time investors started," said Program Director Jon Strauss. "Our first nine students now own and manage their own investment properties. We want to make sure more people have access to do the same."

In 2020, the first nine participants to complete the program came from different walks of life but share an entrepreneurial spirit and a desire to help their downtown Allentown community. The graduates include a financial advisor, an immigrant from Sudan, a social-service professional and a sales representative, among others.  

The Real Estate Lab offers several programs at no cost, including a 10-week First-time Investor Program, a Real Estate Entrepreneurship Access Program, and an Investor Club. Participants are taught how to acquire, rehabilitate, and manage real estate and learn about the many additional business opportunities in the industry. The Real Estate Lab's comprehensive programs tap into collaborations with Allentown's most successful investors for the benefit of participants.

The Real Estate Lab also helps participants develop the bankability necessary for success in the industry. City Center established an Allentown Neighborhood Innovation Fund with an initial investment of $1 million. Community leaders pool capital in the fund to be invested in program participants through grants, low- or no-interest loans and equity investments.

City Center donated the space for The Real Estate Lab, which includes a classroom with computers and whiteboards and a demolition/construction demonstration wall for hands-on learning about basic wiring, drywalling, plumbing and more. City Center appointed Strauss to serve as director of the project full-time. The Dyer Center collaborates with City Center to develop and implement the programs and measure their value.

Dyer Center Director Yusuf Dahl, whose inspirational prison-to-Princeton story was recently featured on Good Morning America and in a TEDx Talk he gave, is an entrepreneur who has been on both sides of the struggle to strengthen Milwaukee's most vulnerable neighborhoods. As a teenager, he operated a network of drug houses before being sentenced to prison for 10 ½ years and serving five. During the financial crisis he became an unlikely real estate investor in response to the onslaught of foreclosures in his neighborhood, eventually growing a portfolio of more than 200 affordable housing units. In 2017, Dahl graduated from Princeton with a master's degree in public affairs, having studied urban development and housing. In addition to his role with Lafayette College, Dahl consults with organizations across the country working to activate opportunities in inner-city housing.

City Center has established an advisory board for The Real Estate Lab that includes Dahl; City Center President J.B. Reilly; Dr. Hasshan Batts, director of operations for the Allentown Promise Neighborhood; Alan Jennings, executive director of the Community Action Committee of the Lehigh Valley; Leonard Lightner, the City of Allentown's director of community and economic development; Charles Marcon, CEO of Duggan & Marcon, Inc.; and Cynthia Mota, Allentown city councilwoman.
For more information, please visit www.realestatelaballentown.com or email info@realestatelaballentown.com.