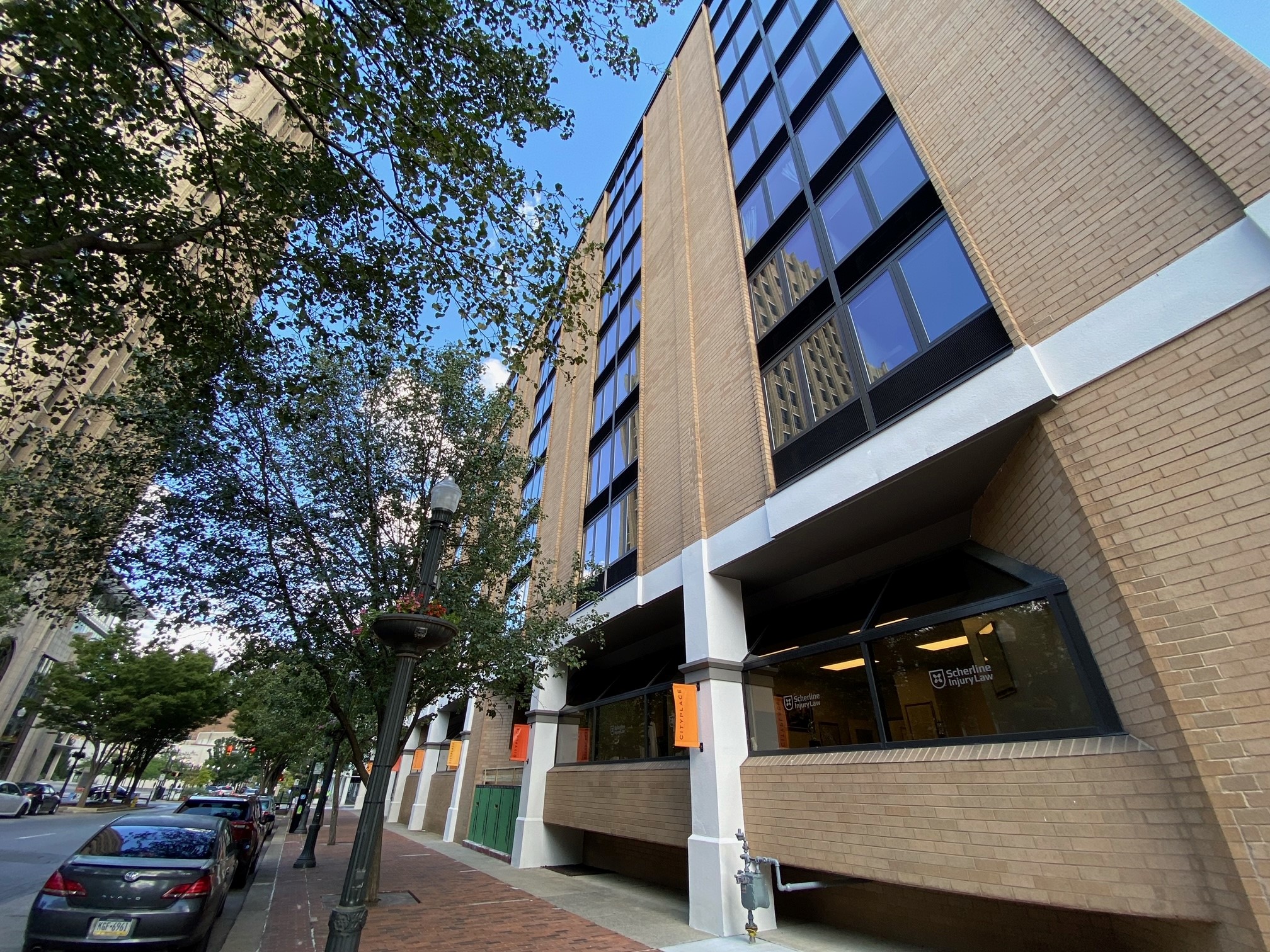 SCHERLINE INJURY LAW RELOCATES TO CITYPLACE NORTH IN DOWNTOWN ALLENTOWN
City Center Investment Corp., the real estate development company revitalizing downtown Allentown, Pennsylvania, announced today that Scherline Injury Law, formerly Scherline & Associates, has relocated to the ground floor of its Cityplace North residential building at 902 Hamilton Street, effective today.
The 45-year-old personal injury law firm, which has 20 employees, has leased more than 6,200 square feet in Cityplace, occupying the building's entire street-level retail space. The nine-story tower was previously a Holiday Inn, which City Center recently renovated into one of its many apartment communities in downtown Allentown. Scherline Injury Law was previously located at 512 W. Walnut St. in Allentown.
Scherline Injury Law is a top-rated law firm with more than four decades of effective legal representation of Lehigh Valley residents. The friendly and multilingual firm is available 24/7 and concentrates their practice on all personal injuries, including injuries caused by car, truck, motorcycle and bicycle, as well as pedestrian accidents, dog bites and slip/trip and falls.
About the move to Cityplace, Scherline Injury Law said, "The move to our new, larger and updated space in downtown Allentown is the next phase of growth of Scherline Injury Law. We have been fortunate to be part of the changing Allentown landscape over the past 45 years, and this expanded location on Hamilton Street reflects our firm's recognition of the growth of Allentown. The Neighborhood Improvement Zone, or NIZ, has made it attractive for people and businesses to move into downtown Allentown and by moving into the NIZ, we are closer to the people we have helped for over four decades. We have expanded our footprint to better serve the Lehigh Valley and beyond."
The firm said this about its name change, "We have updated our name to reflect the focus of our practice for over 45 years, personal injury law. Our commitment to injured people is more than just legal representation, we also want to see people recover physically, mentally, and emotionally from their injuries. The term 'recovery team' defines our overall team approach to make sure our clients get the treatment they need as well as the financial compensation that will help them with the financial burdens they face because of the injuries they've suffered. The new logo, a red shield, reflects our commitment to protecting people and helping them recover. We invite everyone to stop by and see our expanded office and new logo and meet your recovery team!"
For more information about Class A office and retail space at City Center, contact Director of Leasing Jarrett Laubach at jlaubach@citycenterallentown.com.