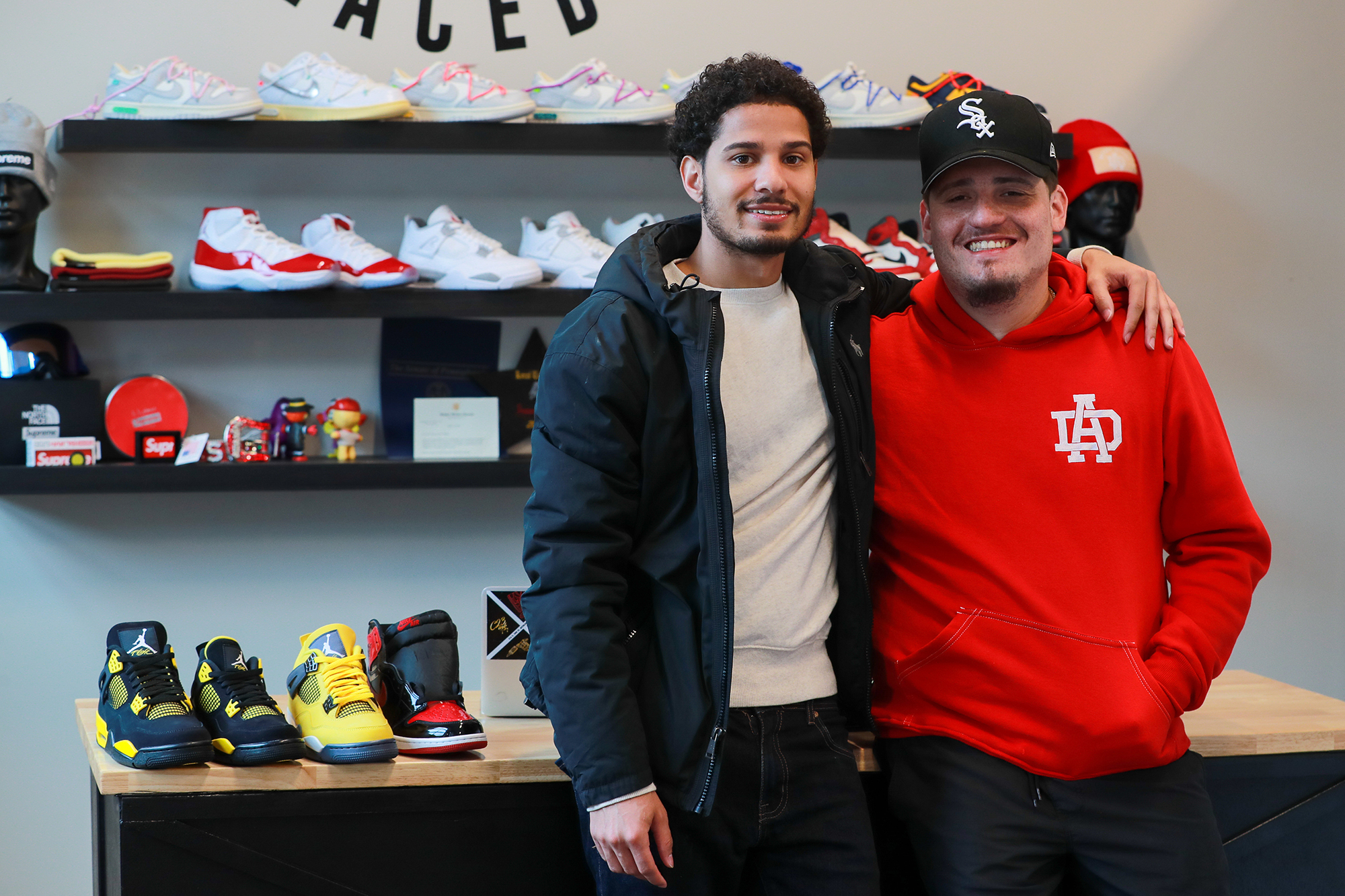 Properly Laced specialty sneaker store wins inaugural "Ultimate Business Branding Makeover" contest in downtown Allentown with most online votes
Specialty sneaker store Properly Laced has been named the winner of the inaugural "Ultimate Business Branding Makeover" contest in downtown Allentown after receiving the most online votes, 1,049. The contest was launched last June by the City of Allentown, with AlphaGraphics Lehigh Valley and City Center Allentown, for owners of downtown restaurants and retail businesses located between Walnut and Chew streets and 5th and 13th streets.
As the winner, Properly Laced will receive a business branding makeover valued at $5,000. The makeover could include a redesigned logo, updated menus, loyalty cards, vinyl window signage, wall graphics, flags and more.
Properly Laced co-owner Willie Burns said, "Thank you to all who shared and voted for Properly Laced. We couldn't have done it without your support! We will plan to use the winnings to benefit your experience when shopping with us!"
"Thank you to all the participants and congratulations to Properly Laced," said Ilene Stroh, president of AlphaGraphics Lehigh Valley. "Also, thank you to our partners the City of Allentown and City Center Allentown. We are excited for the new branding reveal!"
Other businesses that submitted entries in the contest include Blended, The Dollhouse, La Vida Café, Sterner's Stems, Cuts & Shaves, Bru Daddy's, A Little Bit of Local, and Silveri & Co.
Properly Laced is located at 107 North 7th Street, Suite 110, in The Hive Residences. The owners are cousins Willie Burns and Aaron Milan, who always dreamed of opening a sneaker store. They sell high-end Jordans, Nikes, and Yeezys as well as clothing by Supreme, Fear of god, Kith, and more.
Burns and Milan are known for going above and beyond to ensure that every Properly Laced customer is satisfied with their shopping experience, even delivering purchases outside of business hours, if necessary.
Properly Laced launched as a "pop-up" retailer then set up shop permanently in The Hive last April after a successful trial.
About The City of Allentown:
The City of Allentown's Office of Business, Expansion, Attraction, and Retention (B.E.A.R.) prioritizes the delivery of support and resources to Allentown's business community to facilitate small business growth and sustainability, a goal at the very core of the office's mission.
About AlphaGraphics:
AlphaGraphics Lehigh Valley offers premier marketing and custom printing solutions for the Allentown market. Located at 515 Hamilton Street, Suite 3, AlphaGraphics provides local visual marketing and communication expertise and truly cares about product quality, customer satisfaction, and establishing long-term partnerships with clients. www.alphagraphics.com/us-pennsylvania-allentown-us283
About City Center Allentown: 
City Center Allentown is a major mixed-use development that is helping transform downtown Allentown, Pennsylvania, into one of America's most vibrant urban communities and a regional center of excellence for business, culture, and city living. With Allentown's new arena, PPL Center, at its core, City Center includes 3 million square feet among five Class A office towers, the Renaissance Allentown Hotel, 14 residential buildings, upscale retail and restaurant space, and a coworking space called Velocity. City Center's total investment in downtown Allentown is more than $850 million, with another $537 million in the planning and construction stages. In 2017, the Downtown Allentown Revitalization District was honored with a Global Award of Excellence by the Urban Land Institute (ULI).