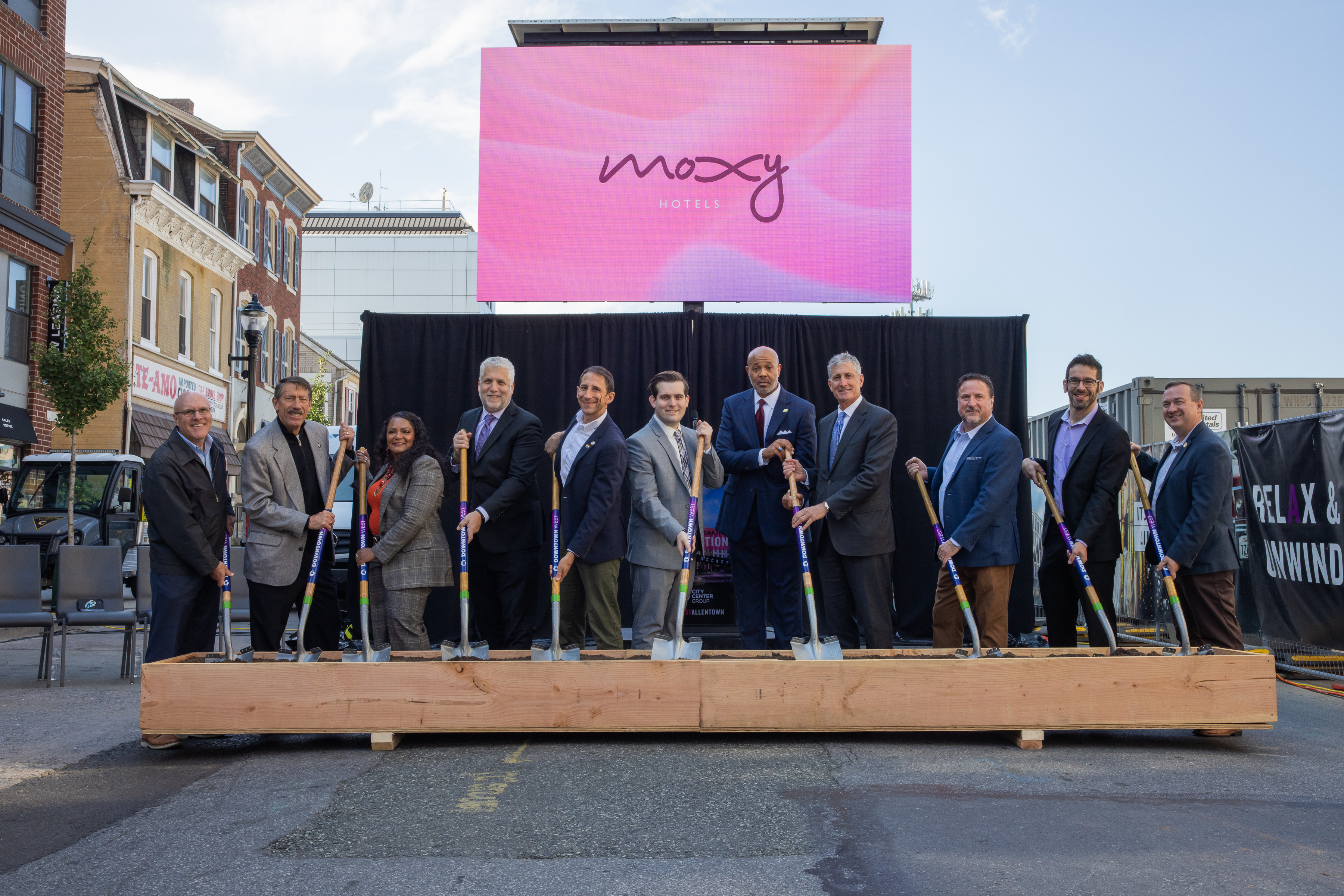 NEW BOUTIQUE HOTEL IN DOWNTOWN ALLENTOWN WILL BE A MOXY BY MARRIOTT
City Center Group announces brand at groundbreaking ceremony for "Moxy Allentown" on Hamilton Street, opening in September 2024
ALLENTOWN, Pa., October 10, 2023 – City Center Group, the real estate development company revitalizing Allentown, Pennsylvania, announced today its future boutique hotel at 949 Hamilton St. will be a Moxy, an experiential hotel brand by Marriott International. Currently under construction, the $27 million Moxy Allentown is scheduled to open in September of 2024. The 58,000-square-foot pet-friendly hotel will offer 133 small but stylish rooms at an attractive price point for fun-seeking guests and locals.
Moxy Hotels are known worldwide for boldly reinventing the traditional hotel stay with vibrant guest experiences and lively service, starting with a complimentary signature cocktail at check-in, which takes place at the hotel's lobby bar. Moxy Allentown's playful brand will come to life throughout its open-to-the-public social spaces, including a theatrical lobby, a 4,200-square-foot restaurant, a neighborhood bar featuring nightly DJs and performers, a cocktail lounge, and a courtyard with yard games. The hotel will also offer chic meeting space for private events.
Located in Downtown West, the neighborhood between 9th and 12th streets and Walnut and Linden streets, the hotel will be just steps from Archer Music Hall, the state-of-the-art concert hall City Center Group is building at 935-939 Hamilton St. With two venues for 1,800 and 350 patrons, respectively, the Archer is scheduled to open in the fall of 2024 like the Moxy. Downtown West will also offer Moxy Allentown guests an exciting mix of great shopping and delicious dining right outside the hotel as retailers and restaurants, such as Amigos Mexican Grill and Dunkin', lease space in the up-and-coming neighborhood.  
"We are thrilled to celebrate today's groundbreaking of the City Center Allentown Moxy," said Adam Sherer, Senior Vice President, Lodging Development, Marriott International. "This is a great market for Moxy and marks an exciting milestone in our journey with Gulph Creek Hotels. We could not be more pleased with our partnership and can't wait to see our shared vision come to life here at the City Center Allentown Moxy."
"We are thrilled to welcome Moxy, the second Marriott International hotel to recognize the exciting business opportunities in downtown Allentown," said City Center Group President J.B. Reilly. "The playful spirit of the Moxy brand is the perfect match to the vibrant energy that once defined this historic theater district and is now returning through the redevelopment of Downtown West."
Downtown West has recently welcomed five new apartment communities, including Cityplace, The NINES, The Gallery, 1010 Apartments and Walnut View, are of which are nearly fully leased. Recent public and private investments in Downtown West include new widened sidewalks, upgraded lighting, striking murals, façade improvements, trees and landscaping, and new parking to enhance residents' and visitors' experience. 
"Downtown West is booming, and it's a great time to lease retail and restaurant space in the neighborhood before the Moxy hotel and Archer Music Hall open next year," said Megan Colon, City Center Group leasing specialist. "The foot traffic in downtown Allentown has already increased drastically with PPL Center event attendees, residents in 14 new apartment buildings, and all the professionals in the five new office towers. By the time Moxy and Archer open, Downtown West will really be the place to locate your small business."
Moxy Allentown was designed by Bernardon with an exterior that combines modernism with the adjacent historic facades. Interior design was done by The Society and civil engineering by Rettew. North Star is managing construction and Gulph Creek will manage the hotel, which will create more than 50 full-time jobs.
For more information on the Moxy brand visit moxy-hotels.marriott.com and @moxyhotels on Instagram #atthemoxy.
For more information about available retail and restaurant space for lease in downtown Allentown, contact Megan Colon at 610-625-5538 or MColon@CityCenterGrp.com. 
About Moxy Hotels
Moxy offers a playful hotel experience for the young at heart. With over 125 properties open across 24 countries and territories, Moxy boldly breaks the rules of a conventional hotel stay across the globe. The nontraditional experience starts with check-in at Bar Moxy and comes to life throughout its social public spaces, like the Lounge and Library, and the small but smart bedrooms. Moxy provides stylish, industrial design and sociable service at an attractive price point, so that guests can splurge on the experiences that matter most to them during their travels. Moxy celebrates nonconformity, open-mindedness, and originality above all – forever giving its guests permission to Play On #atthemoxy. For more information, visit www.moxyhotels.com and join the fun #atthemoxy on Instagram. Moxy is proud to participate in Marriott Bonvoy®, the global travel program from Marriott International. The program offers members an extraordinary portfolio of global brands, exclusive experiences on Marriott Bonvoy Moments, and unparalleled benefits including free nights and Elite status recognition. To enroll for free or for more information about the program, visit marriottbonvoy.com.
About City Center Group
Based in Allentown, Pa., City Center Group is a visionary real estate development and management company known for its expertise in creating vibrant, connected areas by combining Class A properties with placemaking and community-building experiences. The company's major mixed-use development in downtown Allentown has helped transform the city into a regional center of excellence for business, recreation, and city living. With 3 million square feet among five Class A office towers, the Renaissance Allentown Hotel, 14 residential buildings, and upscale retail and restaurant space, City Center Group's total investment in downtown Allentown is more than $850 million with another $537 million in planning and construction. The Downtown Allentown Revitalization District was honored with a Global Award of Excellence by the Urban Land Institute (ULI). City Center Group is preparing to develop a master-planned community called Northridge on nearly 200 vacant acres in East Allentown. The company has also begun construction and planning on two mixed-use residential and retail buildings in downtown Easton, Pa., through a joint venture with Peron Development of Bethlehem, Pa.

Media Contact
Jeff Vaughan, Vaughan Communications Group, jv@voncom.com, 610-533-4264