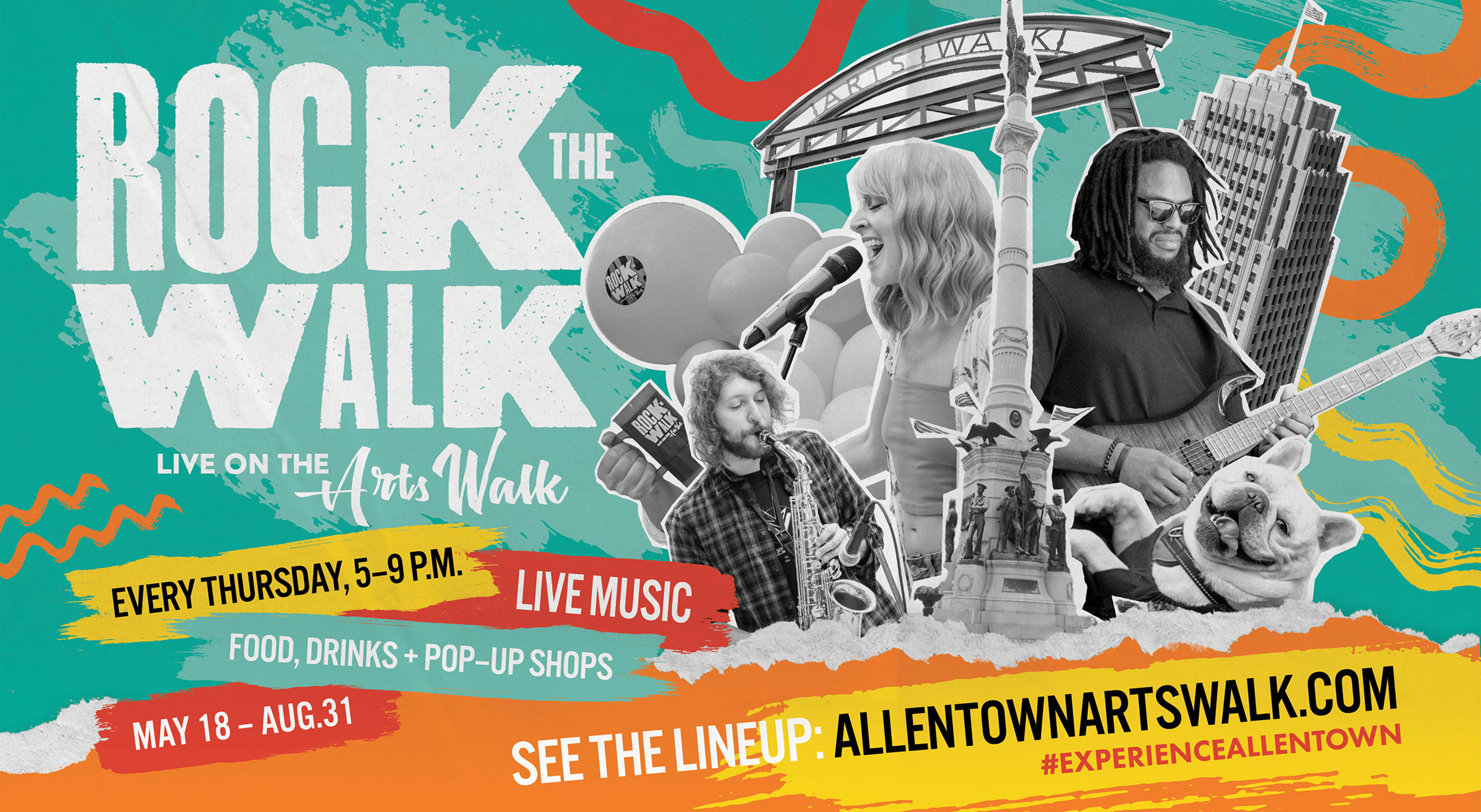 LINEUP ANNOUNCED FOR FREE SUMMER CONCERT SERIES IN DOWNTOWN ALLENTOWN
City Center Investment Corp., the real estate development company revitalizing downtown Allentown, Pennsylvania, today announced the schedule of performers for its Rock the Walk summer concert series. Located in the pocket park on the ArtsWalk in downtown Allentown, the weekly concerts kick off May 18 and run through August 31 on Thursdays from 5 to 9 p.m. All the concerts are open to the public, free, and include a performance from a local group prior to the headliner taking the stage. 

In addition to the free concerts, guests can shop with various pop-up vendors and visit the Downtown Allentown Market for food and beverage options. In case of rain, the concerts will be inside Blended restaurant on the ArtsWalk.

"We are ready for another great summer of free concerts," said Nicole Wescoe, City Center Allentown's events and activation manager. "We encourage everyone to come to the ArtsWalk Pocket Park every Thursday to listen to live music from their favorite area bands, explore pop-up vendors, and watch opening performances from local groups. Guests of all ages can enjoy the music and stop at the Downtown Allentown Market for some great food and drinks."

The ArtsWalk Pocket Park is located at 65 N. Chruch St. in Allentown. For more information, please visit experienceallentown.com.

Rock the Walk Summer Concert Series Lineup for 2023 

Every Thursday, May 18 – August 31 (except August 10)
5 – 9 p.m.
ArtsWalk Pocket Park (inside Blended if raining)
May 18
•    Headliner: Hunk-A-Junk
•    Opening Act: Ceviche    
May 25
•    Headliner: Yam Yam
•    Opening Act: Doug Kaetz & Friends    
June 1
•    Headliner: Life After Dead
•    Opening Act: Smooth Retsina Glow    
June 8    
•    Headliner: Atlassian    
•    Opening Act: Dirk Quinn Trio

June 15 
•    Headliner: Toolshed Jack    
•    Opening Act: Chasing Daylight Trio        
June 22    
•    Headliner:The Large Flowerheads    
•     Opening Act: Miller Symphony Hall's El Sistema    
June 29    
•    Headliner: Roots In Blue Stone & Christian Porter Band    
•    Opening Act: Copper Fields Music            
July 6    
•    Headliner: Cody Templeton Band    
•    Opening Act: Michael Gray Trio    
July 13    
•    Headliner: Hector Rosado y Su Orq Hache    
•    Opening Act: ELY Dance Studio    
July 20    
•    Headliner: The Groove Merchants    
•    Opening Act: Seth Witcher Trio    
July 27
•    Headliner: Go Go Retro    
•    Opening Act: Cellar Sessions Duo
August 3    
•    Headliner: American Street Band
•    Opening Act: T & Esmee of The Groove Merchants            
August 10
•    No Rock the Walk events, just a live band, The Boondock Barons        
August 17
•    Headliner: Dustin Douglas and the Electric Gentleman     
•    Opening Act: Shaun Lally Trio
August 24     
•    Headliner: Melody Cruz & The Audio Files
•    Opening Act: Honey & Nutz Trio
August 31    
•    Headliner: Big Boy Brass    
•    Opening Act: DMC Trio