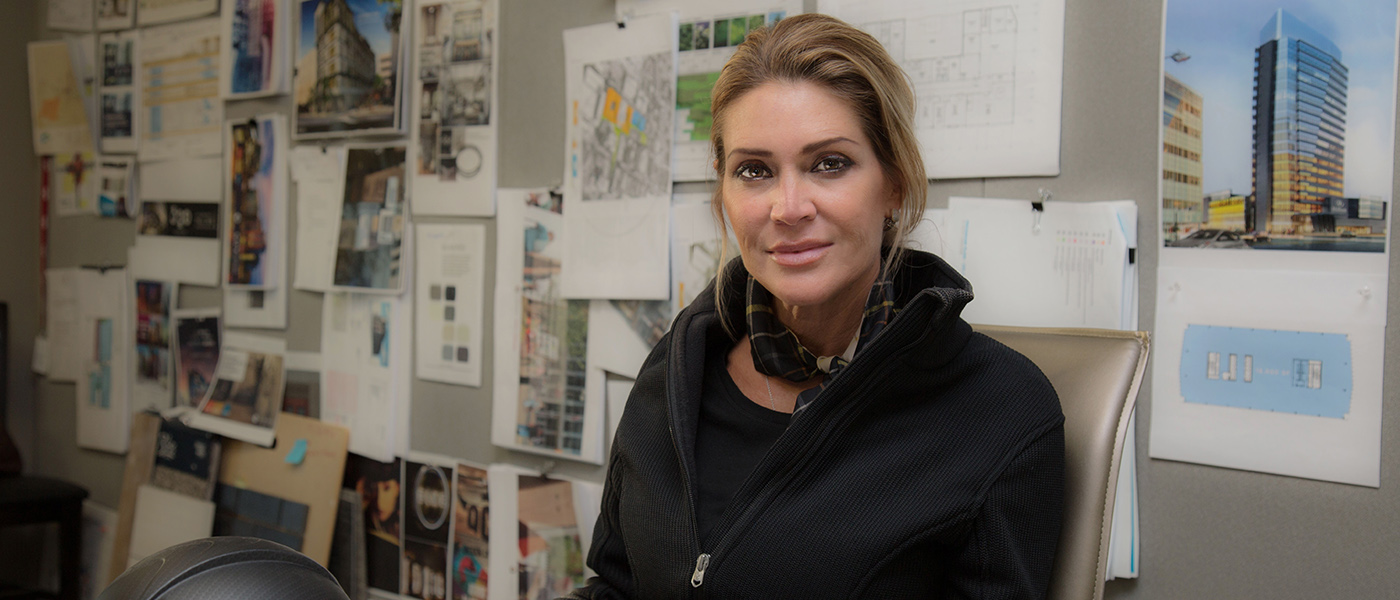 Creativity Works: Design plays major role in Allentown's renaissance
Article By William Childs via The Morning Call 
There is no longer any doubt that Downtown Allentown is indeed experiencing a renaissance. There is also someone at the center of all this innovation and creativity whose work has forever changed the way people interact inside its structures. That person is Jane Heft, director of project design for City Center Investment Corp., and her groundbreaking design is changing the way people live, work, and play in Downtown Allentown.
After six years and eight buildings completed, one currently under construction, and two more office buildings and three apartment complexes in the planning stage, even the diehard naysayers have finally softened their cynicism. While it takes a multitude of talented people working together to make it all happen, Heft and her desire to create the connective tissue of urban planning and design is leading the innovative charge.
"Growing up I was always a bit of a tomboy – I would build things out of wooden blocks, Legos or Lincoln Logs. I looked at everything like it was a puzzle and I was always figuring out how to build it more efficiently," Heft said.
Her first job was that of an art director for Junior Colony Inc., a women's fashion chain that had locations on Hamilton street. "After the stores closed, I moved to Connecticut and began work for The Donaldson Group, a large industrial design firm that ultimately evolved into a significant branding firm," Heft said.
Upon returning to the Lehigh Valley, she got the opportunity to work on a project that drew global attention, the SteelStacks project and ArtsQuest Center in South Bethlehem. Later, she did work for Miller Symphony Hall, then PPL Center and City Center.
Heft is using her impressive design knowledge to alter how people experience every City Center building. "The idea was to design a place for not only attraction but permanency. We're designing something that my children's children – and theirs, will be able to appreciate. We wanted to make sure that everything fit together and everything between the properties would feel connected," Heft added.
Spend time at the Renaissance Allentown Hotel, or enjoy a meal at The Dime restaurant or any other City Center property, and you will immediately see Heft's influence. Each property is different, but they all feel linked. It's an extraordinary experiential feeling being in those places, and yet they all have a unique vibe and energy.
The world is taking notice of what's happening here in Downtown Allentown. Recently, the Urban Land Institute, which represents the entire spectrum of land use and real estate development disciplines, named Allentown's Neighborhood Improvement Zone as one of 13 winners of the Global Award for Excellence for 2017-18.
Heft had this response to the recognition, "It was important to show that thoughtful design and taking time to look at things a bit differently — would make a difference. To take the risk and push a little further than expected. It's the biggest challenge I've ever had, and the entrepreneurial spirit in what we had to overcome and accomplish made it the most fun and rewarding. Now, I get to see it all come together."
Every great renaissance requires those exceptional individuals to inspire transformative change and fuel innovation. Heft is driving change through her design and perseverance. When I think of the word "masterpiece," I used to think of paint, brushes, and canvas.
Now, I know that it can also mean steel, concrete, and glass.