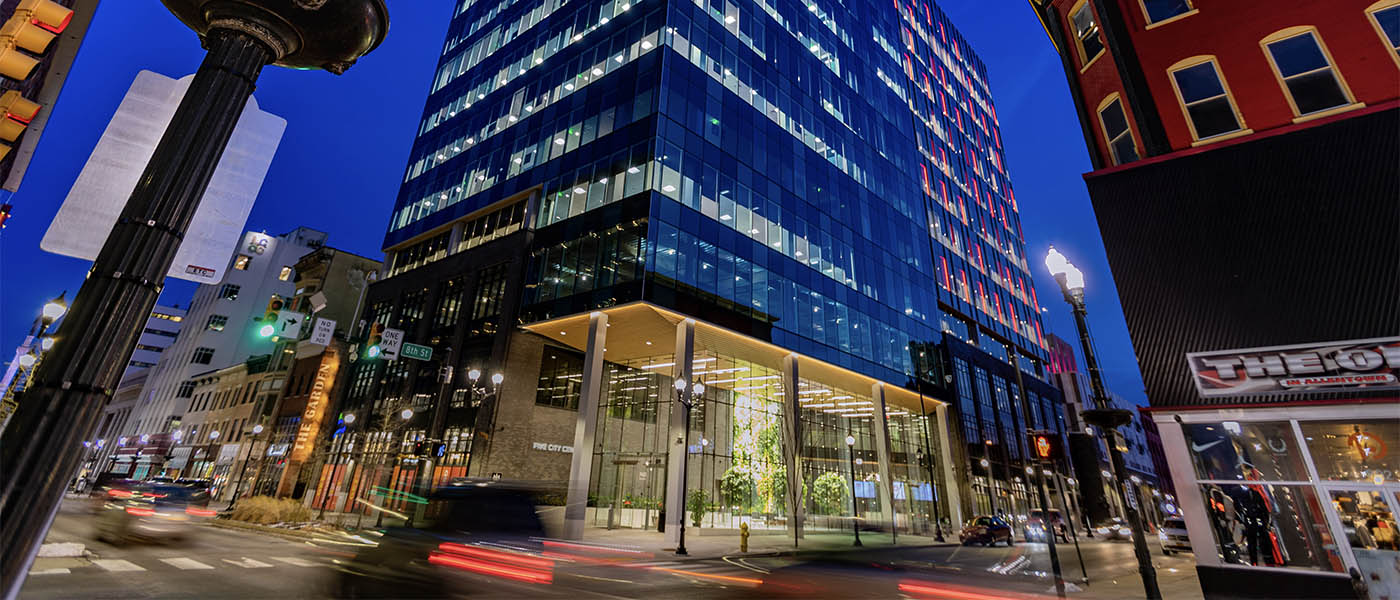 CRE Opinion Piece: The risks of functional obsolescence in office space
When was the last time you thought critically about what your business will look like in 10 years? Is your office environment suitable for the next generation of workers? Are you proud to show off your space to clients and job candidates? 

Thousands of forward-thinking companies are leveraging their office space, not just occupying it, but deploying it as a tool for maximizing worker productivity and attracting and retaining talent. They are not only proud of their environment but reap significant financial and human capital benefits too, by staying up to date on space reconfigurations to meet business demands. 
A recent study by commercial real estate firm, JLL, revealed that more than 70 percent of office buildings in the Lehigh Valley are at least 30 years old, and about 18 to 20 percent of those buildings were built before 1950. As a result those buildings pose as a functionally compromised workplace. 

Those demands come from accelerating changes in the work environment due to the evolving needs of employees, advanced technology, multiple generations working together and the rise of remote working and startups. One of the smartest decisions business leaders can make for the longevity of their business is ensure their office space is flexible to adapt to change. Office layouts should allow for easy, cost-effective change every two to three years, as business priorities and markets fluctuate.
 
But if your offices were built 20 to 30-plus years ago, it may be difficult to feasibly reconfigure the space. Andrew Miller, construction director for North Star Construction, which built much of the major mixed-use development for City Center Allentown in Pennsylvania, discusses why inflexible floorplates exist:

"20 years ago, builders very much had the end target in mind, having projects 'built to suit,' taking into careful consideration the tenant's needs at that time, which is why so many of those floorplates are not practical for its next users, leaving little room for alternative purposes in the future. A business used to stay where it was, functioning the same way, for 50-plus years with little to no friction in its environment. This is not so for businesses today. Change must be anticipated for any company that wants to stay competitive."
 
Many older floorplates limit businesses' ability to optimize their space, compared to flexible floorplates in newer, highly efficient buildings, which are largely minimalistic, spanning columns further, allowing for easy reconfiguration. Newer office buildings, which often have an all-glass exterior, also pose both practical and aesthetic benefits, providing maximum natural sunlight to increase employee productivity.
 
Unfortunately, the majority of office users are not enjoying the space, productivity and cost-efficient benefits of their modern-space counterparts, because their office building is functionally obsolete: meaning the space operates below current standards and is unable to be easily or efficiently changed. 
 
Office buildings with inflexible floorplates indicate functional obsolescence, but so do inefficient HVAC systems, slow and undependable elevators, outdated installed technology, not enough parking and wasted space. The core problem with functionally obsolete space is you need more square footage to deliver only a "passable" work environment, therefore you get neither affordability nor workforce optimization.
 
Andrew further explains the problems with older buildings:

"Hierarchy structure was very important, so you'd have floorplates with large private executive offices lining the exteriors, leaving little room for flexibility. Today, as we saw with ADP moving to downtown Allentown, Pennsylvania, it is more important and cost-effective to focus on shared amenities and activity-based workstations that suit everyone's needs."
 
Employees today are looking for a choice of different workspaces depending on what type of work they are performing at any given time – private spaces for concentrated thought, collaborative spaces for interconnected projects and social spaces for conversation. New buildings are conducive to these types of demands. 
  
When deciding whether to renovate, a valuation analyst can help determine the level of functional obsolescence in a property and if it is cost-efficient to cure it. Every building requires regular maintenance and updates to prevent obsolescence, but new office space may be the ideal solution for companies looking to sustain their business without the headache of renovating. Newer buildings have the advantage of being designed with reconfiguration in mind. A new real estate decision can also be a fresh catalyst for other changes in the office, like reinforcing culture to boost employee engagement.
 
So, what can you do about your uninspiring, outdated office space? Begin by looking at your office space critically, thinking about how your real estate can and should be part of your business strategy, since it's relevant to your bottom line and to your employees. 
 
Companies that have addressed this challenge all took the same first step – they began talking with our planners to understand to what degree they can benefit from updated office space. 

Start a conversation about office-space solutions or check out available office space with flexible floorplates.