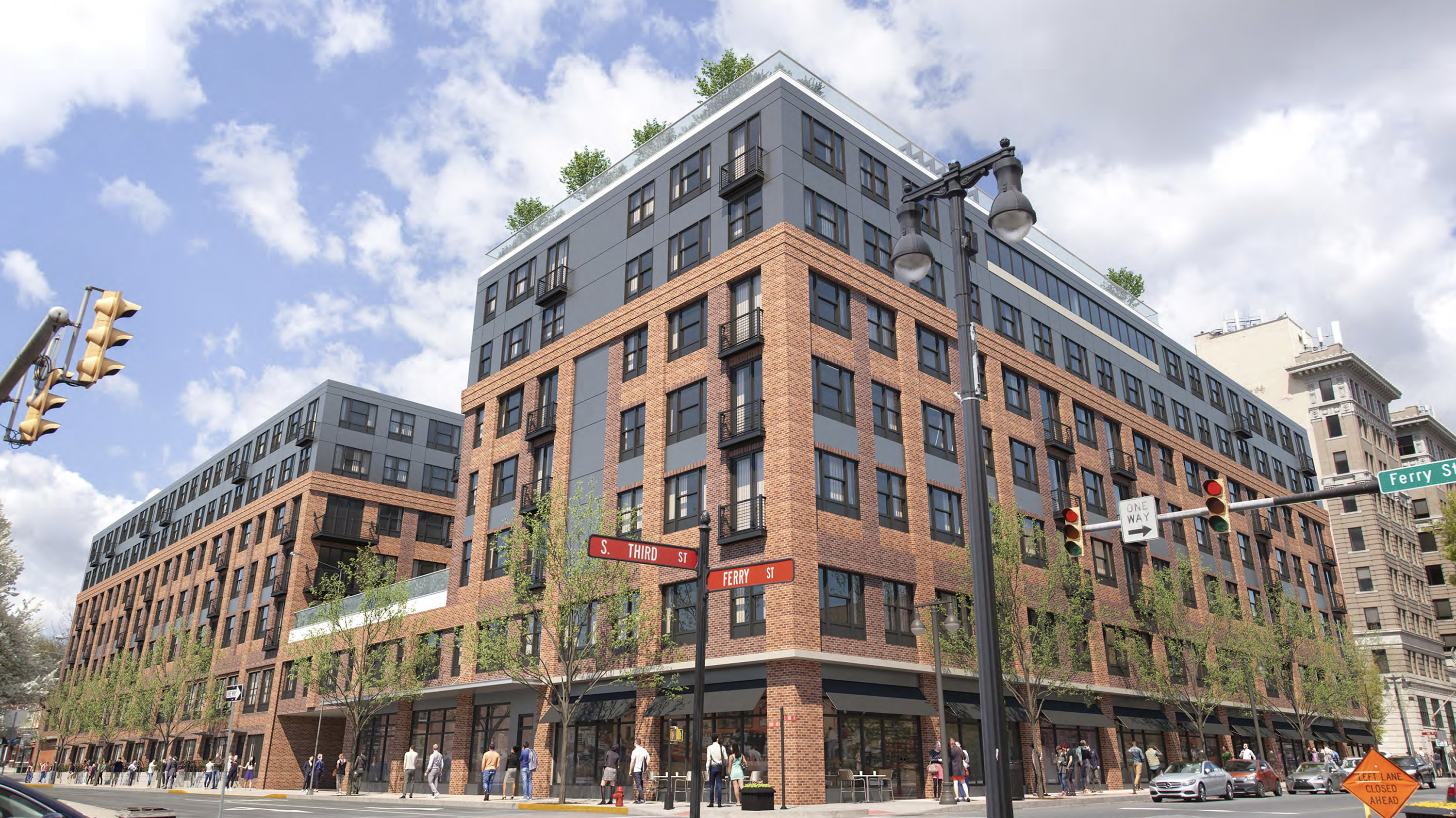 COMMITTEE RECOMMENDS TO EASTON CITY COUNCIL THAT CITY CENTER INVESTMENT CORP. REDEVELOP PINE STREET PARKING DECK
The committee for selecting a company to redevelop an aging parking deck in downtown Easton recommended City Center Investment Corp., the developer revitalizing downtown Allentown, to Easton City Council tonight.

City Center has proposed to replace the deck at Pine and Third streets with a $70 million mixed-use residential and retail building called The Marquis. The 400,000-square-foot building would consist of seven floors and 274 units, making it the largest apartment project in Easton's history. The Marquis would offer 59 studios, 115 one-bedroom apartments, and 95 two-bedroom apartments, as well as five live-work units along Ferry Street. The building would feature first-floor retail along Third Street, a green roof, and a 302-space parking deck to serve both residents and the community.

The project was presented to Easton City Council tonight by City Center President J.B. Reilly and Senior Project Manager Robert DiLorenzo. Reilly said the building would be similar to the 10 residential buildings his company has developed and leased in downtown Allentown over the past six years.

"We're excited to develop this project and use our experience and expertise from Allentown to benefit another city," Reilly said. "The way we work with merchants and program environments to create authentic community among residents will activate downtown Easton in a significant way."

The Marquis would feature amenity spaces that encourage resident interaction, including a dog park, a courtyard with a community garden, and two outdoor rooftop lounges. The project would take 17 months to construct and would create more than 600 jobs.

"Easton's Mayor Panto and Director of Community and Economic Development John Kingsley have been wonderful to work with – responsive and collaborative," Reilly said. "We're always looking for development opportunities, and the housing market in Easton is strong. We're appreciative that the committee chose to recommend City Center."

City Center's residential buildings in downtown Allentown include STRATA West, STRATA East, STRATA Symphony, 520 Lofts, Walnut Street Commons, Center Square Lofts West, Center Square Lofts East, Cityplace North, Cityplace South, and The NINES at Cityplace. In addition, City Center is currently developing The Gallery at Cityplace, Walnut View at Cityplace, and The Hive Residences, also in downtown Allentown. Once completed, the total number of apartments among City Center's 14 residential buildings in downtown Allentown will be 1,544. Learn more about each of City Center Residential's communities at www.CityCenterAllentown.com/Residential.