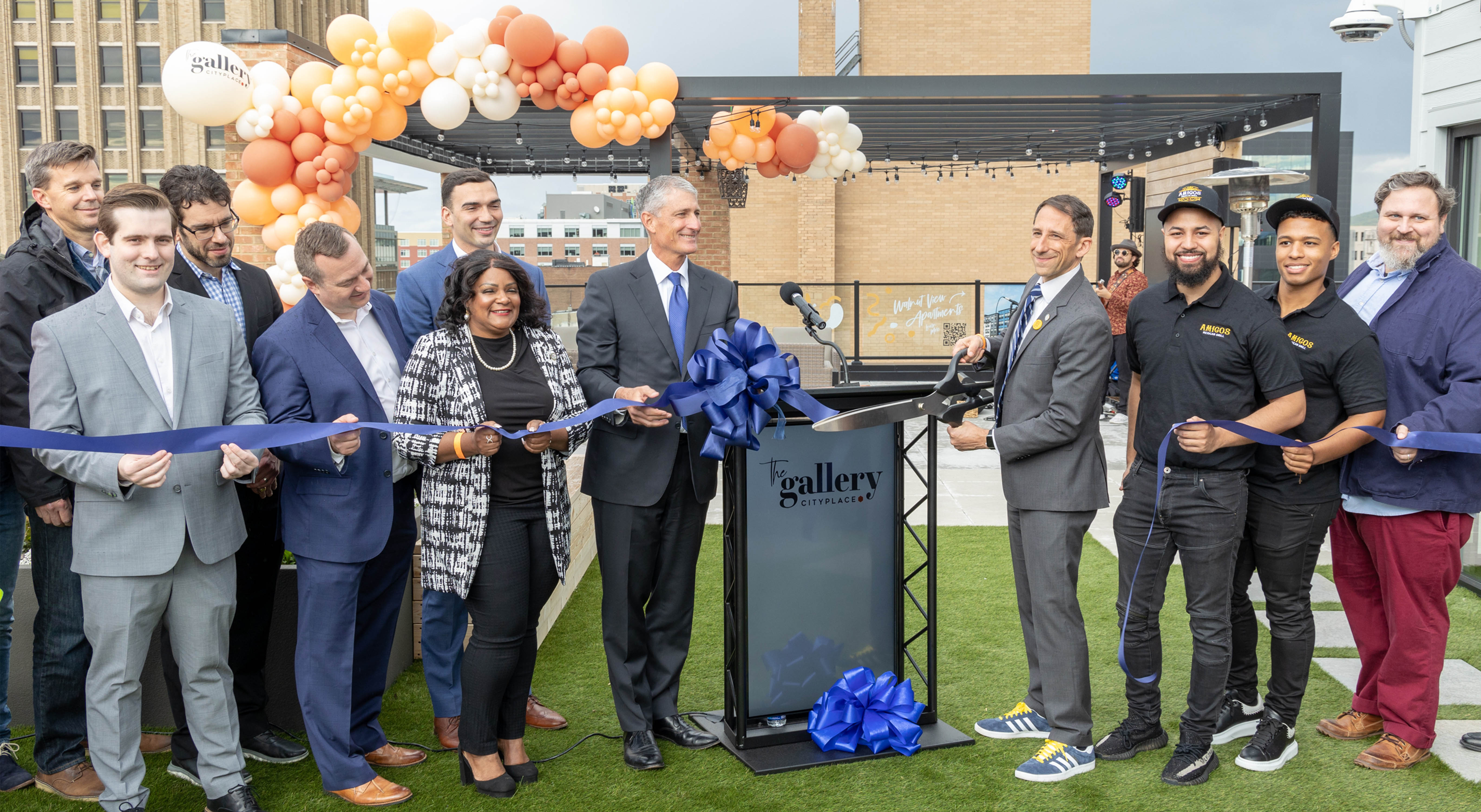 CITY CENTER RESIDENTIAL HOLDS RIBBON-CUTTING FOR THE GALLERY AT CITYPLACE, CELEBRATES LAUNCH OF DOWNTOWN WEST
City Center Residential held a ribbon-cutting today for The Gallery at Cityplace, the developer's 13th residential building in downtown Allentown. City Center President J.B. Reilly was joined by Sen. Nick Miller, Rep. Pete Schweyer, and Allentown Mayor Matt Tuerk for the ceremony, which also celebrated the launch of the City's Downtown West district. Reilly introduced two artists who will create murals in Downtown West as well as the owners of Amigos Mexican Grill, who will open a restaurant in The Gallery this fall.

The Gallery, located at 932 Hamilton St., includes 107 studio, one-bedroom, and two-bedroom apartments as well as three storefronts on Hamilton Street. At nearly 114,000 square feet, the building provides coworking space, a resident lounge, a pup park, and a large rooftop deck. Residents of The Gallery also have access to the amenities in the other Cityplace residential communities in the 900 block of Hamilton Street, Cityplace to the east and The NINES to the west. 

The City's up-and-coming Downtown West district, which sits between 9th and 12th streets and Walnut and Linden streets in Allentown, currently includes City Center Residential communities Cityplace, The NINES, and The Gallery and will be home to Walnut View and 1010 Apartments by the end of 2023. City Center has received approval from the Allentown Planning Commission to build Archer Music Hall at 935-939 Hamilton St. and a new boutique hotel at 949 Hamilton St. in Downtown West. New widened sidewalks, upgraded lighting, public art, trees and landscaping, and a new 1,100-space parking deck will enhance residents' and visitors' experience in Downtown West.

Artists Matt Halm and Hector Castro will both create murals in Downtown West. Halm will paint a community mural on the east wall of Cityplace at the corner of 9th and Hamilton streets. Castro will paint a 30-by-10-foot mural inside the new Amigos Mexican Grill. Both artists have previously painted murals in downtown Allentown and will be recipients of this year's Allentown Arts Commission Arts Ovation awards.

Kevin Rodriguez and Angel Ramirez, lifelong friends and downtown Allentown residents, will open Amigos Mexican Grill on the Hamilton Street-level of The Gallery this fall. Amigos will offer tacos, burritos, and bowls daily, and aim to fill a void in late-night dining options in Downtown West. Amigos will provide sidewalk seating as well.

City Center is currently leasing retail and restaurant space in Downtown West.

"Downtown West is becoming an attractive, bustling neighborhood, with great opportunities for retailers," said City Center Leasing Specialist Megan Colon. "The new Archer Music Hall, boutique hotel, and DaVinci Science Center, along with our five apartment communities, are going to generate a lot of new foot traffic in the district."

For more information about available retail and restaurant space for lease in Downtown West, contact Megan Colon at 610-625-5538 or MColon@CityCenterAllentown.com. 

Learn more about each of City Center Residential's communities at www.CityCenterAllentown.com/Residential.