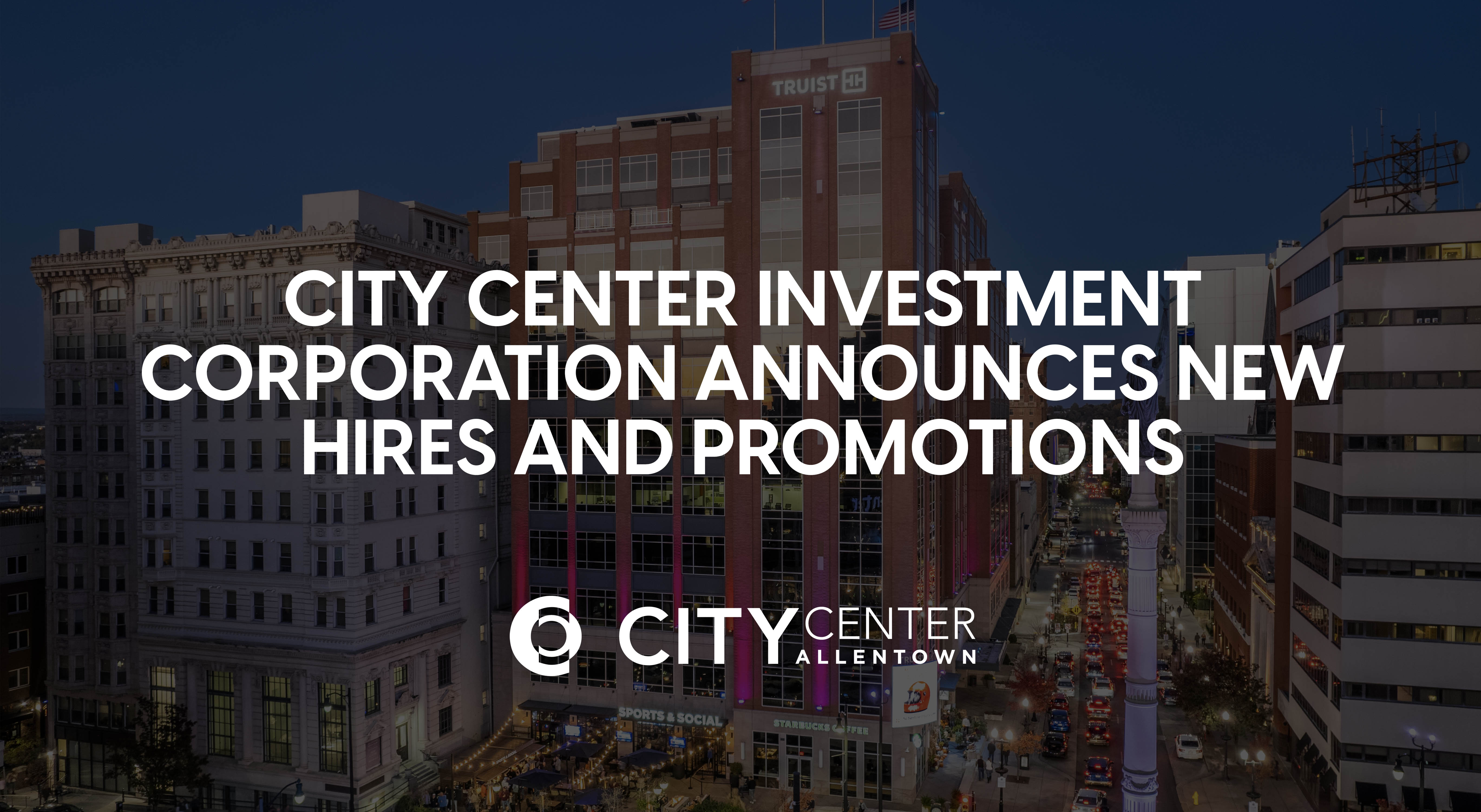 CITY CENTER INVESTMENT CORPORATION ANNOUNCES NEW HIRES AND PROMOTIONS
City Center Investment Corp., the real estate development company revitalizing downtown Allentown, Pennsylvania, today announced several new hires and promotions.
Sarah Elabhar has been named Human Resources Administrator. She focuses on supporting employee needs, completing human resources projects, and assisting with administrative tasks. Elabhar previously served in the banking industry, where she spent seven years in loan operations and commercial documentation. She will soon complete a bachelor's degree in business management from Capella University. 
Kelli Hertzog has been named Events and Activation Coordinator. She manages event execution, works with vendors and businesses, helps elevate City Center's existing events, and creates additional opportunities to engage residents and tenants in downtown Allentown. Hertzog previously worked for Lehigh Valley Style for more than a decade, most recently as Marketing and Events Manager. She holds a bachelor's degree in public relations and marketing from Kutztown University.
Lara Thrapp has been named Digital Marketing Strategist. She develops and measures digital strategies to support the leasing of residential, retail, and office space and to drive tenant engagement and retention. Thrapp previously worked for Pennypack Ecological Restoration Trust, where she led communications to grow membership and improve donor retention. She earned a bachelor's degree in mass communications from York College of Pennsylvania.
Robert DiLorenzo has been promoted to Director of Planning and Construction. In that role, he oversees the initiation, planning, and execution of all City Center's development projects throughout the Lehigh Valley. DiLorenzo also serves as the main development liaison, working in conjunction with local officials, commercial tenants, architects, engineers, and construction managers to deliver quality properties, including residential communities, Class A office space, and hospitality and retail spaces. A graduate of Temple University, where he received a bachelor's degree in facilities planning and management, DiLorenzo joined City Center as an associate project manager following his graduation.

Zack Sienicki has been promoted to Chief Operating Officer of Landmark Management, a City Center affiliate. He oversees more than 2,000 multifamily units across the Lehigh Valley, including apartments in Downtown Allentown, Macungie, Emmaus, and Bethlehem. Sienicki leads the operations, leasing, long-term capital planning, and accounting functions for this growing residential portfolio. In addition, Sienicki assists the City Center development team with financial modeling of new-to-market multifamily communities. Prior to joining City Center, he served as assistant controller of Korman Communities, a national real estate company with residential and hotel properties. He is a certified public accountant and a graduate of Pennsylvania State University.