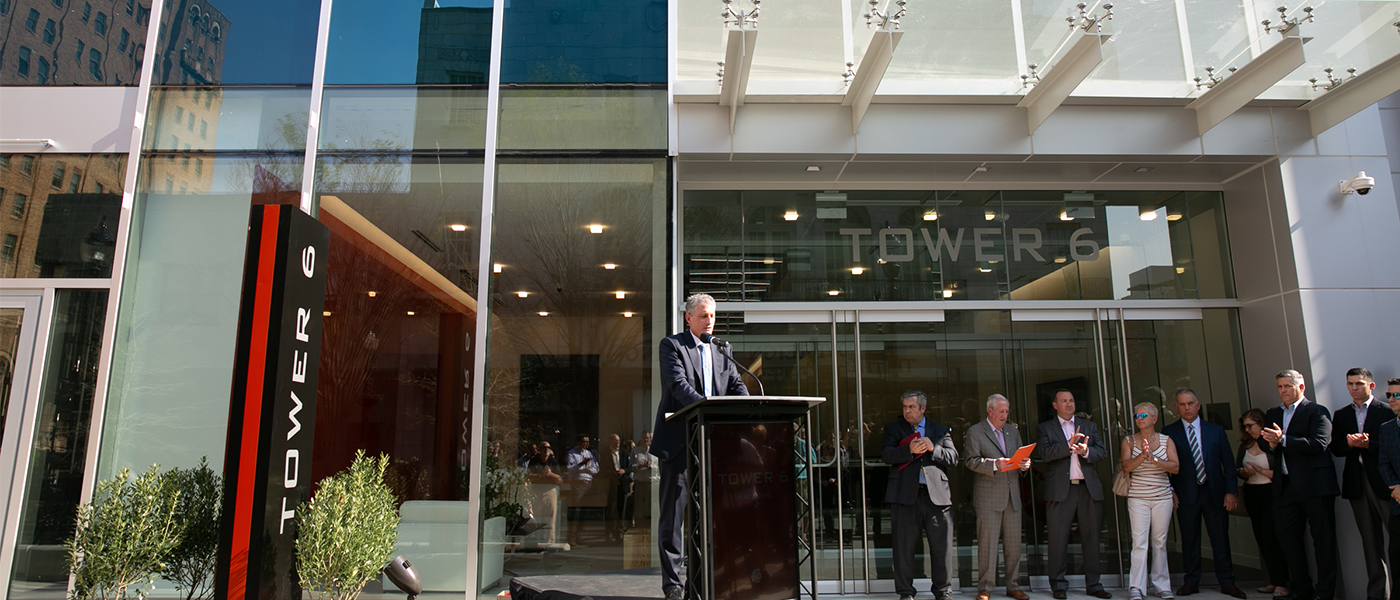 CITY CENTER INVESTMENT CORP. OPENS TOWER 6, ITS MODEL FOR FUTURE BUILDINGS
City Center Investment Corp. (CCIC), the real estate development company revitalizing downtown Allentown, Pennsylvania, today held a ribbon-cutting for Tower 6, its fourth Class A office and retail building. State Sen. Pat Browne, State Rep. Peter Schweyer, Allentown Mayor Ray O'Connell, and CCIC Cofounder and President J.B. Reilly spoke at the ceremony outside the building at 600 Hamilton Street in Allentown.

Tower 6, CCIC's first glass and steel building with floor-to-ceiling windows, stands 180 feet tall, offering active street views from floors one through five and 360-degree views from floors six through 12. Its office tenants will include Bank of America/Merrill Lynch, Avantor, Talen Energy, CAPTRUST, CrossAmerica Partners, NJR Energy Services, fedRFP and Morton Brown Family Wealth, and the top of Tower 6 features Merrill Lynch signage. Together, the tenants will have nearly 500 employees, many of whom will live downtown.

The 145,000-square-foot building offers retail space on its ground floor, most of which has been leased to ESSA Bank & Trust for a bank branch and commercial office. A stylish lobby featuring a painting by local artist Marci McDonald can be seen from the sidewalk on Tower 6's Hamilton Street side, and the building's occupants and visitors will park in the new Community Deck on Sixth and Walnut streets. 

Tower 6 exceeds Class A specifications and will serve as the model for future CCIC buildings. Its cutting-edge features include energy-efficient systems for lighting, HVAC and window-shade control, elevators that optimize traffic flow, customized access-control and security solutions and state-of-the-art connectivity. An LED lighting system atop Tower 6 can produce 340 shades of color and various patterns, redefining the night skyline for miles. 

"Tower 6 embodies the best in modern design, open and collaborative office space, and cutting-edge technology, connectivity and sustainability," Reilly said. "The high caliber of the companies it has attracted illustrates that downtown Allentown is again a regional center of excellence for financial services, corporate headquarters and professional office space. It also shows that savvy employers recognize that their ability to attract talented employees has to do not only with the business they run, but also where they run it. Educated workers, especially millennials, want to be in a vibrant urban environment."

CCIC partnered with many Lehigh Valley companies to design, construct and fit out Tower 6, including Spillman Farmer Architects, RETTEW Engineering, Serfass Construction, DesignPoint, Offix Systems, Lutron, K&H Window Treatments, ESG Systems, RE:find and Knoll dealer CFI.

Less than 10,000 square feet of space remain available in Tower 6. The space can be leased in its entirety or divided to as small as 1,800 square feet, making it suitable for companies sized at five to 60 employees.
 
For more information about Class A office space at City Center, including in Tower 6, contact Jarrett Laubach at jlaubach@citycenterallentown.com.