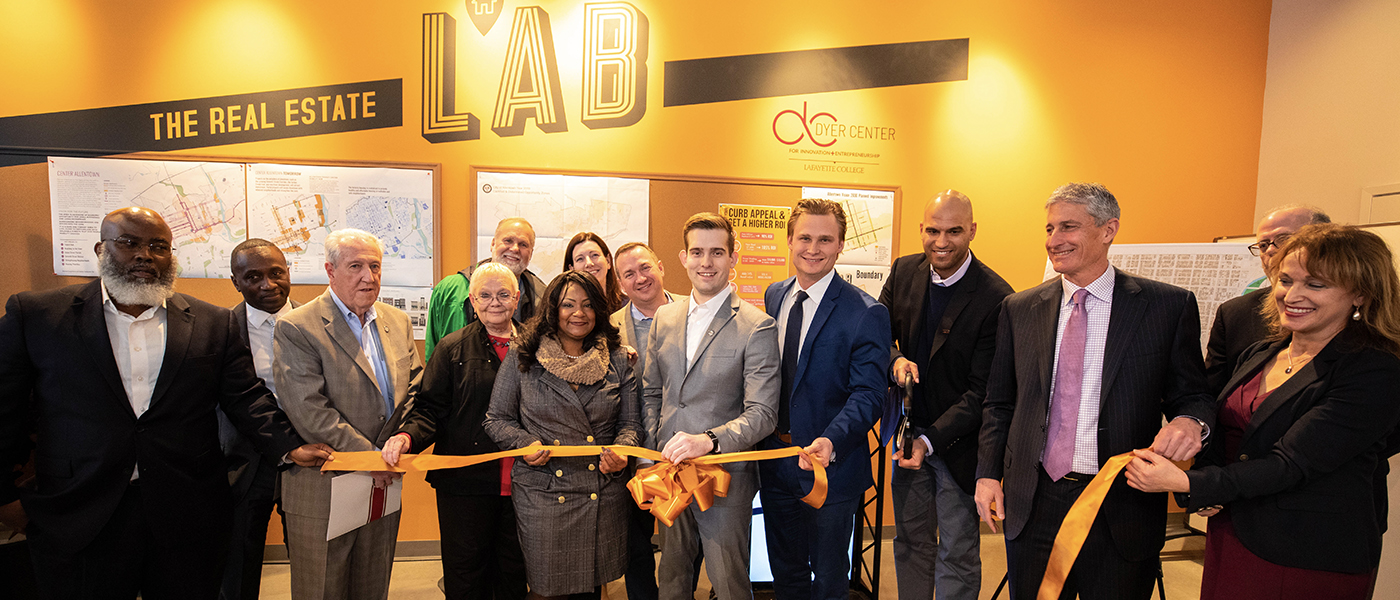 CITY CENTER INVESTMENT CORP. AND LAFAYETTE COLLEGE'S DYER CENTER FOR INNOVATION AND ENTREPRENUERSHIP PARTNER TO LAUNCH THE REAL ESTATE LAB IN DOWNTOWN ALLENTOWN
City Center Investment Corp., the real estate development company revitalizing downtown Allentown, Pennsylvania, and Lafayette College's Dyer Center for Innovation and Entrepreneurship announced today they have partnered to launch The Real Estate Lab, a new program designed to teach downtown Allentown residents how to invest in real estate and manage properties in their community.

The Real Estate Lab is located at 6th and Linden streets to give local residents walkable access to the resources and capital they need to become real estate entrepreneurs. It will offer several programs at no cost, including a 10-week First-time Investor Program, a Real Estate Entrepreneurship Access Program and an Investor Club. Participants will be taught how to acquire, rehabilitate and manage real estate and learn about the many additional business opportunities in the industry. The Real Estate Lab's comprehensive programs will tap into collaborations with Allentown's most successful investors for the benefit of participants.

The Real Estate Lab will also help participants develop the bankability necessary for success in the industry. City Center has established an Allentown Neighborhood Innovation Fund with an initial investment of $1 million. Community leaders will pool capital in the fund to be invested in program participants through grants, low- or no-interest loans and equity investments.
 
City Center donated the space for The Real Estate Lab, which includes a classroom with computers and whiteboards and a demolition/construction wall for hands-on learning about basic wiring, drywalling, piping and more. City Center has appointed its Project Manager Jonathan Strauss to serve as director of the project full-time. Lafayette College's Dyer Center for Innovation and Entrepreneurship will collaborate with City Center to develop and implement the programs and measure their value.

Dyer Center Director Yusuf Dahl, whose inspirational prison-to-Princeton story was recently featured on Good Morning America and in a TEDx Talk he gave, is an entrepreneur who has been on both sides of the struggle to strengthen vulnerable neighborhoods. As a teenager, he operated a network of drug houses in Milwaukee before being sentenced to prison for 10 ½ years. During the financial crisis he became an unlikely real estate investor in response to the onslaught of foreclosures in his neighborhood, eventually growing a portfolio of more than 200 affordable housing units. In 2017, Dahl graduated from Princeton with a master's degree in public affairs, having studied urban development and housing. In addition to his role with Lafayette College, Dahl consults with organizations across the country working to activate opportunities in inner-city housing.
 
"City Center is thrilled to partner with my alma mater Lafayette College on the creation of The Real Estate Lab," said City Center President J.B. Reilly. "Our goal is to help local residents, including at-risk young adults like Yusuf Dahl once was, develop an economic self-interest in the growth and success of their downtown Allentown community. When they succeed in real estate investment, not only will they have a new path for creating income, but they'll also improve the quality, availability, safety and ownership rate of the housing in downtown Allentown."
 
"We are providing a pathway to participation in real estate entrepreneurship for individuals who have historically been excluded because of networks, knowledge and capital," said Dahl. "When local residents participate in social-impact real estate development in their own neighborhoods surrounding the central business district, it's a win-win for them and their community. We hope participants also benefit from belonging to a business community through their access to The Real Estate Lab."
 
Another goal of The Real Estate Lab is for participants to create financially attainable rental housing in downtown Allentown, with rents within the affordability standards set by the U.S. Department for Housing and Urban Development for households at the 70-percent area median income level.

City Center has established an advisory board for The Real Estate Lab that includes Reilly and Dahl, as well as Dr. Hasshan Batts, director of operations for Allentown Promise Neighborhood; Alan Jennings, executive director of Community Action Committee of the Lehigh Valley; Leonard Lightner, the City of Allentown's director of community and economic development; Charles Marcon, CEO of Duggan & Marcon, Inc.; and Cynthia Mota, Allentown city councilwoman.

The Real Estate Lab plans to begin offering classes in February 2020. Anyone interested in participating can submit their information through the Contact page on the website www.realestatelaballentown.com.