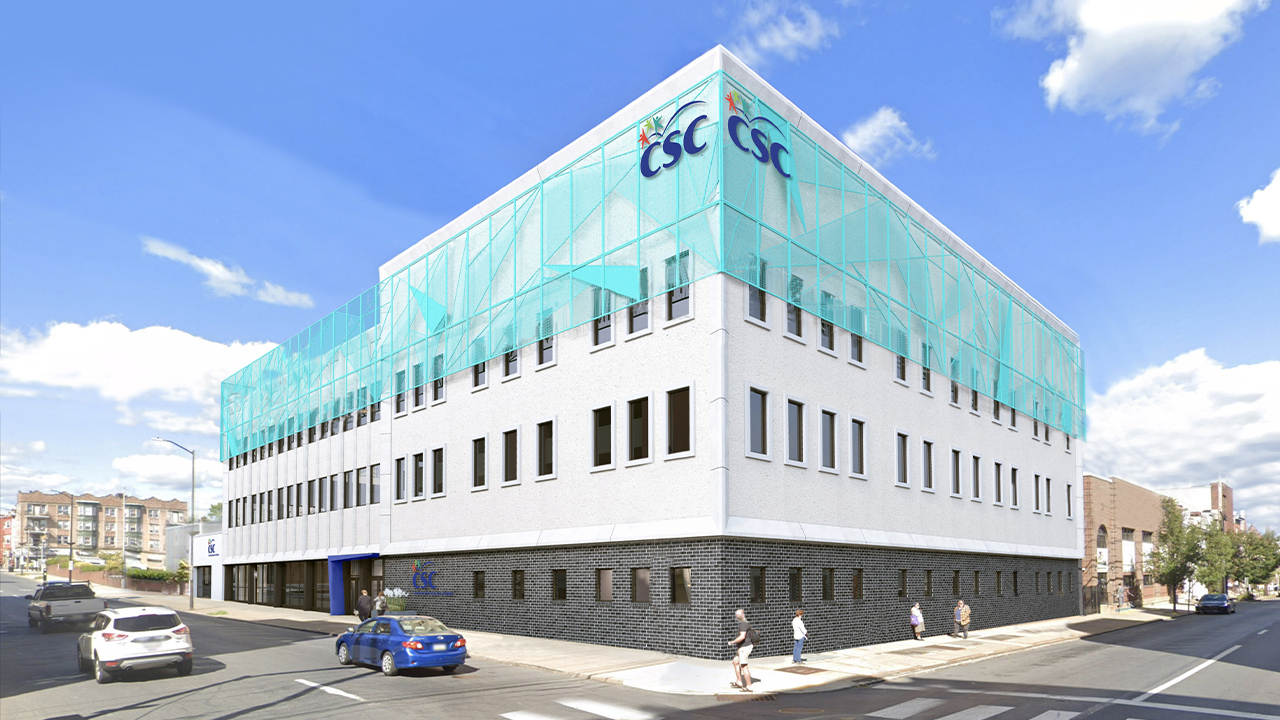 CITY CENTER INVESTMENT CORP. AND COMMUNITY SERVICES FOR CHILDREN TO EXPAND THE LEARNING HUB IN DOWNTOWN ALLENTOWN, VALLEY HEALTH PARTNERS EXPANDS ITS LEASE IN SAME BUILDING
City Center Investment Corp. announced today that Community Services for Children (CSC) will expand its space at 6th and Linden streets in downtown Allentown and Valley Health Partners Community Health Center (VHP) has signed a lease for an expansion in the same building. Together, CSC and VHP will form a one-of-a-kind center offering a broad range of early childhood education, health, and social services to local children and families in need in one convenient neighborhood location.

CSC, which currently runs The Learning Hub and the Neighborhood Resource Center in the City Center-owned building, will expand its space to create "CSC Downtown," a one-stop-shop for the many services vulnerable families need to succeed. By further leveraging the resources of CSC's Head Start and other partners in an innovative new space, CSC hopes to make a long-term impact on more of Allentown's disadvantaged through CSC Downtown. CSC's 85,000-square-foot expansion has already begun and will be complete in two years, demonstrating the City's lasting commitment to children.

"The need for better outcomes is critical," said CSC's CEO/President Deidra Vachier. "For homeless children and those living in poverty, high-quality early education gives them a fair chance for a bright future. At The Learning Hub, due to its unique enhanced programming and the support of various community partners, children enrolled in Head Start outperform their peers in every area of learning. But a waiting list of 500 Allentown children for Head Start shows we need to do more."

VHP, a federally qualified health center look-alike (FQHC-LA), which offers comprehensive primary care and other services, will open its 20,000-square-foot space in mid-2023. As VHP's largest standalone location, the setting will house an expansion of the VHP Children's Clinic, offering primary pediatric care, the VHP Community Smiles Dental Program, providing comprehensive and preventative dental care for children, and the VHP Community Vision Center, offering a full range of ophthalmology and optometry services. In addition, VHP will provide a pediatric acute care center, offering walk-in same-day appointments for children.
 
"We're thrilled to join forces with City Center and strengthen our partnership with CSC to offer a one-stop location for educational and healthcare services — meeting community members where they are. VHP has a deep commitment to health equity, offering care to everyone regardless of their ability to pay, and the pairing of VHP's services and CSC's resources will create a community hub aimed at addressing the social issues that affect the health of the families we serve," said Veronica Gonzalez, Valley Health Partners' Chief Executive Officer.

Designed with children in mind, CSC Downtown will be a state-of-the-art educational and social environment where CSC can serve many more high-risk families. According to Vachier, with expansion, CSC's programs and services can have greater outcomes immediately, including more healthy children, more high-quality education for students from low-income families, more students prepared for kindergarten, more stable, engaged families, and more childcare for working parents in need.
 
New STEM and innovation labs, a fun fitness center, a creative arts room, and an outdoor Naturescape will provide more opportunities for children to grow and explore. CSC's Head Start program will add 12 more classrooms to serve 400 children, up from the 150 it currently serves. For parents seeking financial help with childcare, enrollment in early-childhood services, healthcare, and more, the new center will provide streamlined access to an additional 3,500 adults per year. The number of staff members providing these services will more than double. 
 
"Together, the enhanced facility and these essential resources will demonstrate a lasting commitment to serving more of Allentown's most vulnerable families," said Jill Wheeler, City Center's vice president of sales and marketing. "Building on the success of this key location, the expanded center will allow CSC, VHP, and their partners to reach even more young children and families with the tools they need to thrive in a convenient, accessible way."

In 2018, City Center and CSC launched The Learning Hub to provide a vibrant learning center with strong family engagement to ensure school readiness and success for disadvantaged children. By leveraging the resources of CSC's Head Start and other partners, The Learning Hub provides school-day and summer programing for local children and parents in need. City Center provided around $1.3 million in design and construction costs for the renovation of the nearly 15,000-square-foot space, and along with CSC, convened partners for the initiative. 
 
In 2020, City Center and CSC announced the addition of the Neighborhood Resource Center to The Learning Hub, offering more child- and family-oriented services in collaboration with community partners, including Lehigh Valley Health Network, VHP's partner organization, and Allentown School District. City Center donated additional space for the Neighborhood Resource Center.