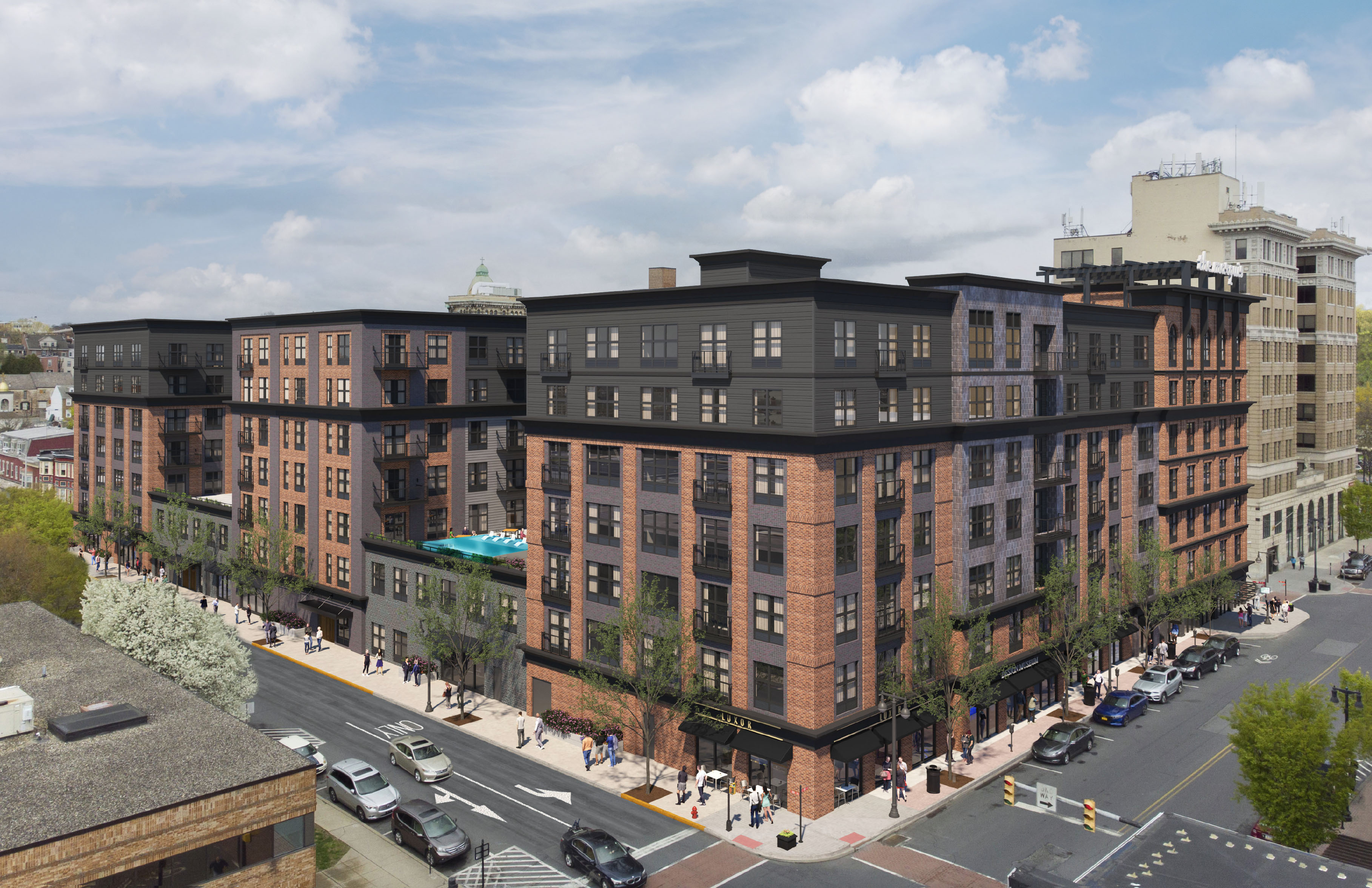 CITY CENTER GROUP ANNOUNCES PROJECT UPDATES ON THE MARQUIS AND NEW JOINT VENTURE WITH PERON DEVELOPMENT
City Center takes ownership of Easton's Pine Street Garage with plans to start construction of The Marquis in Fall 2023
City Center forms joint venture with Bethlehem's Peron Development on two Easton projects, explores other projects in Lehigh Valley
---
City Center Group, the real estate development company revitalizing downtown Allentown, Pennsylvania, today announced project updates on The Marquis, its first mixed-use residential and retail development in Easton. Additionally, the company announced a new joint venture with Peron Development of Bethlehem.
City Center recently took ownership of Easton's Pine Street Garage on South Third Street and will soon begin the demolition process. The company plans to start construction in the fall for a Spring 2025 opening.
"Now that we officially own the Pine Street Garage in downtown Easton, we can begin the process of redeveloping this aging parking deck into something that will better serve and activate the community – The Marquis," said J.B. Reilly, president of City Center Group. "We thank Mayor Panto and his entire team. They have been wonderful to work with."  
The Marquis will be a 400,000-square-foot building with seven floors and 264 apartments, making it the largest residential project in Easton's history. The building will feature first-floor retail along Third Street, a green roof, and a 308-space parking deck to serve both residents and the community. City Center also announced a new joint venture with Bethlehem's Peron Development.
The two companies will partner on developing The Marquis and a second mixed-use residential and retail project in Easton, The Confluence. The Confluence will be a 250,000 square-foot building with six floors and 180 apartments. The building will feature 8,500 feet of first-floor retail as well as both private and public outdoor amenity spaces and parks.
Together, City Center Group and Peron Development will share capital; combine development, design, and project management; and own and operate both Easton projects together. The companies are exploring additional development opportunities to partner on in the Lehigh Valley region.
"City Center and Peron both have strong track records of development in Allentown and Bethlehem," said Easton Mayor Sal Panto. "Having them combine forces for these two transformative projects for Easton is tremendous news. I'm excited to work with both groups to move these projects forward."
"We admire the significant role City Center has played in the redevelopment of downtown Allentown," said Mike Perrucci, chief executive officer of Peron Development. "Our teams complement each other very well, and we look forward to working together in Easton and throughout the Lehigh Valley."
"Peron Development has been a leader in the regional industry for many years," said Reilly. "We share mutual respect, and our entire team is excited to kick off this partnership and grow it in the future."