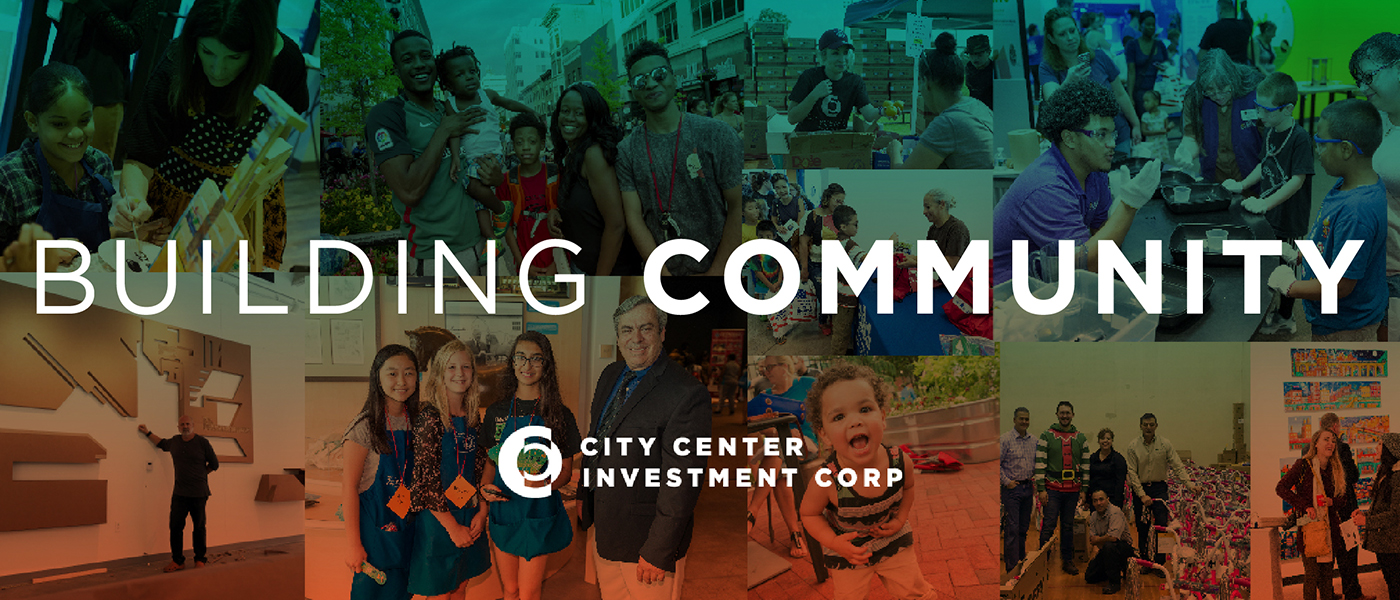 CITY CENTER DONATES MORE THAN $3.2 MILLION TOTAL TO 120 ORGANIZATIONS IN 2017 THROUGH BUILDING COMMUNITY INITIATIVE
City Center Investment Corp. (CCIC), the real estate development company revitalizing downtown Allentown, Pennsylvania, announced today it donated more than $3.2 million total to 120 organizations in 2017 through its Building Community program. 

Building Community is the community-engagement initiative of CCIC and its employees and principals. The initiative aims to revitalize downtown Allentown and its surrounding neighborhoods into a sustainable vibrant urban community by providing financial support, in-kind donations and volunteer service. In 2017, CCIC's 25 employees volunteered at nearly 50 organizations, donating more than 1,500 total hours.

"City Center and our affiliates believe we can make the greatest impact by concentrating our support in downtown Allentown, focusing on four key results-oriented areas: health, arts, community development and education," said CCIC President J.B. Reilly. "City Center is excited and proud to be part of the downtown Allentown community, and we look forward to continuing our work and partnerships for the greater good of the community throughout 2018."

"The rebirth of Allentown has City Center to thank as a catalyst and change agent," said Communities in Schools President and CEO Tim Mulligan. "City Center has not only physically changed the cityscape but, more importantly, invested in schools, supports for at-risk children, jobs and community development. City Center gets it; when communities are raised then the economic prosperity reaches everyone."

Of the more than $3.2 million donated in 2017, 46.6 percent was given to health initiatives, 19.5 percent to arts initiatives, 13.8 percent to community development initiatives, 14 percent to education initiatives and 6.1 percent to other causes. Key 2017 partners and programs included:
Allentown Art Museum, including in-kind donation of retail space for Creativity Lab 
Allentown School District Foundation 
Allentown Symphony Association 
Boys & Girls Club of Allentown 
Children's Surgery Center at Lehigh Valley Children's Hospital 
Civic Theatre of Allentown 
Communities in Schools of the Lehigh Valley 
Community Action Committee of the Lehigh Valley, including Sharon's Pantry
Community Action Development Corporation of Allentown, including Upside Allentown 
Gallery on the Walk & Gallery 724
John Van Brakle Child Advocacy Center, a program of Lehigh Valley Children's Hospital
Senator Browne's Kids Discovery Expo at Da Vinci Science Center
The Baum School of Art 
The Hamilton District Main Street Program 
United Way of the Greater Lehigh Valley 
YWCA Allentown's Perfect Fit Boutique
"In 2017, City Center enabled Community Action Development Corporation of Allentown (CADCA) to improve the quality of life for over 1,500 residents in neighborhoods surround downtown Allentown," said CADCA Director Dan Bosket.

Beginning in 2018, CCIC invites nonprofits to submit donation requests for consideration by November 1. Priority is given to programs designed to revitalize downtown Allentown and its surrounding neighborhoods into a sustainable vibrant urban community. CCIC does not generally provide support for organizations outside of downtown Allentown, individuals, athletic organizations, advertising in programs, endowment funds or undefined operational support. 

For more information and complete instructions on how to request financial or in-kind support, please visit: www.citycenterallentown.com/building-community.