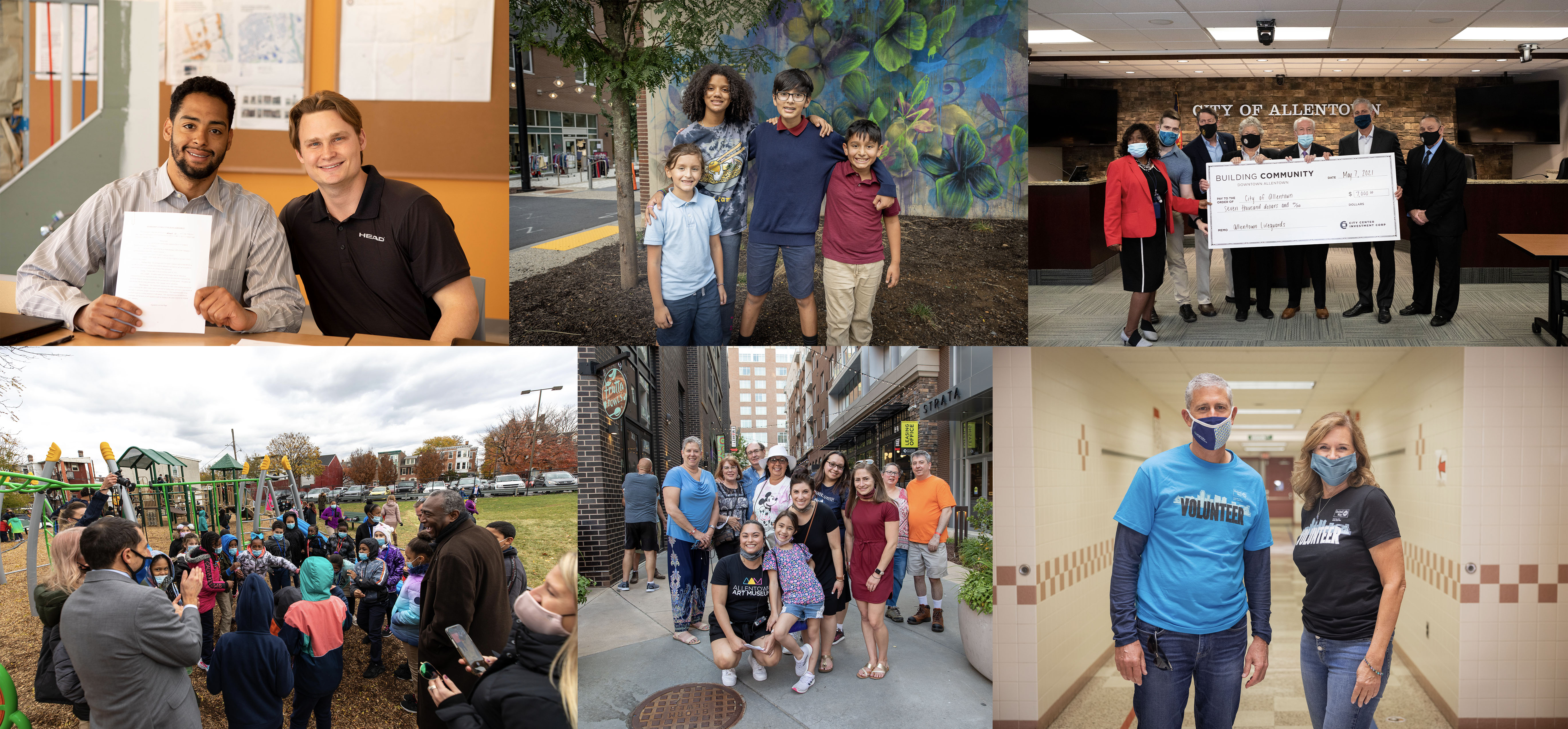 CITY CENTER DONATES MORE THAN $3 MILLION TOTAL TO MORE THAN 50 ORGANIZATIONS IN 2021 THROUGH ITS BUILDING COMMUNITY PROGRAM
City Center Investment Corp., the real estate development company revitalizing downtown Allentown, Pennsylvania, announced today it donated more than $3 million total to more than 50 organizations in 2021 through its Building Community program. Over the past four years, Building Community has donated more than $16 million total, mainly to organizations in downtown Allentown.

Building Community is the community-engagement initiative of City Center and its principals and employees. The initiative aims to revitalize downtown Allentown and its surrounding neighborhoods into a sustainable, vibrant urban community by providing financial support, in-kind donations, and volunteer service in three key results-oriented areas: the arts, education, and community development. In 2021, City Center's 26 employees volunteered at approximately 45 organizations, donating more than 2,000 total hours.

"City Center and our affiliates believe we can make the greatest impact by concentrating our giving in downtown Allentown, whether we're supporting façade improvements on Hamilton Street or connecting our apartment residents with volunteer opportunities in the city," said City Center Director of Marketing and Community Relations Jill Brader Meyers. "City Center is proud to play a role in strengthening the downtown Allentown community, and we look forward to continuing our work and partnerships for the greater good throughout 2022."

Major Building Community initiatives in 2021 included City Center renewing its three-year commitment to donate hundreds of employee-volunteer hours and $50,000 annually to its neighborhood school, Central Elementary, a United Way Community School in Allentown School District. Since 2018, City Center has supported Central's students, families, and teachers in various ways, such as organizing the school's food pantry, completing beautification projects on the annual Day of Caring, and donating winter coats and gloves to students in need. In 2021, City Center partnered with North Star Construction Management and 30 organizations and individuals to build a new playground at Central through in-kind services and donations of more than $100,000 for new equipment.
"North Star Construction Management is devoted to revitalizing downtown Allentown through our work and philanthropy," said Andrew Miller, Vice President of North Star Construction Management. "We are privileged and grateful to share those interests with City Center, a vibrant leader within the community and an altruistic entity that continuously exudes generosity. In 2021, we were honored to work with City Center and many others to support local children at Central Elementary School with a new playground."  
Also in 2021, City Center, in partnership with Lafayette College's Dyer Center for Innovation and Entrepreneurship, graduated a second class from The Real Estate Lab, its free program designed to teach downtown Allentown residents how to invest in real estate and manage properties in their community. Graduates of The Real Estate Lab's program now own properties valued at $1 million total. 

Additional key 2021 Building Community partners included:
Allentown Art Museum
Allentown School District Foundation
Allentown Symphony Association 
Bradbury-Sullivan LGBT Community Center
Building 21
Communities in Schools of the Lehigh Valley 
Community Action Development Corporation of Allentown, including Upside Allentown 
Community Services for Children
Downtown Allentown Business Alliance
Ripple Community Inc.
The Baum School of Art 
YWCA Allentown, including Perfect Fit Boutique
Bill McGlinn, Interim Executive Director of Bradbury-Sullivan LGBT Community Center, commented on City Center's support, "City Center continues to build opportunity and create positive change to strengthen and celebrate the LGBTQ+ community and its culture. City Center's partnership, next-level commitment and generosity are exactly what the community deserves."
In 2022, CCIC's philanthropy will continue to focus on the arts, education, and community development. To view the 2021 Building Community Impact Report and for instructions on how to request financial or in-kind support, please visit www.citycenterallentown.com/building-community.