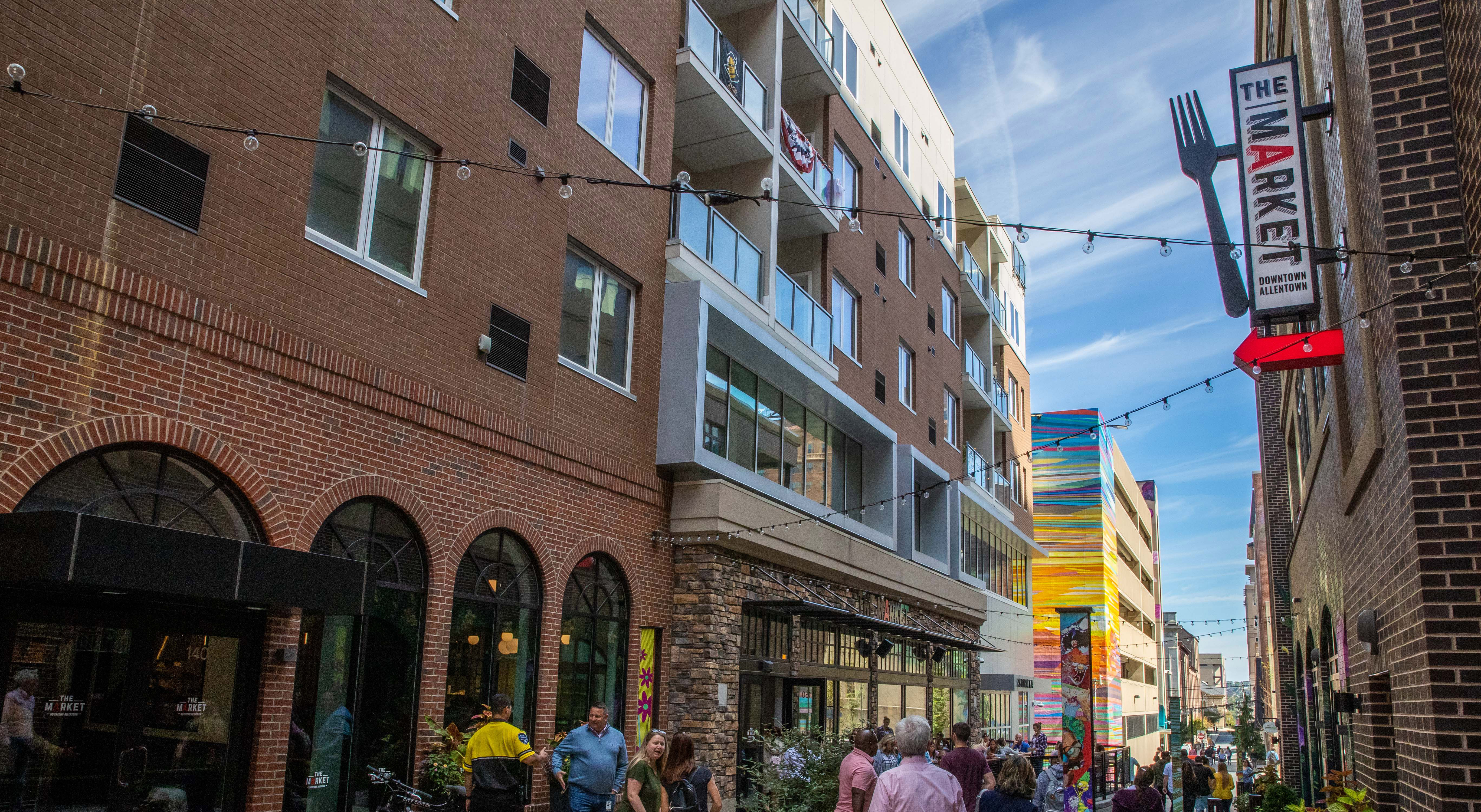 CITY CENTER ANNOUNCES TWO POP-UP SHOPS TO MOVE TO PERMANENT LOCATIONS IN DOWNTOWN ALLENTOWN
ALLENTOWN, Pa., February 28, 2023 – City Center Investment Corp., the real estate development company revitalizing downtown Allentown, Pennsylvania, today announced its pop-up retail tenant Properly Laced will move to a permanent location in a Live/Work Unit at The Hive Residences on 7th Street this April. A second pop-up shop, Downtown Dollhouse & Company, will move to a permanent location at 26 N. 6th St., Suite 160. Plus, two new pop-up shops, OG Boutique and High Vibrations, will join the downtown retail scene.
"It is always great when a pop-up retailer decides their location in downtown Allentown worked so well that they want to stay longer," said City Center Leasing Specialist Megan Colon. "The established retail in downtown Allentown is fabulous, diverse and continues to grow. We are excited for Properly Laced and Dollhouse to sign long-term leases, and we are thrilled to welcome OG Boutique and High Vibrations Wellness to Downtown Allentown."
Details on the retailers:
Properly Laced, The Hive Live/Work Units, 107 North 7th St., Suite 110, opening April 1
Properly Laced is a sneaker boutique selling 100% authentic tops brands from Nike to Jordans to Yeezy and other hyped footwear and clothing that customers can no longer find in traditional stores. @Properlylaced
Downtown Dollhouse & Co. Lash and Brow House, 26 N. 6th St., Suite 160, opening April 1 
The Dollhouse is an established lash and brow house on the South Side of Allentown. Their new Downtown location will continue host private beauty, lash, and brow trainings, showcase retail, and create content-filled podcasts. thedollhouseand.co 
OG Boutique, ArtsWalk Annex, 27 N. 7th St., Suite 3, opening March 1
OG Boutique owner Tabitha Gehret has been selling new and vintage repurposed designer clothes and accessories online since 2022 and has seen great success. She would like to test her business as a brick-and-mortar store in downtown Allentown due to the traffic, demographics, and growth of the city. Her brands include everything from Levis to Louis Vuitton and are geared toward women. She sources her fully authenticated goods from various sources in the US and Italy. Additionally, she will offer permanent jewelry services. Price points will start at $25 and certain luxury items may cost up to $3000. @shopogboutique, shopogboutique.com
High Vibrations Wellness, Cityplace, 900 Hamilton St., Suite 160, March 1 
High Vibrations Wellness is a yoga/wellness studio that sells metaphysical products and services. They were a longstanding kiosk tenant in the Lehigh Valley Mall. As they prepare their Bethlehem studio for an opening later this spring, they wanted to test the Allentown market by opening their yoga studio as a pop-up space. 
For more information about available retail and restaurant space for lease in downtown Allentown, contact Megan Colon at 610-625-5538 or MColon@CityCenterAllentown.com.