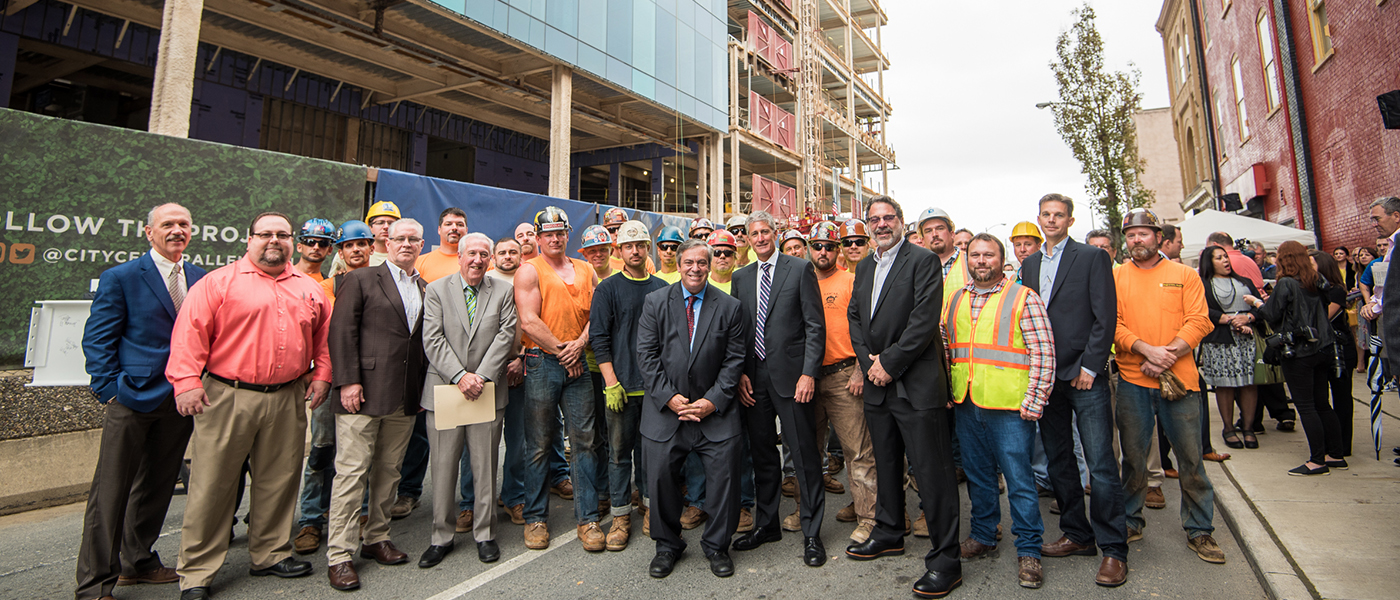 CITY CENTER AND ADP® HOLD BEAM-SIGNING FOR FUTURE FIVE CITY CENTER
City Center Investment Corp. (CCIC), the real estate development company revitalizing downtown Allentown, Pennsylvania, and the Human Capital Management (HCM) provider ADP® (NASDAQ: ADP) today held a beam-signing ceremony at Five City Center, CCIC's future Class A office tower at Eighth and Hamilton streets, where ADP has leased the top 10 of the building's 13 floors. 
State Sen. Pat Browne, Allentown Mayor Ray O'Connell, CCIC President J.B. Reilly and ADP Senior Vice President of Sales Bill Crawford spoke at the ceremony where attendees, including about 200 local ADP employees, signed the building's final steel beam before it was lifted into place by a crane.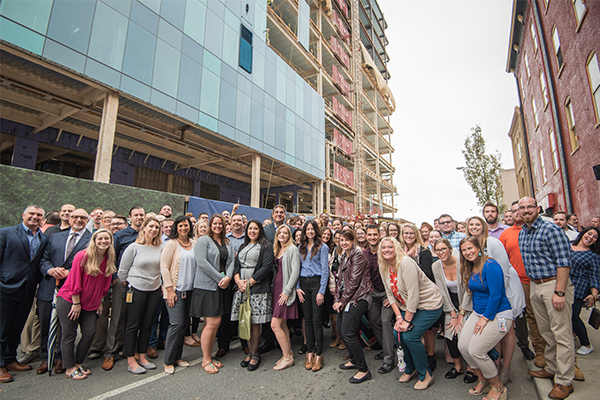 ADP, one of the world's largest HCM providers with more than 740,000 clients worldwide, has leased 243,241 square feet of Five City Center, which is slated to open by September 1, 2019, for its regional inside sales division. 

The Fortune 500 company is currently leasing approximately 100,000 square feet in Fogelsville and has moved about 250 employees to CCIC office space in downtown Allentown since the fall of 2017. ADP will consolidate its multiple Lehigh Valley locations into one, bringing hundreds of ADP employees to downtown Allentown and making ADP one of the central business district's largest employers. 

"ADP's strategic decision to consolidate multiple locations in this Five City Center campus in Allentown further solidifies our continued investment and commitment across the Lehigh Valley," said Bill Crawford, Senior Vice President of Sales at ADP. "Since we first moved to Allentown in 2006, we have significantly grown to 850 employees, prompted by the hard-working and diligent work of our inside salesforce. We are proud to be a longstanding employer of choice in the Lehigh Valley, with associate retention levels higher than the industry average. This new location will provide us the opportunity to continue our growth in the Lehigh Valley. We are proud to be part of the Allentown community."
"The Five City Center beam-signing is another milestone in the resurgence of downtown Allentown," said State Sen. Pat Browne. "In approximately one year, this building will be filled with ADP employees who are destined to become the best ambassadors that Allentown can have. My congratulations to all parties involved: ADP Senior Vice President Bill Crawford, City Center President J.B. Reilly and North Star Construction. Thanks to you, we are beaming with pride." 
 
"ADP's commitment to grow in downtown Allentown will be nothing short of transformational for this community," said CCIC President J.B. Reilly. "The impact of having such a bright, active and engaged group of professionals here will be felt by the downtown's retail, restaurant, housing, arts and nonprofit communities, to name a few. Having another top corporation come downtown illustrates again that companies – in this case one whose actual business is human resources – recognize that being in a vibrant, urban environment affects their ability to attract and retain talented employees. This move follows a national trend of companies realizing the benefits of moving from suburban to urban locations."
"The fact that ADP wants to grow its sales jobs in downtown validates the experience that various companies' college-educated, millennial employees are having in Allentown. Whether they work, live or socialize here, we are finding they love the downtown environment," said Allentown Mayor Ray O'Connell.
Five City Center will feature an all-glass exterior with a two-story main entrance set back from the street. The building will be nearly 300,000 square feet, about the size of Two City Center, with first-floor retail space. The Five City Center campus will also include a parking deck at 8th and Walnut streets with apartments wrapped around it and a second apartment building at Seventh and Walnut streets.
For more information about Class A office space at City Center, including in Five City Center, contact Jarrett Laubach at jlaubach@citycenterallentown.com.