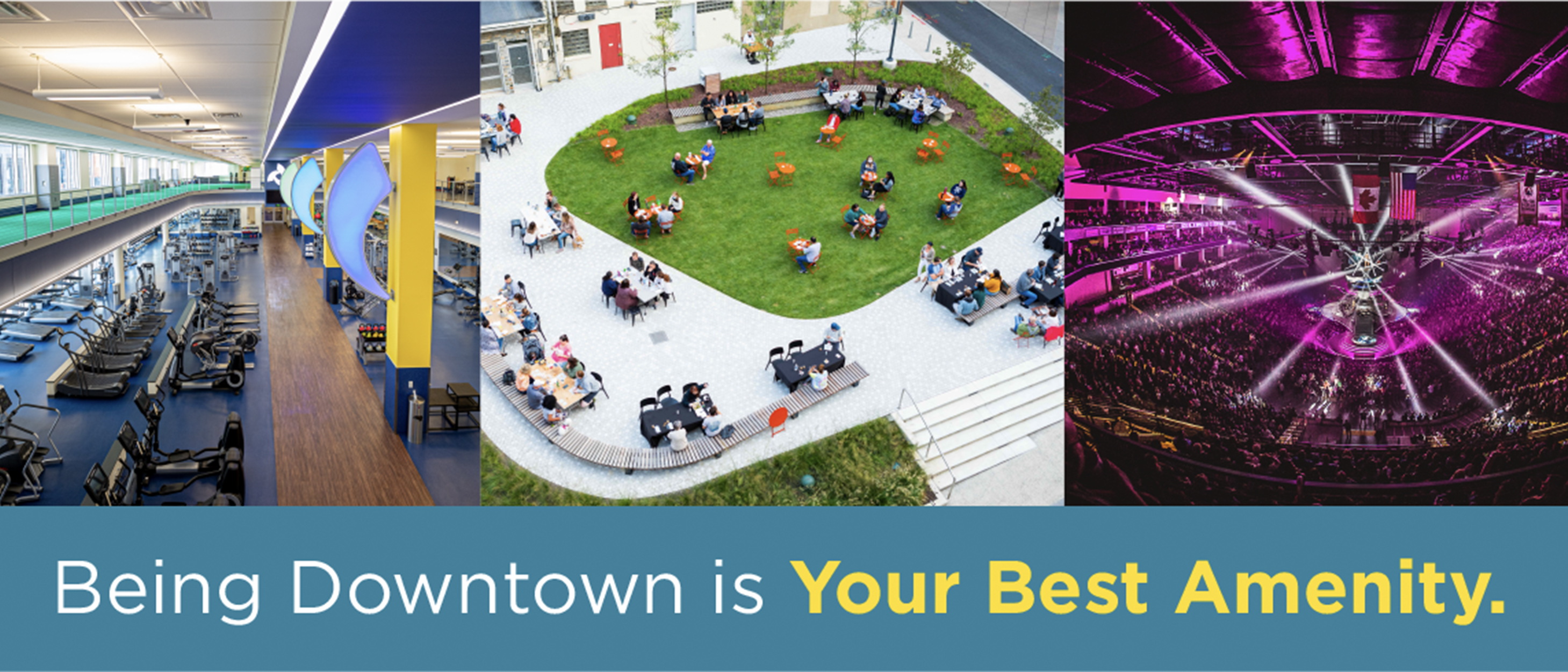 Being Downtown is Your Best Amenity
As a tremendous workplace shift is underway, now isn't the the time to abandon amenities in office spaces. A "human-centric" office environment will become even more important as companies bring employees, visitors & stakeholders back to the workplace and recreate a sense of community.
What's outside your office is just as important. Having an office located within an active and diverse environment drives employee engagement and helps attract and retain talent.
Downtown Allentown delivers a wider variety of options for your employees to engage in before, during and after work.
Arts & Culture
Allentown Art Museum
Art Galleries: Art Haus, Gallery840 & more!
Baum School of Art
Bradbury Sullivan LGBT Community Center
Liberty Bell Museum
Miller Symphony Hall
Destination Arts Third Thursday: The local arts and business communities come together to offer exhibitions, sales, classes, special menus and more!
City Center Residential
1,000+ new, upscale apartments with 500 more on the way
A diverse, inclusive environment ideal for live, work + play
Walk to work

Restaurants, Retail & Services
Best Grab-and-Go Dining Spots
Downtown Allentown Market
Frutta Bowls
Johnny's Bagels
La Bicicleta Arepa Bar
Favorite Happy Hour Spots
The Hamilton Kitchen + Bar
Brü Daddy's Brewing Co.
Tacos Y Tequila
Bell Hall
Go-to coffee spots
Get a fresh cut or your nails done
ReVive! Hair Salon
NailPlay Studio
Cuts + Shaves Barbershop
Favorite shopping destinations
assembly88
RE:find
IO Beauty Market
Good Guy
Chameleon Pop-up Experiences
Run errands
Local grocery store, Radish Republic
Rite Aid
Walgreens
Your Neighborhood Dry Cleaner

Wellness / Fitness
Lehigh Valley Health Network 17,000 SF Gym with strength training & exercise classes
Pop-up fitness classes in the Pocket Park
Highly walkable environment that not only encourages employees to move throughout the day, but also enhances their experience of the vibrant community.

Pedestrian only ArtsWalk and Ubran Greenway
Murals and artistic installations

High quality green space for employees and residents
Easy access to Lehigh Parkway

Entertainment & Hospitality
PPL Center Arena
Miller Symphony Hall
ArtsWalk includes a Pocket Park with seating and mini ampitheater for live performances
DaVinci Science Center - Coming soon!
Vault 634
Full-service Marriott Renaissance Hotel
170 full-service guest rooms, including 15 suites and one luxury suite
11,000 sq. ft. of state-of-the-art meeting space
World-class food and beverage including upscale American restaurant The Dime
Direct access to the PPL Center through the lobby and the third floor
24-hour valet service and attached garage
Meeting and Event Space
Renaissance Hotel Allentown
The Dime
The Hamilton Kitchen & Bar
Downtown Allentown Market
Pocket Park

City Center has workspace options that connects your workforce, fosters innovative thinking & attracts, engages & retains employees.
Let us show you how the location of your office space can transform the way you run your business. Contact us today!