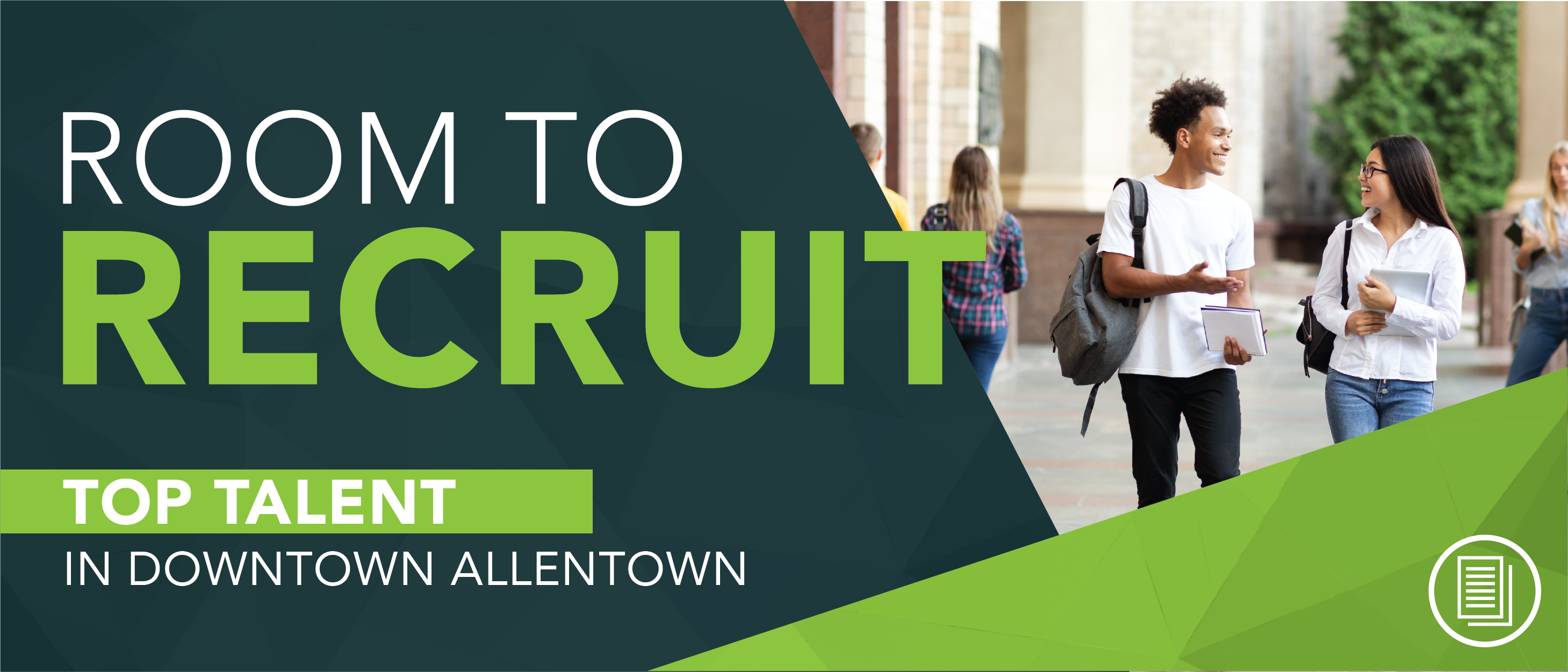 6 reasons companies choose Downtown Allentown for top talent
City Center Investment Corp. partnered with Bisnow to present Opportunities in the Coronavirus Crisis: Exploring How the Pandemic Has Companies Looking at Smaller Cities. As you watched the webinar, you saw firsthand how Downtown Allentown, Pennsylvania, has already attracted Fortune 500 companies competing for the best available talent and looking to expand their business.  
Here are 6 reasons why companies like ADP, Morgan Stanley and Merrill Lynch chose Downtown Allentown to attract and retain top talent.
Lehigh Valley is home to 10 colleges and universities that award more than 10,000 degrees annually and include prestigious private colleges, state universities, and two community colleges.
 
Less than 90 minutes from NYC and Philadelphia, Downtown Allentown provides ideal access to both fresh talent and seasoned professionals.
 
City Center Allentown recently developed 9 upscale apartment communities with 3 more on the way. Loaded with amenities, nearby restaurants and walk-to-work opportunities, these residences are home to many downtown professionals - and will play a key role in your company's recruiting.
 
City Center Allentown's Class A office space in an exciting urban setting inspires employees to bring their A game every day of the week. Get more return on your investment.
 
Downtown Allentown is the home to a progressive, collaborative business environment with endless amenities that attract millennials! Co-working spaces for entrepreneurs, abundant outdoor dining, a pocket park amphitheater, pet friendly parks and public art by world-renowned artists.
 
The region boasts exceptional pre-K, primary, secondary, technical, and post-secondary schools that prepare students for future success.
 
Here is JLL and Lehigh Valley Health Network's leadership discussing why Downtown Allentown is an undeniable selling point when competing for talent.
When you position yourself in an energetic, ambitious environment, you attract energetic, ambitious employees.
Find out why employers are choosing Downtown Allentown as their Small City Solution.