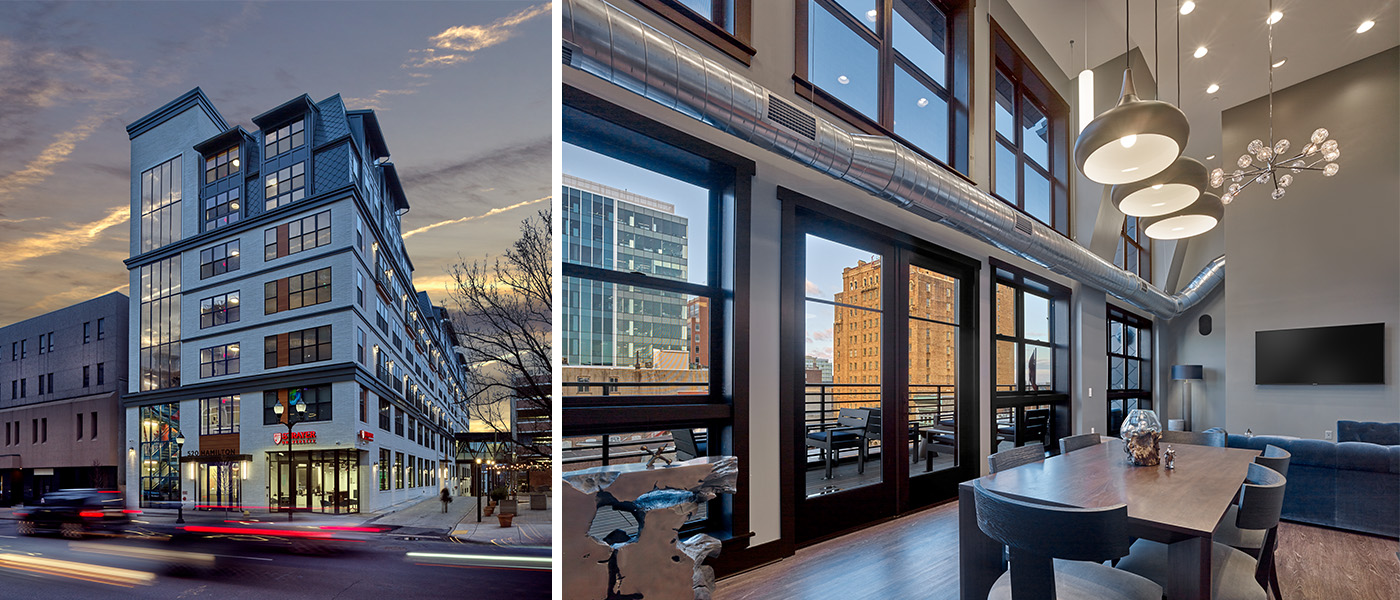 520 Lofts Wins Grand Project of the Year
City Center Investment Corp., the real estate development company revitalizing downtown Allentown, Pennsylvania, today announced its 520 Lofts residential community has won Grand Project of the Year for a mid-rise building in the 2019 Multifamily Executive Awards. 
The awards were presented in Las Vegas on Oct. 3. 520 Lofts, located at 520 Hamilton St., opened in fall 2018.
"The 520 Lofts building was designed to celebrate our community's character and was inspired by the grand inns and gathering places that once lined the busy streets of downtown Allentown," said City Center V.P. of Project Design and Corporate Branding Jane Heft. "520 Lofts offers a distinctly creative urban vibe accented with graceful nods to classic Victorian motifs."
Architect Bernardon accomplished this mix of aesthetics with a white brick exterior and double-height lofted units inside a mansard roof with diamond metal shingles. The community covers 11,000 square feet of first-floor office space, three artists' garages at the street level and 68 residential units among five stories. 
520 Lofts units range from 528 square feet to 1,437 square feet, with studios and one- and two-bedroom apartments. A double-height community lounge is located on the top floor, offering views of the city and the surrounding Lehigh Valley from a rooftop deck. A steel-and-glass pedestrian bridge connects the building to an existing parking garage.
With its close proximity to several Allentown arts and cultural institutions, the community aims to appeal to artists and other creatives looking to live in the area. The artists' garages connect to the public sidewalk through glass overhead garage doors, giving artists in residence an easily accessible space to work on-site. Perks for all residents include a complimentary membership to the Allentown Art Museum, discount tickets to Miller Symphony Hall and discounts on classes at the Baum School of Art.
Passersby can also view downtown Allentown's tallest mural through the main stair tower's seven-story curtain wall, a 19-foot-by-89-foot piece inspired by the look of classic graphic rock posters and art collages. The mural incorporates a number of nods to Allentown's history, including the Crocodile Rock Café, a music venue that previously occupied the site. Community groups, Baum School of Art students and 520 Lofts residents joined muralist Matt Halm to execute the full piece.
"Developers, architects and builders continue to set the bar high for creating innovative and thoughtful communities that cater to residents' needs," according the Multifamily Executive website. "This year's judges looked for award entries that stood out from the rest of the pack for their outstanding design, remarkable architecture, creativity and inventiveness. Competition again was stiff, with over 300 entries across 14 categories."
To learn more about living in downtown Allentown, call the City Center Residential Central Leasing Office at 610-841-2489.