WHY ADP, WHOSE BUSINESS IS DESIGNING A BETTER WORLD AT WORK, MOVED TO DOWNTOWN ALLENTOWN
On October 10, Fortune 500 company ADP celebrated its relocation to Downtown Allentown's Five City Center, where it opened its largest Inside Sales Center of Excellence with 1,100 employees and space for up to 1,600.

CEO Carlos Rodriguez said, "At ADP, we are focused on designing a better world at work, and this new office certainly lays the foundation for us to fulfill this objective."

He added, "It's not tax credits; it's not the weather. It's, 'Can we find the right talent?' And that's exactly what we have found here" in Downtown Allentown.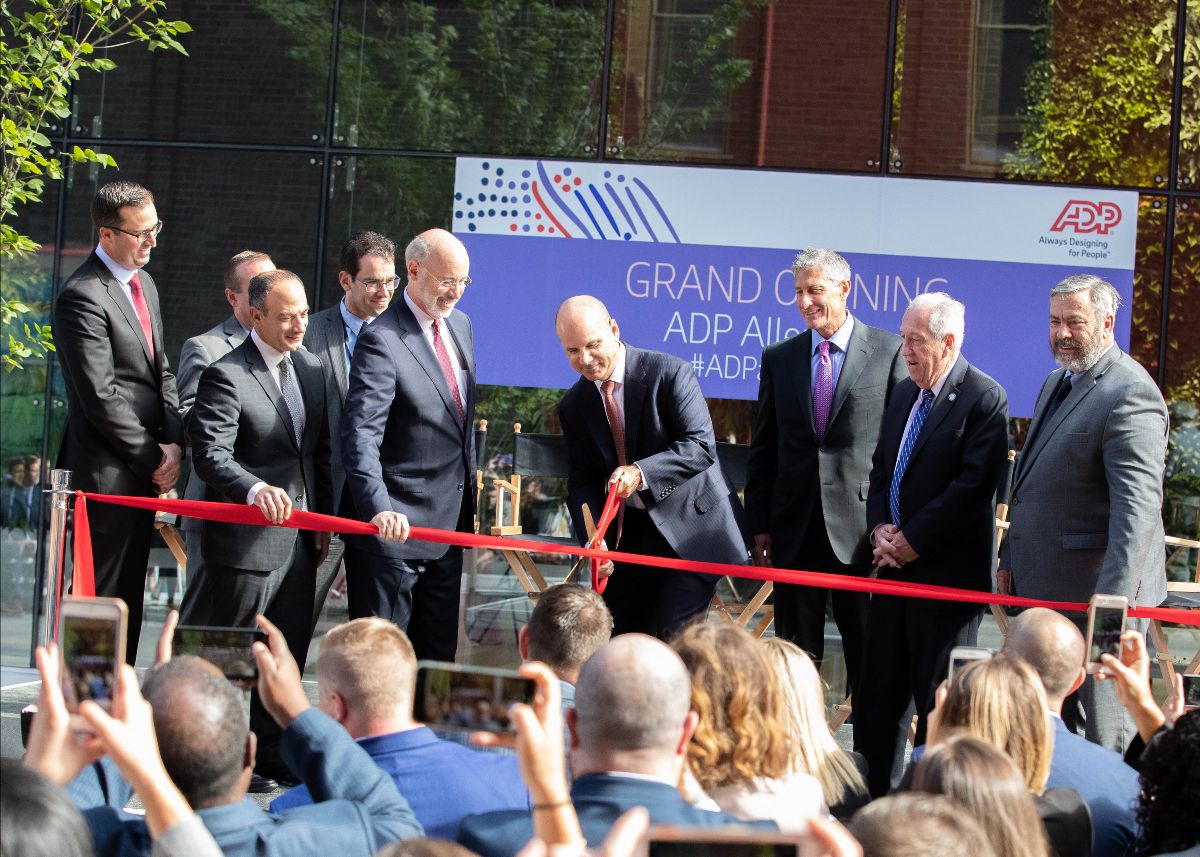 Today's talented employees are looking not only for innovative and collaborative office space, but also a walkable urban environment where they can engage in authentic experiences, dine at diverse restaurants, and socialize with colleagues and friends after work.
 
Downtown Allentown delivers cutting-edge and stylish office space in a highly experiential environment with places like the Downtown Allentown Market food hall, a booming restaurant scene, open spaces for relaxation and entertainment, apartment buildings that promote community and the 17,000-square-foot state-of-the-art LVHN Fitness center right on Hamilton Street.
Related Articles
Now with 1,000 workers, ADP celebrates firm's relocation to Allentown's Five City Center
The Morning Call, October 10, 2019
 
ADP cuts ribbon on new sales hub at Five City Center in Allentown
WFMZ-TV 69 News, October 10, 2019
ADP opens new office in downtown Allentown
Pennsylvania Business Report, October 15, 2019
Payroll provider open in downtown Allentown is symbol of economic renaissance, Gov. Wolf says
Easton Express-Times, October 11, 2019
ADP Opens Downtown Allentown Office for 1,000 Employees
LehighValley.org, October 10, 2019
Contact
Interested in becoming part of one of the fastest-growing urban cores in America? Get in touch with City Center Allentown today and we'll get the conversation started. We look forward to hearing from you.
Contact Jarrett Laubach at jlaubach@citycenterallentown.com 
Subscribe now and be the first to receive the latest news from City Center!