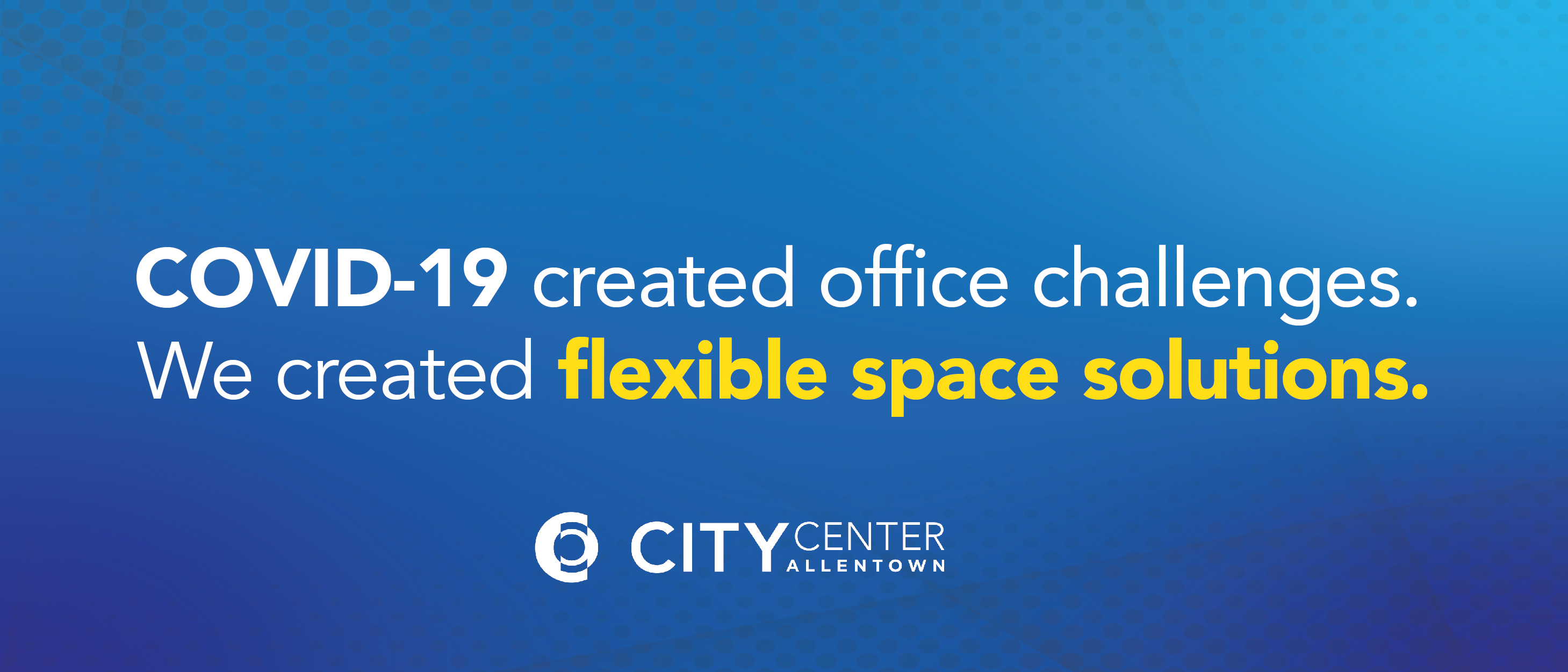 Your Flexible Office Space Solution
We've all learned to be flexible in 2020. Why not keep it up in 2021?

As employers everywhere wrestle with how, when and where to return to the office during the pandemic, City Center Allentown makes those decisions easy with flexible terms, lower costs and various space options.

In a changing world, your office space needs to change whenever and however you want it to. That's why City Center Allentown, a new Class A development in downtown Allentown, Pennsylvania, is changing the way office spaced is leased.

How? By offering:
Flexible lease lengths (No long-term commitment)
Favorable financials with low/no cash outlay
Move-in-ready, open-concept, furnished space
Beyond that, City Center Allentown is a first-class partner that wants its office tenants to thrive in downtown Allentown — and will work with you to make that happen.
   ➣ For example, we'll let you lease an entire floor for half the cost. If your company grows, your rent will grow. If you stay small, your rent will stay the same.

With all the challenges presented by the pandemic, City Center Allentown offers you a simple, stress-free Flexible Office Space Solution. With our low-cost, low-commitment options, your return-to-work decisions just got a lot easier.

CONTACT US
The opportunities offered by City Center Allentown all revolve around one thing-allowing you to run your business as successfully as possible. Get in touch with City Center Allentown today to find out how we can help give your business a competitive advantage. We look forward to hearing from you.
ABOUT CITY CENTER ALLENTOWN
City Center Allentown is a major mixed-use development that is helping transform downtown Allentown, Pennsylvania, into one of America's most vibrant urban communities and a regional center of excellence for business, culture and city living. With Allentown's new arena, PPL Center, at its core, City Center includes 3 million square feet among five Class A office towers, the Renaissance Allentown Hotel, eight residential communities, upscale retail and restaurant space and a coworking space called Velocity. City Center's total investment in downtown Allentown is nearly $800 million, with another $138 million in the planning stages.

In 2017, the Downtown Allentown Revitalization District was honored with a Global Award of Excellence by the Urban Land Institute (ULI). Downtown Allentown has already attracted Fortune 500 companies ADP, Morgan Stanley, Merrill Lynch and more, and is poised to become a flexible, smaller-city solution for commercial tenants throughout the Northeast. With its close proximity to Manhattan, Philadelphia and New Jersey; lower cost of living and doing business; lack of reliance on public transportation; deep talent pool; and high quality of life, downtown Allentown appeals to employers looking for a cost-effective yet attractive city environment.