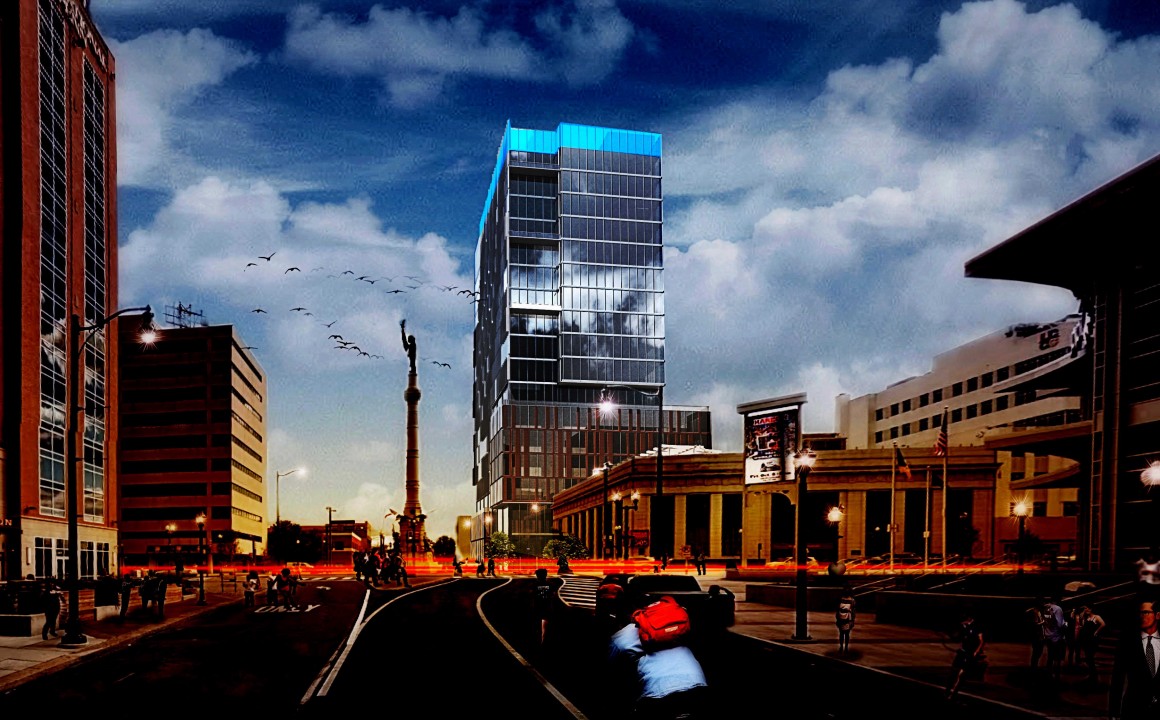 Five City Center Urban Innovation Campus Set for Groundbreaking in 2016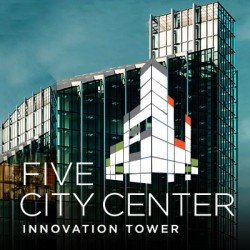 The Allentown Neighborhood Improvement Zone Development Authority (ANIZDA) recently approved new development plans for the world-class Five City Center Innovation Tower and its state-of-the-art campus just off Center Square in Downtown Allentown. The first phase of the project is set to break ground in 2016, with forecasted occupancy beginning in late 2017. The revolutionary office tower and campus will redefine the corporate environment, with flexible, amenities-packed Class A workspace designed for recruitment, performance, collaboration and security—all with a focus on catering to a new generation of workers.
The first phase of the Five City Center Urban Innovation Campus, located on the block bordered by Hamilton and Walnut streets between Seventh and Eighth streets, will consist of:
A 17-story signature office tower
350,000 rentable square feet; 25,000 square feet of shared conference and innovation space; two-story open lobby
Targeting LEED® certification from the U.S. Green Building Council
1.6-acre landscaped public Center Green
700-space private adjacent parking garage with terrace roof
Redundant power grid and fiber feed
Competitive rental rates
Five City Center's Innovation Tower will be a diverse educational and entrepreneurial community offering on-site academic and business start-up mentoring in partnership with local colleges and universities. The campus will also have a 1.6-acre green space, the largest in the downtown. This outdoor space will be designed to encourage nearby neighborhoods to engage with the campus community, with offerings like farmers markets and recreational activities. A parking deck with a terrace roof will round out phase one.
The project's second phase will consist of a luxury apartment tower at Eighth and Hamilton streets that will include retail space along with a grocery store and child care services. The $200-to-$250 million campus will be designed by world-renowned Gensler, a global architectural firm that also designed the Comcast Innovation and Technology Center in Philadelphia.
DOWNTOWN ALLENTOWN IS A REGIONAL CENTER OF EXCELLENCE FOR BUSINESS.
Five City Center will join a vibrant and growing business community. Some of the nation's most respected and forward-thinking companies are headquartered or have offices in Downtown Allentown, including:
PPL Corporation
Air Products
Lehigh Valley Health Network
National Penn Bank
CrossAmerica Partners
These, along with many local businesses and startups, are creating an energetic and diverse urban work environment. City Center Lehigh Valley is proud to be home to many of these organizations in its Class A office space.