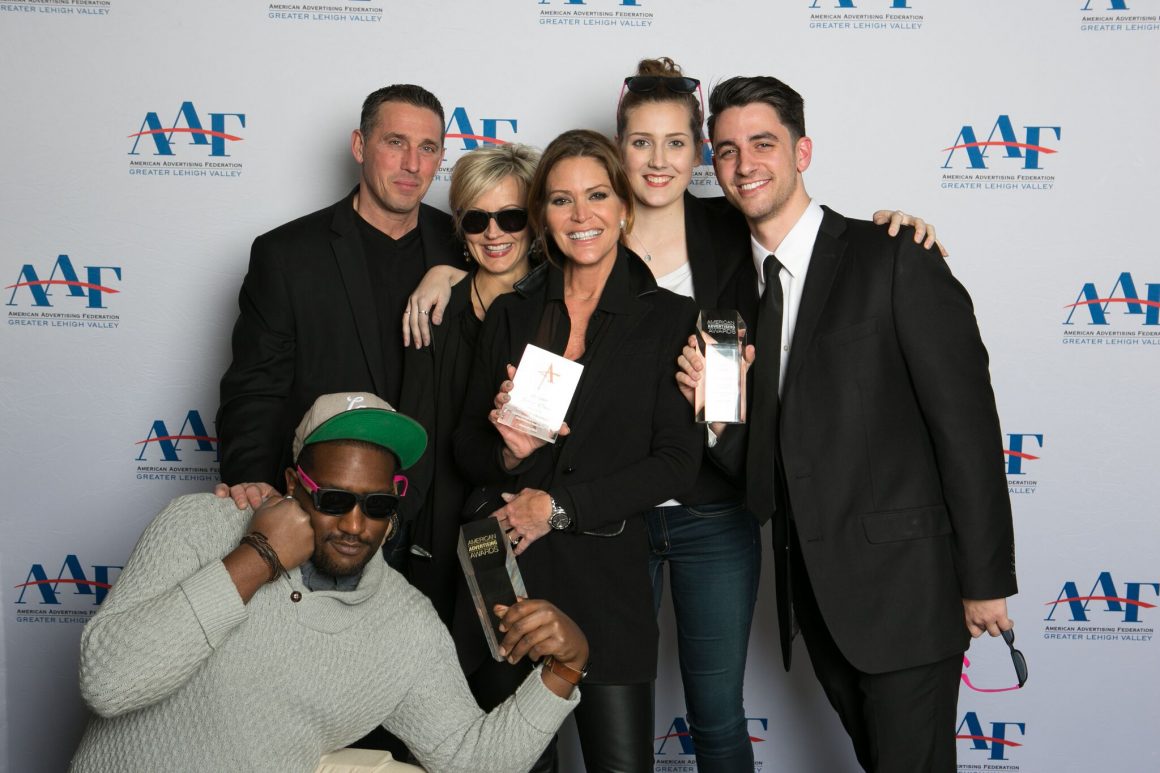 City Center Lehigh Valley Design Team Repeats as Gold Addy Award Winner for Downtown Allentown Revitalization Projects
GREATER LEHIGH VALLEY CHAPTER OF AMERICAN ADVERTISING FEDERATION RECOGNIZES WORK FOR QUEEN CITY BBQ WITH  TWO AWARDS AND A JUDGE'S CHOICE
City Center Lehigh Valley (CCLV), the major mixed-use development transforming downtown Allentown, announced today that its design team won several ADDY awards March 3 from the Greater Lehigh Valley Chapter of the American Advertising Federation for creative work on Queen City BBQ. City Center's design team, which is led by Jane Heft, vice president and director of project design and corporate branding, won one gold, one silver award and a judge's choice award.
"City Center's creative team continues to raise the bar when designing spaces people want to be in," said J.B. Reilly, president and cofounder of City Center Investment Corp. "They are best-in-class, and they add tremendous value to our development's many office tenants, restaurants and retailers. We're proud that their achievements have been recognized for a fourth year in a row with ADDY awards."
"Our goal is to be on the forefront of design while always thinking about the types of spaces people enjoy spending time in," said Heft. "It is about people and how they interact with the space they are in. But it is also about how people interact with our client's unique brand while they are in that space. Additionally, we strive to make the design process seamless so companies can focus on their core strengths without worrying about how their space will look and feel. I am proud of our team for being recognized again this year."
The ADDYs, also known as the American Advertising Awards, are the nation's largest and most competitive ad creative contest. Two hundred local competitions are held annually followed by district and national contests. Local gold winners move on to the district competitions, whose gold winners advance to the national ADDYs.
City Center's 2017 ADDY's include:
GOLD – Queen City BBQ – Environmental Branding/Signage; Judge's Choice – Queen City BBQ – Environmental Branding/Signage; SILVER – Queen City BBQ – Logo Brand Design
Previous City Center Design Awards:
2012– Neographics Tristate: Best in Category – CCLV Brand Platform
2013 – American Advertising Federation: GOLD – CCLV Brand Design Platform / Environmental;
SILVER – CCLV Logo
2014 – American Advertising Federation: GOLD – ROAR SOCIAL HOUSE – Environmental Design
2015 – American Advertising Federation: GOLD – THE DIME – Environmental Design
ABC Eastern PA (Associated Builders & Contractors): Excellence in Construction Design – Merit – Four City Center
2016 – American Advertising Federation: GOLD – CENTRO – Environmental Design; GOLD – CENTRO – Logo/Identity; SILVER – Allentown Cocktail Week – Integrated Branding; BEST OF SHOW – CENTRO, Environmental Design; JUDGE'S CHOICE – CENTRO – Environmental Design